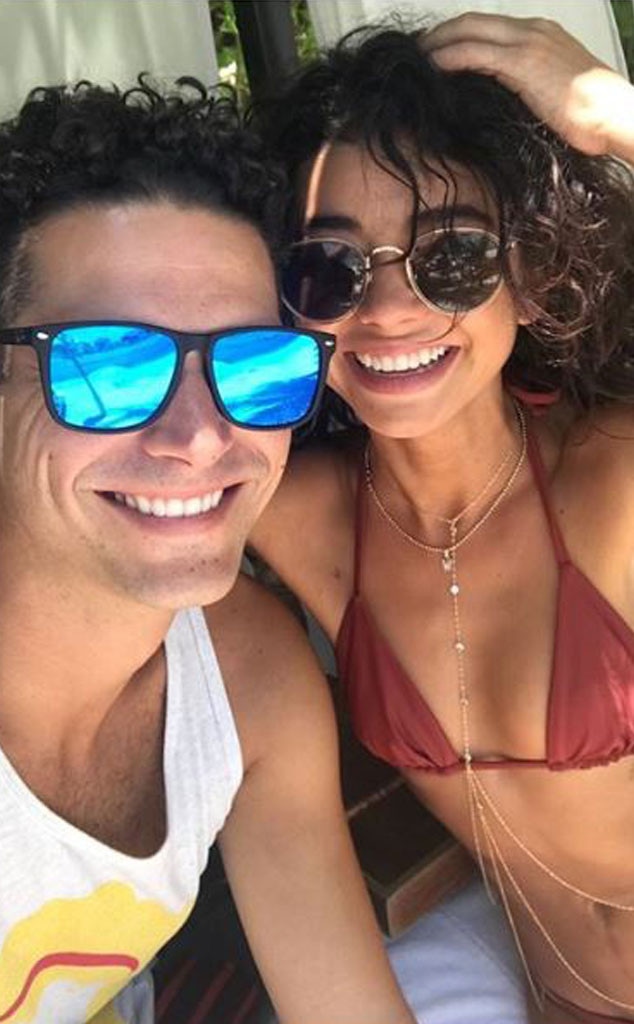 Instagram
Don't rain on Sarah Hyland's engagement parade. 
It was just days ago that the Modern Family star revealed she and her famous beau Wells Adams are engaged. "That can't eat, can't sleep, reach for the stars, over the fence, world series kind of stuff," the actress captioned photos of the proposal on Instagram. 
Since the big reveal, the star has been celebrating the exciting milestone on social media, later posting a snap of her and her man, writing, "My fiancé... my FIANCÉ.... MYYYY FIAAANCÉÉÉÉÉ!!!!!" On Friday, Hyland shared close-up videos of herself and the sparkler, joking, "Blinded by the [sun] or the [ring]? #wouldyoulikesomeapple."
While it's clear the star is thrilled about the big news, not everyone was happy for her. 
In a comment captured by commentsbycelebs, one person wrote, "Most obnoxious engaged dips--t award goes to you!!!!"
The star had the perfect response. "omg! I AM going for the most obnoxious!!!!! How'd you know??"
Meanwhile, many friends and fans expressed their happiness for the couple—and complimented her stunning new piece of jewelry. "I'm coming over later to go ice skating on that thing," Katie Welch quipped in a comment. 
The Lorraine Schwartz oval diamond ring was estimated to be upwards of seven carats and could cost as much as $200,000. 
The ring is so nice that it stressed out the future groom before popping the question. "Everyone is like, 'Are you so happy?' And I was so happy but I'm also so happy I'm not in charge of that very nice ring," Adams joked to Brandi Cyrus on his Your Favorite Things podcast. "There's too much pressure!"
While the ring is beautiful and the proposal sweet, Kim Hidalgo summed it up best in a comment, writing, "Your love shines brightest of all!!!!"
Congratulations, you two!