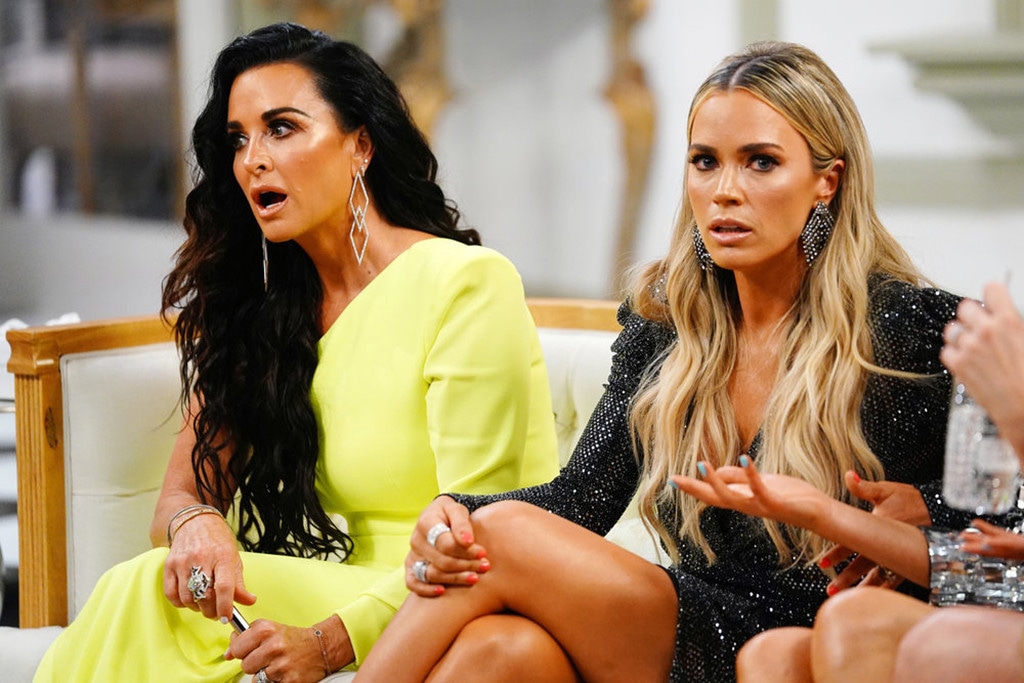 Bravo
Lisa Vandermpump didn't show up to The Real Housewives of Beverly Hills season nine reunion, but that didn't put a stop to the constant conversation about her, Puppygate and…her breath?
In a preview for part two of The Real Housewives of Beverly Hills reunion, the ladies call out Camille Grammer for perceived flip flopping on the LVP issue. "Here's what happens, when we're together, you'll say things like, 'I know who Lisa is. She's done this to me, she's done that.' And then when you're not with us, you're like, 'Lisa, I feel so bad what you're going through…,'" Kyle Richards says in the preview clip below.
Camille asks if she can feel both, but Dorit Kemsley tells her not if they contradict one another. And that's when they get into the dinner conversation where Camille talked about LVP's breath and gums.
"That was a joke and you call laughed! And you continued with the conversation and said, 'Yes, don't get me into it, but she's always had bad breath,'" Camille yells at Kyle.
"Camille, that's such a f—king low blow," Kyle tells her. "We've all said things privately about each other. I would never out you, if I did right now it would be a very bad situation. I don't do that!"
Now we can't stop thinking about what the RHOBH ladies say about each other off camera. Camille says everyone does it, save for Erika Girardi.
"I don't know about her, but all of you," Camille says about Erika.
"I'm probably sure I have," Erika admits.
It seems Kyle and Camille can't reach a happy medium on this issue.
On Watch What Happens Live with Andy Cohen, Dorit was asked what she would've said to LVP if she showed up.
"It's just a loaded question, because there would be so much, I would want to say. But really, I would just ask her 'Why?' Why did it have to get as far as it got? Because it really didn't have to," Dorit says.
Right now her husband PK and Lisa still aren't speaking, but PK did reach out when Lisa's mother passed away.
Click play on the video above for more. The Real Housewives of Beverly Hills reunion continues Tuesdays, 9 p.m. on Bravo.
(E! and Bravo are both part of the NBCUniversal family.)