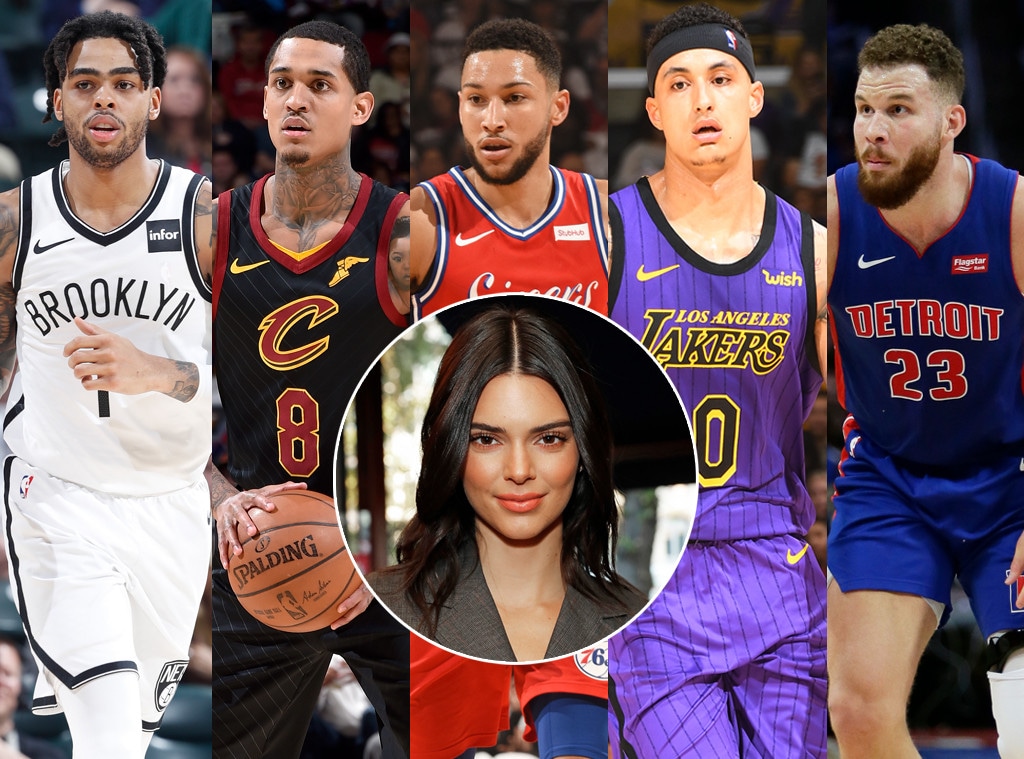 David M. Benett/Dave Benett/Getty Images for LOVE Magazine, Joe Robbins/Getty Images, David Liam Kyle/NBAE via Getty Images, Ron Turenne/NBAE via Getty Images, Andrew D. Bernstein/NBAE via Getty Images, Duane Burleson/Getty Images
When it comes to dealing with Twitter trolls, Kendall Jenner is a total pro.
The Keeping Up With the Kardashians star proved this once again by posting an epic response to a social media user's post about rumored basketball beaus on Tuesday.
The sports fan tweeted a picture of D'Angelo Russell, Jordan Clarkson, Ben Simmons, Kyle Kuzma and Blake Griffin. Alongside the photo, read the words "Starting 5 of NBA Players Kendall Jenner Dated."
"This is a playoff team," the social media user wrote, "lmao."
However, the 23-year-old model had a quick comeback.
"2 out of 5 accurate, thanks," she replied.
The post came a few days after Ben's sister, Liv, seemingly shaded the reality star.
"I just wouldn't ever wanna be known for dating athletes," she wrote on twitter. "Like imagine working your way through a league. Not a team a LEAGUE!"
She also later tweeted, "I'd rather be crazy than be a hoe." When a Twitter user called her out for "dissing" Kendall and asked Ben to "tell your sister to shut-up and stop hating on her," she replied, "I didn't name any names but if the shoe fits WEAR IT."
As fans will recall, Kendall and Ben broke up last spring after about a year of dating. 
"Ben and Kendall split recently before the Met Gala," an insider told E! News at the time, adding that the distance between the Los Angeles-based reality star and Philadelphia 76ers player "was getting to be a lot." "They are still on fine terms and have been in touch."
Before dating Ben, Kendall was romantically linked to Blake. While the TV star and the Detroit Pistons player sparked romance rumors for several months, a source told E! News they "were never serious."
"They were hanging out but both knew that it wasn't going to be a long-term exclusive relationship," the insider said in January 2018. "They are still in contact and hangout here and there when they are both in town because they truly have a lot of fun together. Kendall always says that Blake makes her laugh and that's why she loves being around him."
In addition, there were reports that Kendall and Jordan were "casually dating" in 2016; however, an insider told E! News it was "not anything very serious."
While D'Angelo and Kendall also raised a few eyebrows after they were spotted together in 2015, sources told TMZ they are "not dating" and "just friends."
As for more recent romance rumors, fans started speculating whether Kendall had a romantic connection with Kyle after they were spotted together in July. However, a  source told Entertainment Tonight Kendall is just "enjoying being single."