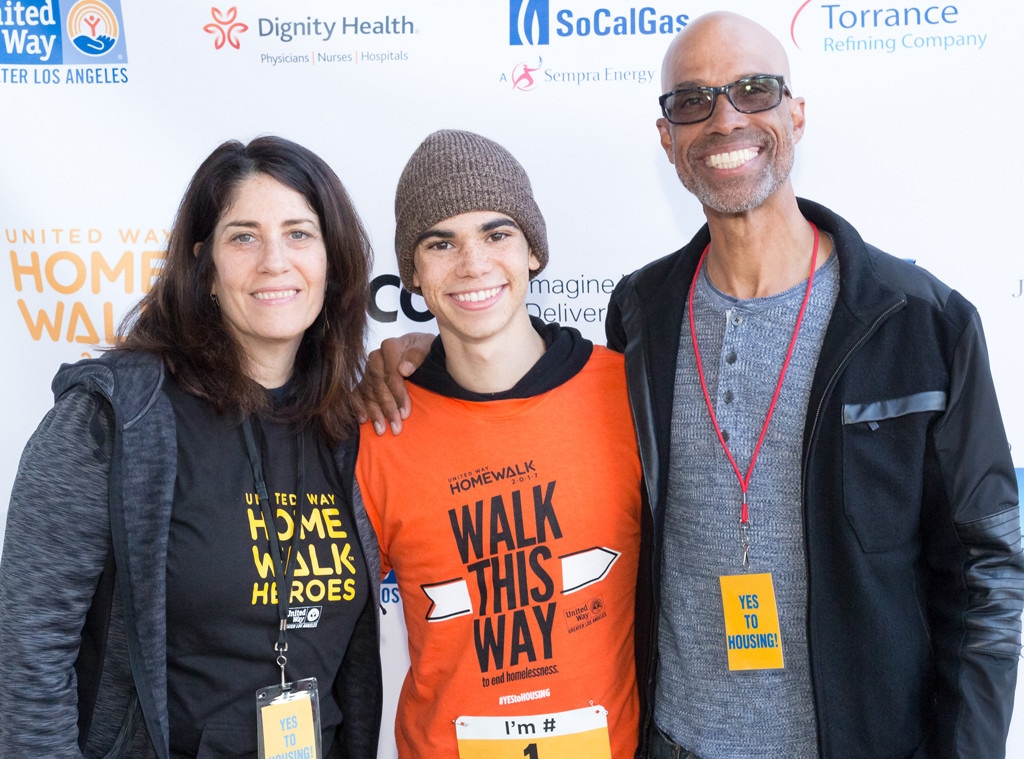 Greg Doherty/Getty Images
"We all go," Cameron Boyce mused in his speech at the 2018 Thirst Project, "What you leave should be bigger than you."
And that's certainly true for the Disney star himself. Following his sudden and tragic death in early July, the 20-year-old's family announced the launch of The Cameron Boyce Foundation. The organization aims to provide "young people artistic and creative outlets as alternatives to violence and negativity and uses resources and philanthropy to positive change in the world," reads the website. "The Foundation was established in 2019 to honor Cameron's legacy."
Cameron's dad Victor Boyce tweeted the news late Monday night. "Let's not talk about it, let's BE about it!" he wrote. "Let's do good as Cameron would. Let's keep his legacy alive!" Asked on Instagram where donations would go, Victor cleared the air that the money would not be going to the family but rather "charities that Cameron was passionate about."
Descendants co-star Sofia Carson took to social media to hail Cameron for his everlasting imprint. "The Cameron Boyce Foundation has launched, guided by the mission that was at Cam's heart and soul," she wrote on Instagram. "We are the lucky ones that got to live at the same time as Cameron Boyce. Together, we will keep his heart and legacy alive. Link in bio. This is for you Cam."
The Jessie actor was found unresponsive in his home in North Hollywood, Calif. in the early afternoon on July 6. Authorities were called and he was pronounced dead at the scene at 2:35 p.m. Though an autopsy was performed and a cause of death was deferred pending "further investigation," his family later shed light on what happened.
"Cameron's tragic passing was due to a seizure as a result of an ongoing medical condition, and that condition was epilepsy," a family spokesman shared with E! News. "We are still trying to navigate our way through this extremely heart wrenching time, and continue to ask for privacy so that the family, and all who knew and loved him can grieve his loss and make arrangements for his funeral—which in and of itself, is agonizing."
Throughout his life, the trailblazing star sought to make the world a better place.
Just two months before his death, he gave his final interview to Haute Living, where he opened up about giving back and inspiring others. 
"I'm following in the footsteps of some really strong men and women who have showed me what it means to give back," he told the outlet. "It's the greatest way to fulfill yourself. Every time I talk to someone who shares that similar passion, we talk about how there aren't many feelings more euphoric. Changing someone else's life positively changes yours for the better as well." 
"Many people have the heart to give back, but a lot don't know how to," he continued. "I try to be the bridge for those people–whether that means getting them involved in one of my campaigns or inspiring them by showing them a blueprint of how to get others engaged."
Since his passing, his friends and co-stars have paid tribute to Cameron, remembering him as a positive influence.
Watch:
Skai Jackson Vows to Keep 'Big Brother' Cameron Boyce's Name Alive
"Too young. Too sweet. Too funny. Just the nicest, most talented, and most decent kid around," Grown Ups co-star Adam Sandler tweeted. "Loved that kid. Cared so much about his family. Cared so much about the world. Thank you, Cameron, for all you gave to us. So much more was on the way. All our hearts are broken. Thinking of your amazing family and sending our deepest condolences."
Castmate Dove Cameron also opened up about his impact.
"Over the last six years, since he was only 14, Cameron talked me down from countless ledges, talked me through eating disorders, helped me out of a dark relationships and through endless break downs," she said in a video posted to her Instagram. "Goodbye my dear, dear friend and brother. You leave behind a colossal wake, a profound chasm that can never be filled but you also leave millions and millions of deeply impacted, hope-filled and love-filled human beings who are who they are because of you and how you spent your brief 20 years on this earth."