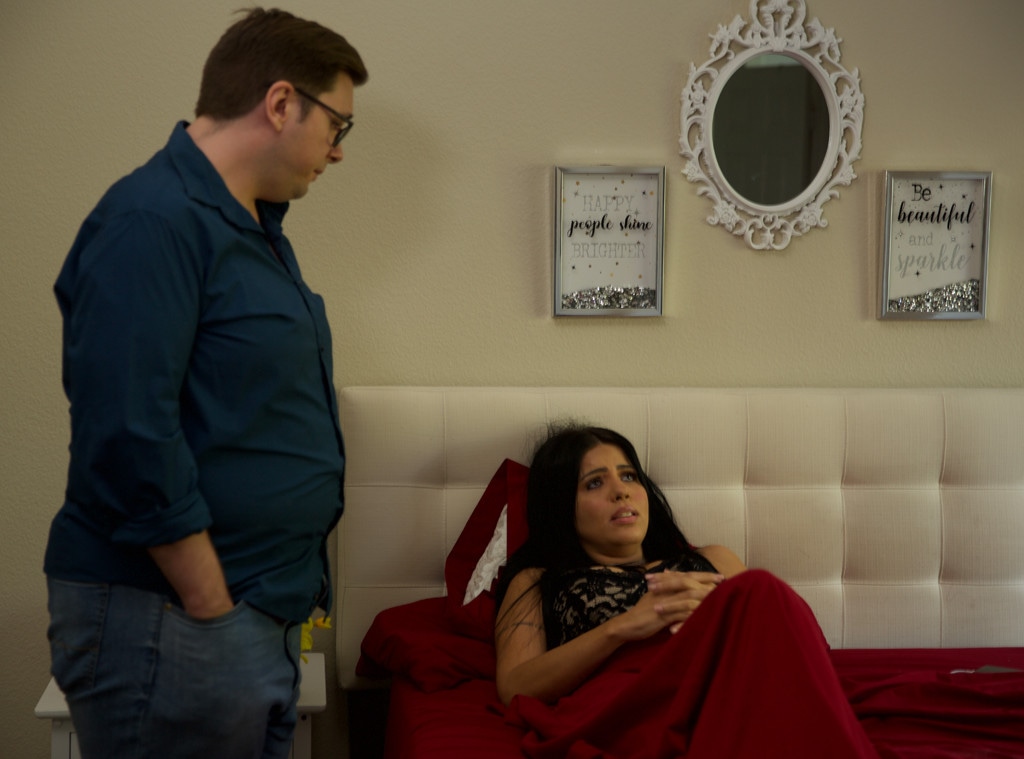 TLC
One couple reconciled, another imploded, all in a day's work for TLC's 90 Day Fiancé: Happily Ever After? season four.
Colt and Larissa, you may recall them from their many, many headlines following arrests, Instagram posts and divorce, finally seemed to part ways for good in the Sunday, July 14 episode. After fighting over how Colt's mom Debbie treated Larissa—"You act like she's a lover," Larissa told Colt about his mom—Larissa was arrested for the third time. Whether cameras were there or not remains to be seen, viewers just learned from Colt that she was arrested following an argument.
"As the hours progressed, she became more vile," he told the cameras. According to Colt, Debbie heard the argument and freaked out, then called the police. Cameras captured Colt and Debbie packing up Larissa's things. After she was arrested, Colt didn't bail Larissa out. He didn't know what happened to her she spent two days in jail. "I never thought it would end like this," Colt said. "I'm devastated."
Debbie, in tears, told Colt she was worried he blamed her for the implosion of his volatile marriage. He said he didn't.
"She consumed me, she consumed everything," Colt said. "She wanted to take everything that I am and just…kill it."
However, right before the third arrest, Colt filed for Larissa's adjustment of status. She could stay in the country on his dime. Colt said he would testify against her. "This time it's different," he told Debbie.
Meanwhile...
Elizabeth and Andrei
The new parents brought baby Eleanor home despite not having their preferred car seat. Elizabeth's dad Chuck met his granddaughter and saw Elizabeth's new home for the first time. There, he questioned Andrei about money and how he's going to support the family with his miscellaneous handyman jobs. Later, Andrei's dad returned to Moldova and Andrei began planting the seats for more drama: He wants $15,000 for a wedding back home.
Ashley and Jay
Fresh off of kicking Jay out, Ashley fell ill due to her lupus. While she was in the hospital, a friend called Jay and he returned from Florida to Pennsylvania to be by her side. "It was kind of surprising to see him walk through the doors of the hospital," she said.
"I cannot have her in the hospital by herself…I flew right back to her," Jay said.
This made Ashley want to start again with him. Together, they withdrew the divorce papers and Ashley said she planned to file for his adjustment of status with immigration.
Russ and Paola
Russ' mother Patty came to meet her grandson. Instead of clashing with Pao's mother, the two grandmothers got along and put on a united front to tell the reality stars they need to unite as well and stop bickering. Finally, Pao let everyone hold the baby.
Nicole and Azan
Nicole bought tickets to Morocco to finally reunite with Azan. She then came clean about the status of their joint venture store…that doesn't exist. Two weeks after booking her trip, Nicole canceled it and has not returned to Morocco.
Chantel and Pedro
The battling spouses made their way back to Georgia from the Dominican Republic, but not without drama. Chantel refused to go say goodbye to Pedro's family. Pedro said this disappointed him, and his mom said she was very worried about his situation.
Back home, Chantel said Pedro returned to his old ways. He plays video games for hours on end and ignores her. "I feel like he's there, but he's not present in our relationship."
Once again, they fought over whether he was in the marriage for the right reasons.
90 Day Fiancé: Happily Ever After? airs Sundays, 8 p.m. on TLC.