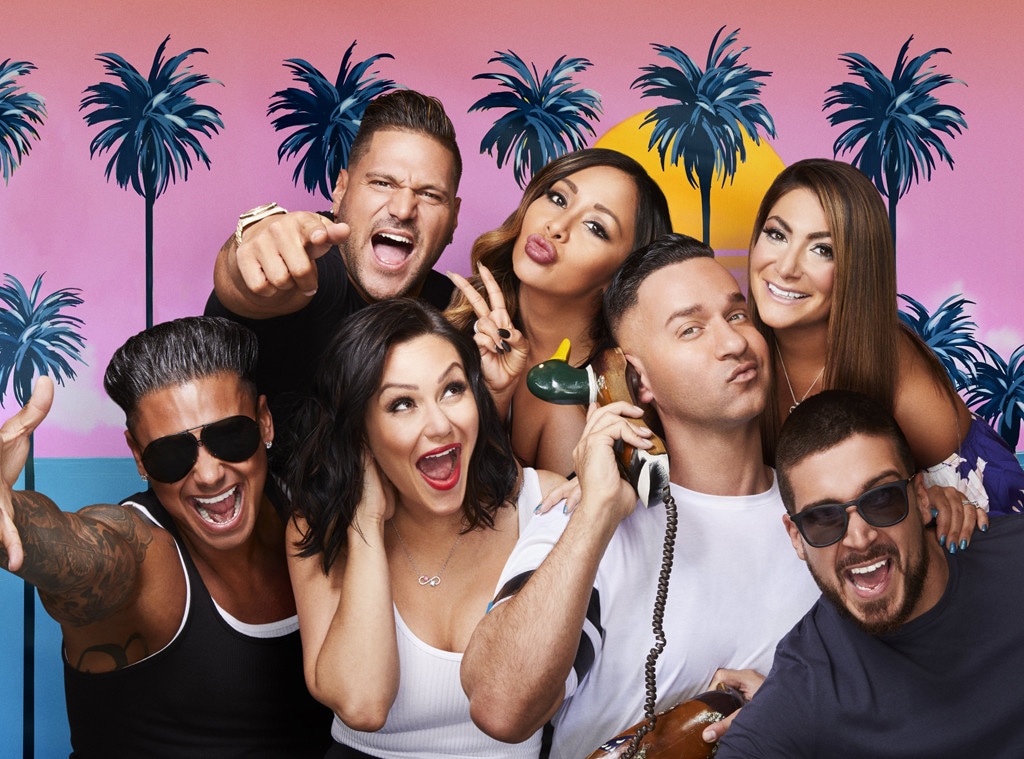 MTV
So, you're with your friend's fiancé while she tries on her wedding dress. What do you do? If you're Jersey Shore Family Vacation's Angelina Pivarnick, you bring up your friend Jenni "JWoww" Farley's divorce. And if you're JWoww, you look for an outfit to wear to the groom's court appearance.
"I guess Jenni doesn't want to talk about her divorce," Angelina says in a confessional in the exclusive preview below. "Oh, OK. Sorry for asking."
The looks on Nicole "Snooki" Polizzi and Deena Nicole Cortese say it all.
While Lauren Sorrentino tried on her dress, JWoww revealed she was trying to order her dress and court outfit at the same time.
"You're wearing a gown?" Snooki asks.
"No, a business black suit," JWoww says.
"So, I need to get a pantsuit? Should I get a blazer?" Snooki asks.
"I'm not wearing a pantsuit. I'm wearing normal clothes. This is what we're talking about? He might go to jail, she's trying on dresses and she's ordering a court outfit. As soon as she comes out, though, we shouldn't even talk about the court," Deena warns.
And what does Angelina do? She brings up Mike "The Situation" Sorrentino's upcoming court appearance.
"It's probably so crazy, like, you planning a wedding around the whole Mike thing too, right?" Angelina asks.
"In her wedding dress, dude?" JWoww asks.
Yep, in her wedding dress.
To celebrate the return of Jersey Shore, MTV has launched a Jerzdays extension for Chrome and Firefox. The extension turns the word "Thursday" into "Jerzday" in every written instance online.
Jersey Shore Family Vacation airs Thursdays at 8 p.m. on MTV.