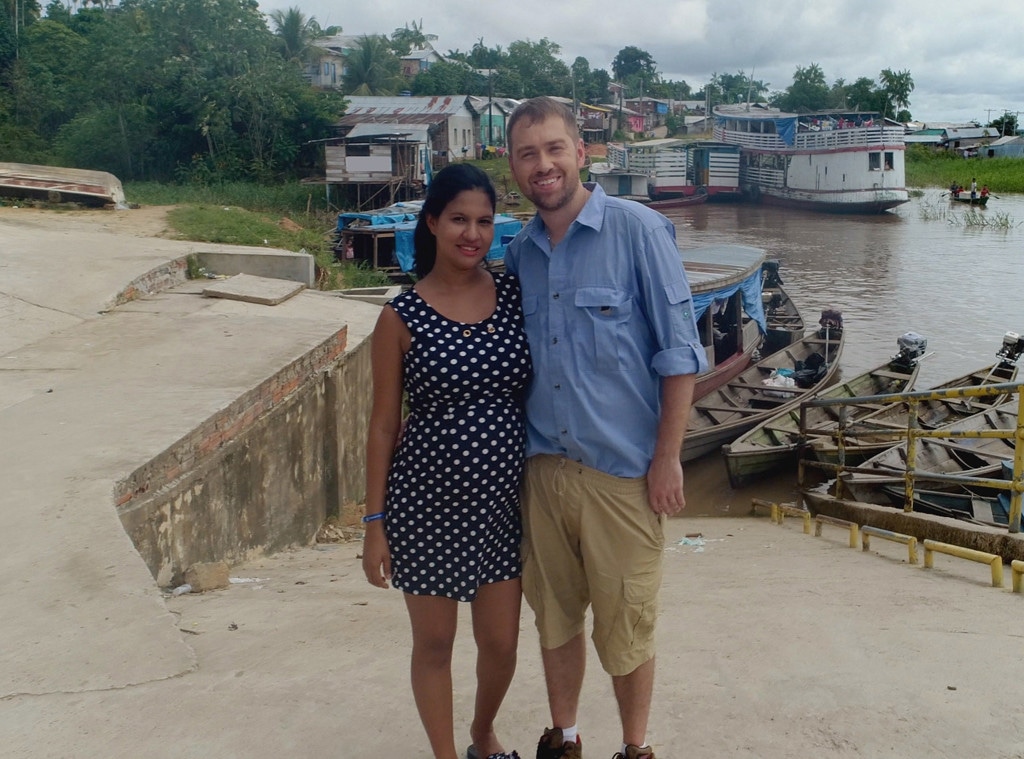 TLC
Apparently, there's terrorism and terroristic threats. Who said 90 Day Fiancé: The Other Way wasn't an educational show?
In the Monday, July 8 episode of the TLC reality series, Paul took his secret permanent residency rejection letter to a lawyer to find out if this was all a mistake or if he was indeed not allowed to stay in Brazil because of charges of terrorism and crimes against humanity. Mind you a very pregnant Karine knew nothing about the rejection and the alleged charges.
With his lawyer, Paul figured out there was a translation error. Paul was charged with terroristic threatening, a misdemeanor in the United States, after he threatened to slash the tires of a man Paul said he caught with an ex-girlfriend.
So, not a terrorist act, just a threatening one. The lawyer explained this was likely a breakdown in translation from English to Portuguese, so hopefully they can figure it out and Paul can stay in Brazil with his wife and baby.
Meanwhile…
Laura and Aladin
As she prepared for Qatar and Tunisia, Laura had several illuminating conversations with her son, Liam. Over burgers, Laura expressed her desire for her son to come to the wedding, but Liam shot back at how his mother approached the whole thing. He said she disappeared for three months in Qatar, he had no idea why, and when she returned she was married. He said going to the wedding would be too emotional for him to handle.
Liam also warned Laura about her temper, which has ended relationships before. Now that she's in Qatar, there are more restrictions on what she can get away with. The temper, apparently, has already caused problems with Aladin. The two squabbled over a social media follower of Aladin's and he blocked Laura for days. She said this caused major red flags and now she has more fears about everything falling apart once she's in Qatar. "Am I making the biggest mistake of my life?" she asked. Hm…
Tiffany and Ronald
In South Africa, Ronald was fresh out of his rehab for a gambling addiction and he went right to his bachelor party. This worried both Tiffany and Ronald, but on he marched, surrounded by friends. He marched into a bar and was going to limit the amount of drinks he had. He was going to be good. Then a stripper showed up and gave him a lap dance, took down his pants and spanked him.
"I am going to be divorced before I'm married," he said to his friends.
Meanwhile, Tiffany had a bachelorette party thrown by Ronald's family where she got a bunch of roses and a Thai massage.
Deavan and Jihoon
In Las Vegas, Deavan struggled to make breakfast for her potential in laws. The bacon was raw, the eggs were too salty (and were all touched by her 3-year-old daughter), the morning a disaster.
Jenny and Sumit
Living together in India requires some adjustments, including showering without hot water. So, Jenny takes bucket baths. Sumit pours water over her while she bathes. But while he poured water over her, Sumit was keeping a secret. He took her out in public to tell her the secret: He quit his job in order to spend more time with her and help her adjust to life in India. Now they're both jobless…
90 Day Fiancé: The Other Way airs Mondays, 9 p.m. on TLC.