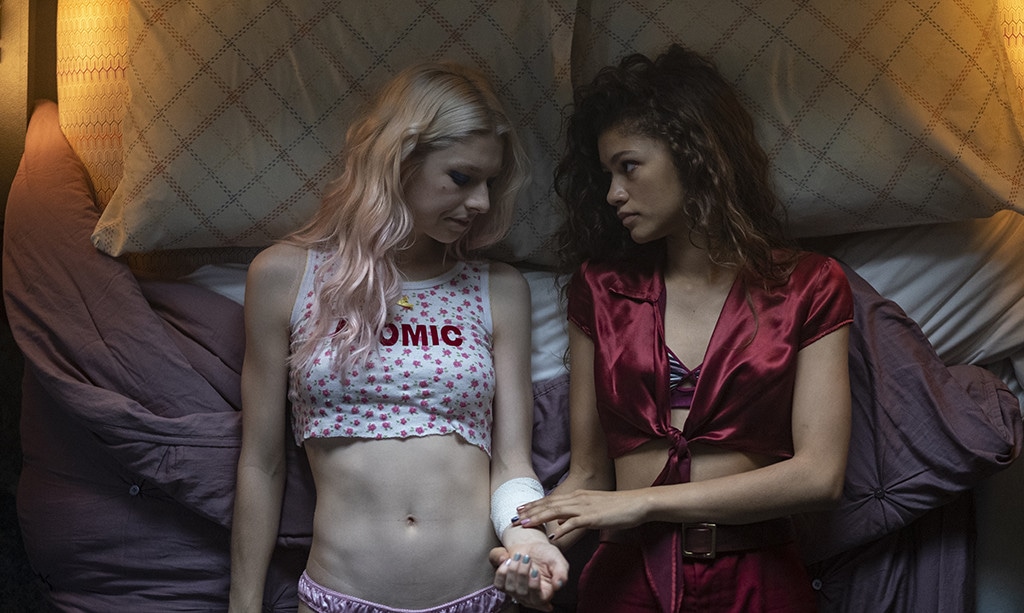 HBO
Everybody loves a fan theory, and this one is a classic if extremely depressing one. 
Amidst all the drug use and nudity and penises, there are some other things on HBO's Euphoria to pay attention to, at least if you ask a lot of people on Twitter who have been theorizing mainly about the show's main character, Rue (Zendaya).
The show starts as Rue returns from rehab after a terrifying drug overdose. Her little sister Gia (Storm Reid) found her nearly dead on the floor, and she was rushed to the hospital. Rue gives us her own backstory in the first episode, and while subsequent episodes focus on different characters—Nate (Jacob Elordi) and Kat (Barbie Ferreira) so far—their backstories are still given to us by Rue. 
Rue-as-narrator knows incredible things about these classmates of hers, things that Rue would never really know. She's a truly all-knowing narrator with a whole lot of insight/hindsight, and this has led some fans to wonder if Narrator Rue is actually dead, and telling these stories to us from beyond the grave as if relaying things that once happened. 
EW has a rundown of the biggest reasons that this theory might hold some water, starting with the fact that Rue, even as she seems to be all-knowing, calls herself an unreliable narrator in the very first episode, which would track with the fact that she's speaking of things from her own memory, after the fact. 
These are the best quotes from the show so far that seem to indicate that Rue's story is not going to have a happy ending. 
Episode one: 
The opening of the series: "I was once happy, content, sloshing around in my own private, primordial pool. Then one day, for reasons beyond my control, I was repeatedly crushed by the cruel cervix of my mother, Leslie. I put up a good fight, but I lost, for the first time, but not the last." 
Perhaps her death is the last time she loses? 
Also in the opening of the series, Rue describes moments in her childhood: "Every now and then, if I focused too closely on the way I breathed...I'd die. Until every second of every day you find yourself trying to outrun your anxiety...and quite frankly, I'm just f--king exhausted." 
Episode two: 
In the most terrifying scene, as Rue is being forced to lick drugs off of a knife, Narrator Rue chimes in: "Dear God, I know I've been a c--t for like, a lot of my life, and I was mean to Lexi and my family and I am so, so sorry, but...just please, God, do not let me die...tonight."
That pause before "tonight" feels upsettingly significant. 
Episode three: 
Jules says, "I'm not kidding, Rue. I'm not trying to become best friends with someone who's gonna f--king kill themself." 
A new friend at her NA meeting gives Rue his number and says, "Let me know when you stop trying to kill yourself and eat some pancakes." 
Fezco refuses to let Rue in to give her more drugs and says, "I'm not gonna help you kill yourself, Rue."
That's three references to Rue committing suicide in the same episode, and that's real depressing. 
Only time will tell if this pattern of troubling lines of dialogue keeps up, so we'll see you again after episode four. 
Euphoria airs Sundays on HBO.