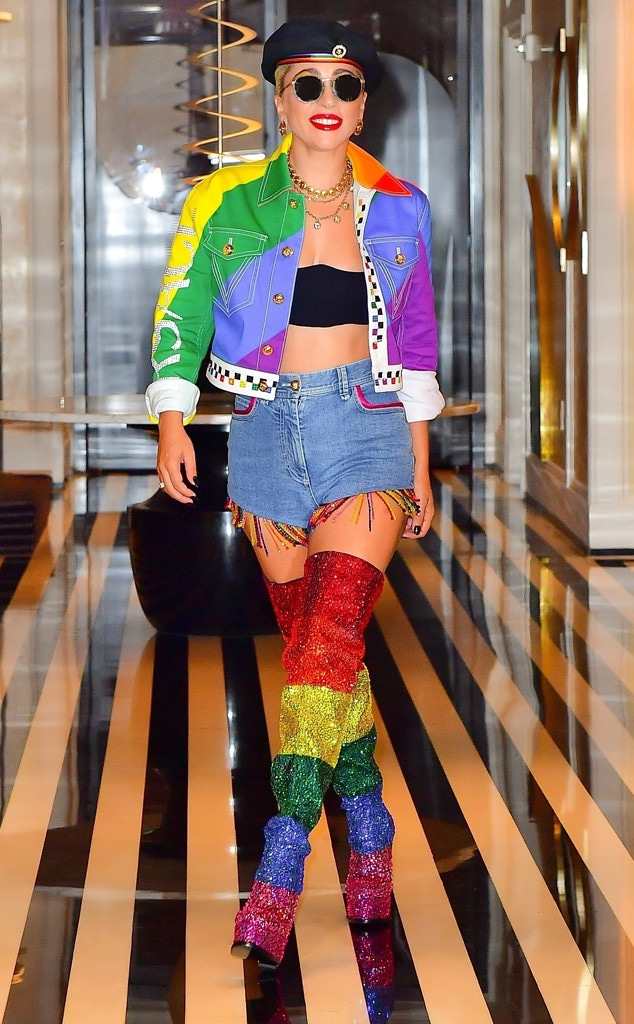 PapCulture / BACKGRID
A round of applause is necessary for Lady Gaga's latest outfit. 
In honor of the 50th anniversary of the 1969 Stonewall uprising, the Oscar winner headed over to the Stonewall National Monument on Friday to commemorate Stonewall Day and World Pride. 
Of course, the triple threat didn't show up in just any look. In perfectly stylish support of the LGBTQ community and the milestone day, the star sported rainbow, which is synonymous with the community, head to toe, including a rainbow patchwork denim jacket, rainbow-fringed shorts and a glittering pair of knee-high platform boots featuring the spectrum of color. 
Upon arrival, she was greeted by friend and designer Donatella Versace, a Stonewall ambassador. An array of stars attended Pride Live's moving Stonewall Day Concert, including Chelsea Clinton, Alicia Keys, Whoopi Goldberg and Ariana Grande's brother Frankie Grande. The event was hosted by Elvis Duran, iHeartMedia New York's Z100 and 103.5 KTU, with support from GLAAD.
Many of the famous faces took the stage to deliver empowering remarks, including Mother Monster herself. The star grew emotional as she once again declared her love for the community, celebrated the great strides they've made and called them the "definition of courage."
"This is a celebration of all of you in every single way. Four million people in New York City to celebrate their Pride. I may not, to some people, some people, I may not even be considered a part of this community even though I like girls sometimes. I would never degrade the fight you have all endured, the adversity that you have all been through to truly be seen, to be heard or the struggles that you have been through to love yourselves and to seek that love from other people," she said on the outside stage before a packed crowd. 
"Honestly, I really, really love you. You are strong. You are so strong. You welcomed me into your community in the most beautiful of ways that I will never forget. My whole life changed because of you," Gaga continued. 
Erik Pendzich/Shutterstock
After encouraging all who was listening to worship themselves, embrace the Stonewall legacy, raise their voices by voting and asking about a person's pronoun preference, Gaga reiterated her alliance. 
"This is your freedom. This is your joy that you have deserved always. I will not stop in pursuit of this liberation," the superstar said. "I wish to see no more homeless youth from this community. I denounce ostracizing people for who they are." 
As she concluded, "True love, true, true love is when you would take a bullet for someone and you know that I would take a bullet for you any day of the week."