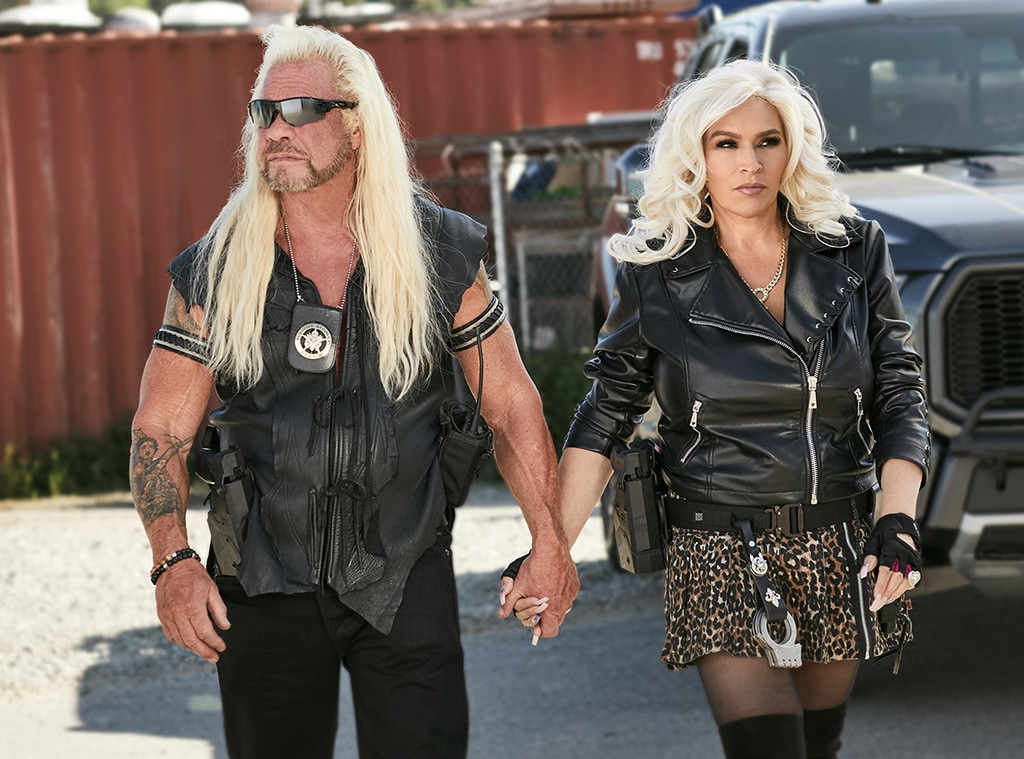 Courtesy of WGN America
It's a once in a lifetime love that deserves to be celebrated.
One day after Beth Chapman passed away after a battle with throat cancer, WGN America is sharing new footage of the reality star and her husband Dog the Bounty Hunter.
In fact, the clip just released showcases the couple's strong love and bond for each other.
When asked to describe Dog in five words, Beth doesn't hesitate to call him "smart, strong, courageous, funny, brave."
And as the tables turn, Dog is quick to have some innocent fun in his answer. "She's very mean. She's not as smart as I am but almost there," he joked as Beth rolled her eyes. "She's my everything. She's the sexiest women I've ever touched in my life. She's a pure girl! There's no tomboy in this baby girl."
Back in early June, WGN America announced Dog's Most Wanted, which features the world-famous bounty hunter and his elite team of professionals. Together, they will pursue Dog's "bucket list" of most wanted fugitives. A premiere date has yet to be announced.
After Beth's passing, the network released a statement paying tribute to the reality star.
"We are deeply saddened by the tragic news that Beth Chapman lost her battle with cancer today.  She was an exceptional woman, fiercely loyal and passionate about her family and she was a true joy to work with," the statement read. "All of us at WGN America will miss her tremendously.  Our thoughts and prayers are with Duane, her family, loved ones and millions of fans."
As family, friends and fans continue to mourn the loss of Beth, Dog is speaking out and honoring his longtime love.
"You kind of try to remember you're celebrating the life, but right now we're mourning the death," he admitted in footage captured by Hawaii News Now. "I hope there is a God and, if there is, I'm going to see my honey again. And that's all we can do is hope."
Beth passed away at the age of 51 on Wednesday after a battle with throat cancer. Her attorney confirmed to E! News on Thursday that she will be cremated, per her final wishes.
"There will be memorial services in Hawaii and Colorado," Beth's lawyer shared. "The details are still being finalized."