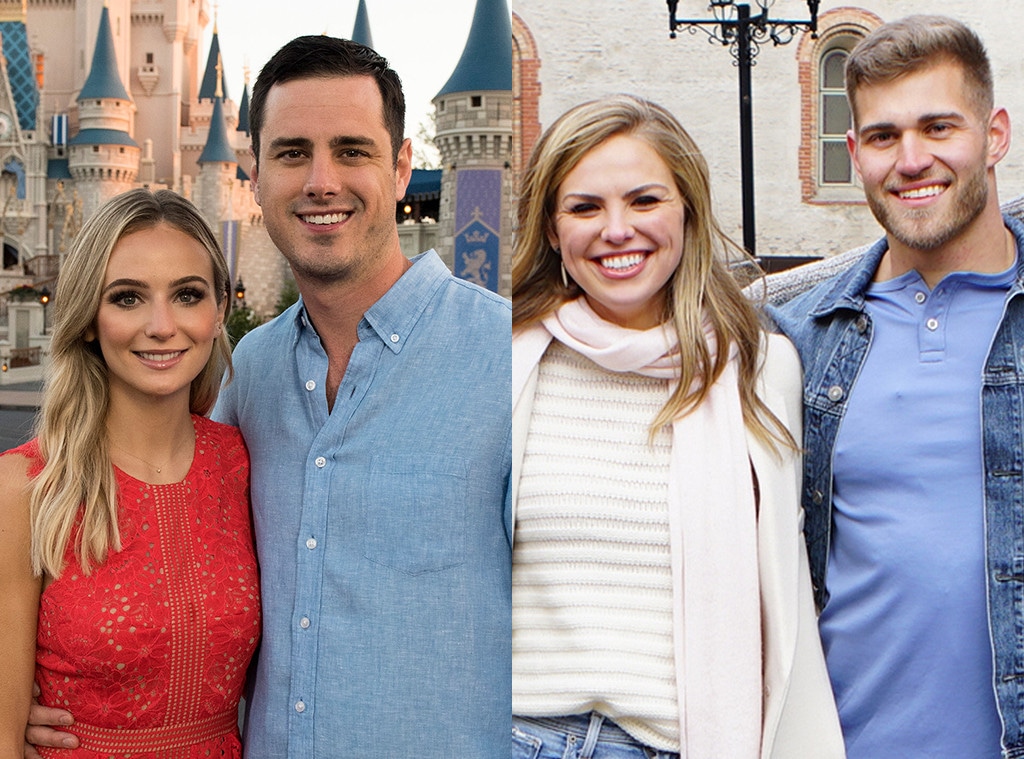 Todd Anderson/Freeform via Getty Images, Mark Bourdillon via Getty Images
Ben Higgins is speaking out about the end of his relationship with Lauren Bushnell.
The former couple, who met and got engaged on season 20 of The Bachelor, called it quits in 2017. Since that time, both Ben and Lauren have moved on, with Lauren recently getting engaged to country singer Chris Lane. Now, Ben is reflecting on the final days of his relationship with Lauren, explaining how they realized they just "weren't clicking."
On the latest episode of Ben and Ashley Iaconetti's Almost Famous podcast, the co-hosts start to discuss the current season of The Bachelorette, starring Hannah Brown. During Monday's episode of the hit ABC reality series, Hannah went naked bungee jumping in Latvia with contestant Garrett. After hearing about the duo's experience, fellow contestant Luke P. made a few controversial comments that did not sit well with Hannah.
"It's just because I know that your body is a temple and honestly, like, I'm just thinking of you holding him bare-skinned and I'm just thinking in my mind like...it really pissed me off," Luke said in part. "I mean, it really frustrated me."
"I had a choice, what I wanted to do," Hannah told Luke. "And I know where my heart was in it, and it wasn't in a sexual way. It was in an experience that I wanted to have for myself."
In response, Luke told Hannah, "Right, but at the same time, I'm looking for you to meet my family soon, and I felt like it was a slap in the face. But no matter what you do, like I'm going to support you. Even if you make a boneheaded mistake and you just do something completely out of your character and something that's wrong, I'm going to do whatever it is to make things right. I'm in this, and we're gonna work through this together and I'm not worried about it." 
Addressing those comments, Ashley and Ben agreed that the way Luke communicated his thoughts was completely wrong.
"Not every person that has a moral compass feels this way or would communicate it in this way," Ben said on the podcast.
"Luke keeps telling Hannah, 'You're perfect, you're the girl I wanna marry.' But he's just saying those things, because...he just doesn't know her," Ashley said. "She's maybe probably proving that she's less conservative than he'd want a girl to be. And yet, he, of course, keeps saying things like, 'I wanna marry you, you're my perfect girl.' I think she's proving that she's not your 'perfect girl.'"
On the podcast episode, Ben then got personal, sharing details about his past relationship with Lauren.
"Let's go to Lauren and I for a second, somebody that, I think we both had a mutual love for each other, and a mutual respect for each other," Ben said. "Now, we were not Luke and Hannah, we got a long, for the most part, right? But there was a time in our relationship towards the end...and it wasn't even lifestyle choices, it wasn't decisions that we were making, we could just tell that we weren't clicking."
Ben went on to share that they realized there was a "lack of compatibility" between them.
"We weren't the right partners for each other," Ben said. "We weren't bringing out the best in each other. Our relationship was more frustrating than it was uplifting."
Watch:
Colton Underwood: Hannah Brown "Seems in Good Spirits" After Ending
"That's exactly what we're seeing between Hannah and Luke, on a smaller scale," Ashley noted.
"On a smaller scale, now I don't want to compare Lauren and I to Hannah and Luke," Ben replied, adding that they had "a lot healthier" of a relationship. "But I think all of our listeners out there could say, if they've been in a few relationships...could say, 'Hey, I've been in a relationship that, we wanted it to work, that everything aligned for it to work. But at the end of the day we were not compatible, that our conversations ended up in frustrations as much as we didn't want them to be.'"
You can listen to the entire podcast episode with Ben and Ashley above!