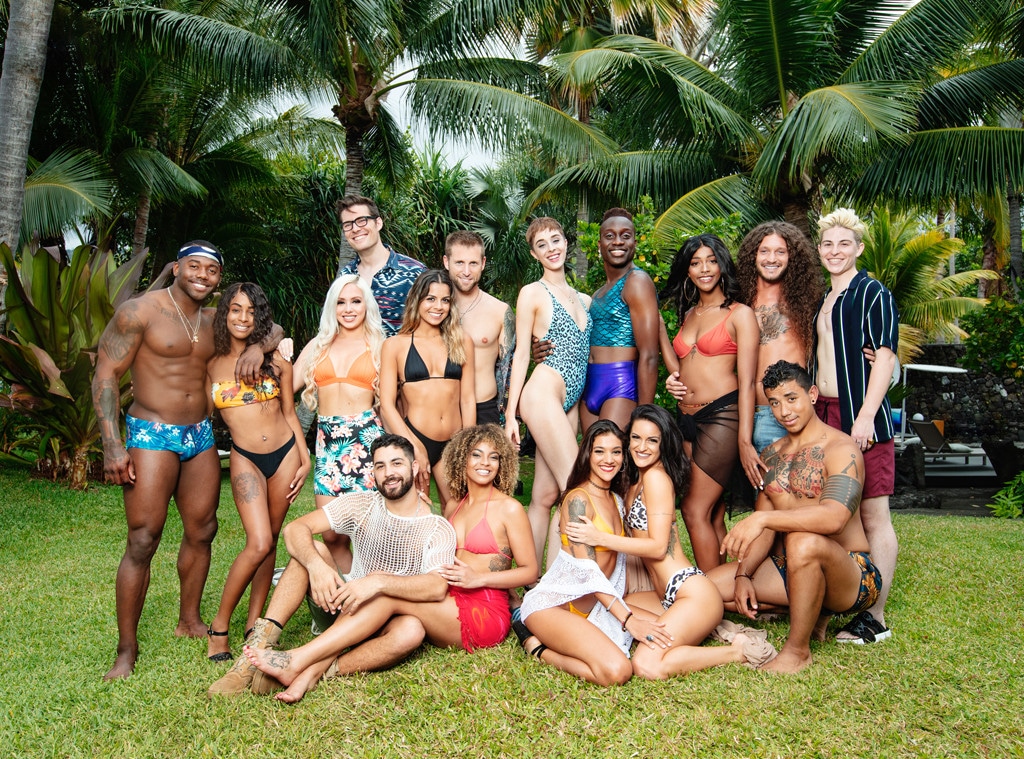 MTV
"These were stories we needed to tell and why not do it on this show?"
Are You the One? is set to break barriers in its season eight premiere tonight on MTV when 16 sexually fluid contestants enter the house with the hope of finding their perfect match, making it the first reality TV dating competition show in the United States to do so. 
In case you are sleeping on one of reality TV's most delicious guilty pleasures, here's a quick breakdown how it works: 20 sexy singles, 10 guys and 10 girls, are plucked from their lives to live and date while living in the same house—drinking and fighting and kissing, oh my!—as they attempt to find their perfect match that has been pre-determined by matchmakers. If they get all the pairings right by the end, they split $1 million.
In its previous seven seasons, the perfect matches were always male-female. But everything is about to change in season eight, as the 16 singles all identify as fluid, meaning there are no gender limitations in finding the perfect match. Like MTV said: come one, come all.
The decision to do finally do a historic season with an entirely fluid cast was an easy one for showrunner Jeff Spangler, who told E! News he started noticing a trend during the show's arduous casting process.
"I have the advantage of having interviews of hundreds and hundreds of young people that are in the dating pool and I feel like my Spidey-sense was going off when we started having more and more young people that were describing really what seemed to me, like, 'Hey, when I'm dating a girl, this is how I am in a relationship. But when I'm dating a guy, this is how my relationship is.' That didn't just happen once or twice or three times, but started happening quite a bit with both sexes."
Always on the hunt for interesting stories that haven't necessarily been told on AYTO? or reality TV before, Spangler explained, "What we realized is we have a generation of daters that were stripping away the labels and not wanting to be put in a box and to do it their way. That was inspiring."
While AYTO? will be telling "new stories" that viewers have never seen on the show before, it's still going to feel like the same show, with lots of partying, hookups and tears.
"These are just young people looking for love, just as they've been every season," Spangler said, though he did say the season eight cast came into the house with a lot of "depth."
"A lot of this cast had to deal with coming out to their friends or family or their own comfortability about where they stand sexually," he explained, adding there's a wide range when it comes to that comfortability and experience: "[There are] Cast member for the first time on the show they're coming out to cast members that have known they've been bisexual for years."
And there was one unexpected shake-up to the show's usual format that Spangler didn't anticipate before filming started.
The other thing that's interesting and puts a little more pressure on them is they walk into that house and there's half of that house that can be their friend," he said of previous seasons where the perfect matches were only male-female. "They didn't have to do the romantic dance with them and with this cast, they walk in and every single person is a potential match. So there isn't necessarily safe harbor from the stress of figuring out who your perfect match is and catching feelings. it was a interesting pressure that was put on them."
It seems the friend zone just got a lot more crowded.
To find out how AYTO?'s matchmaking process really works and how legit it really is, as well as get info on what goes on in the house that viewers don't get to see, we asked Spangler all of our burning questions about TV's most underrated guilty pleasure. So step into the truth booth and find out what we learned, like why pen and paper isn't allowed in the house...
Are You the One? season eight premieres tonight (Wednesday, June 26) at 9 p.m. on MTV.