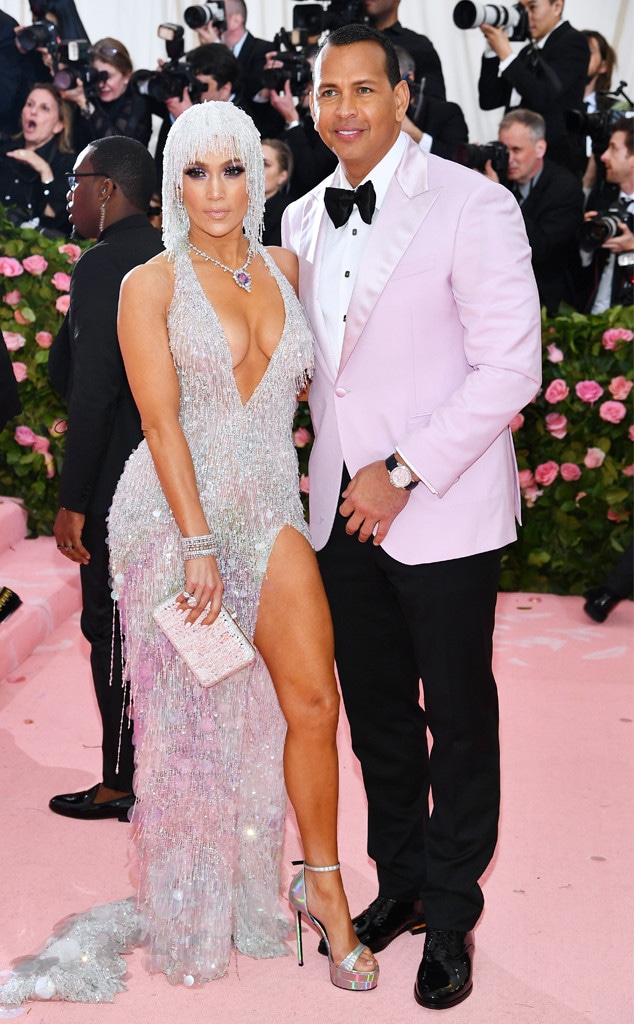 Dimitrios Kambouris/Getty Images for The Met Museum/Vogue
Jennifer Lopez and Alex Rodriguez are opening up about their relationship.
While the "On the Floor" singer and the former New York Yankees baseball player started dating in 2017, they actually first met over a decade earlier. In Rodriguez's cover story for Sports Illustrated's latest "Where Are They Now?" issue, the couple dishes on their romance, including their first meeting at Shea Stadium in 2005. At the time of their tunnel meeting, both Lopez and Rodriguez were married, but there was an admitted "electricity" between the stars during the encounter.
"We shook hands, and it was this weird electricity for, like, three seconds," Lopez tells SI. "Three to five seconds of looking at somebody right in their eyes, and getting stuck." 
Years later, shortly after Rodriguez's retirement, the single stars bumped into each other at the Beverly Hills Hotel. A tap on the shoulder at the famed location then led to a dinner date between the duo.
"I realized afterwards he was a little nervous, saying all this stuff you would never say on a first date," Lopez shares. 
During the date, Rodriguez got up to use the restroom, where he sent Lopez a text message that read, "YOU LOOK SEXY AS F--K."
"Actually, it was good game, because it was very unexpected and it was super flattering," Lopez admits. "I wasn't dressed very sexy."
And the rest, as they say, is history. The couple announced their engagement to the world in March 2019. Two months later, Lopez and Rodriguez stepped out to attend the 2019 Met Gala, turning heads as they hit the red carpet.
"We had a great table," Rodriguez tells SI. "The black guy from The Wire—Idris Elba, yeah, and his new wife. Some famous singer next to me, I don't know what her name is. Versace—Donatella."
Watch:
Jennifer Lopez & Alex Rodriguez's Road to Engagement
A-Rod adds that Kylie Jenner and Kendall Jenner, who also wore Versace to the fashion event, were seated at their table.
"We had Kylie and Kendall. And we had an Asian gentleman from Rich Asians, the lead," Rodriguez says. "Kylie was talking about Instagram and her lipstick, and how rich she is." 
To read more from Rodriguez's cover story, head on over to SI.