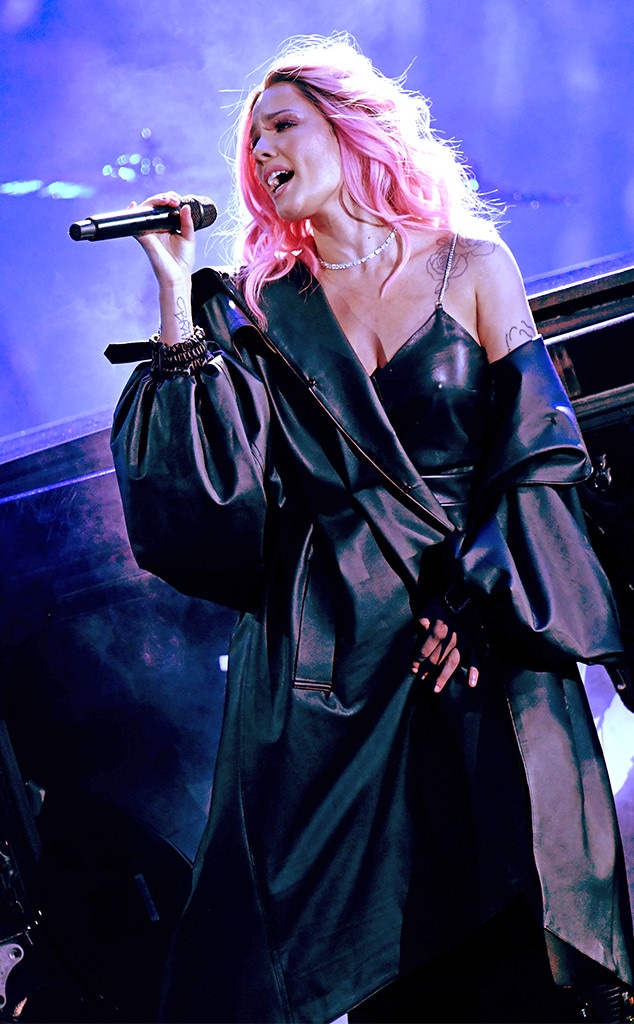 Kevin Winter/Getty Images for iHeartMedia
Halsey is an open book. 
As the cover star of Rolling Stone's "Hot Issue," the songstress got candid on her life today—and seemingly no topic was off limits. At the time of the interview, she was in an "extended manic period," according to the magazine, as a result of bipolar disorder. However, the 24-year-old knew it would eventually end. 
"I know I'm just going to get f--king depressed and be boring again soon," she said in the interview, referencing the mood swings of the disorder. "And I hate that that's a way of thinking. Every time I wake up and realize I'm back in a depressive episode, I'm bummed. I'm like, 'F--k. F--k! This is where we're going now? OK....'"
The songstress has made changes to her lifestyle as of late, Rolling Stone revealing she does not smoke weed, drink hard alcohol or do drugs. "I support my whole family," she told the magazine. "I have multiple houses, I pay taxes, I run a business. I just can't be out getting f--ked up all the time." 
According to the Grammy nominee, her success has been stabilizing because "it makes me accountable."
"I've been committed twice since [I became] Halsey, and no one's known about it. But I'm not ashamed of talking about it now," she told Rolling Stone. "It's been my choice...I've said to [my manager], 'Hey, I'm not going to do anything bad right now, but I'm getting to the point where I'm scared that I might, so I need to go figure this out.' It's still happening in my body. I just know when to get in front of it." 
Something she had also gotten in front of was the possibility of becoming a mom in the future after an endometriosis diagnosis and miscarriage. She had planned to freeze her eggs, but thanks to lifestyle changes and surgery, it's no longer necessary. 
"I was like, 'Wait, what did you just say? Did you just say I can have kids?'' Halsey recalled of hearing the news from her doctor. "It was like the reverse of finding out you have a terminal illness. I called my mom, crying."
During the interview, the performer also addressed confronting the person who sexually assaulted her a few years ago after she had become famous, telling Rolling Stone the person "took it seriously, went to rehab, sought therapy."
However, the experience left Halsey, who had been previously sexually assaulted, with a disheartening lesson. "Here's what's f--ked up to me...a young man seeks success and power so that he can use it to control people, and a young woman seeks success and power so that she no longer has to worry about being controlled," she told Rolling Stone. "It's an illusion, a f--king lie. There is no amount of success or notoriety that makes you safe when you're a woman. None."
Rolling Stone's "Hot Issue" hits newsstands July 2.