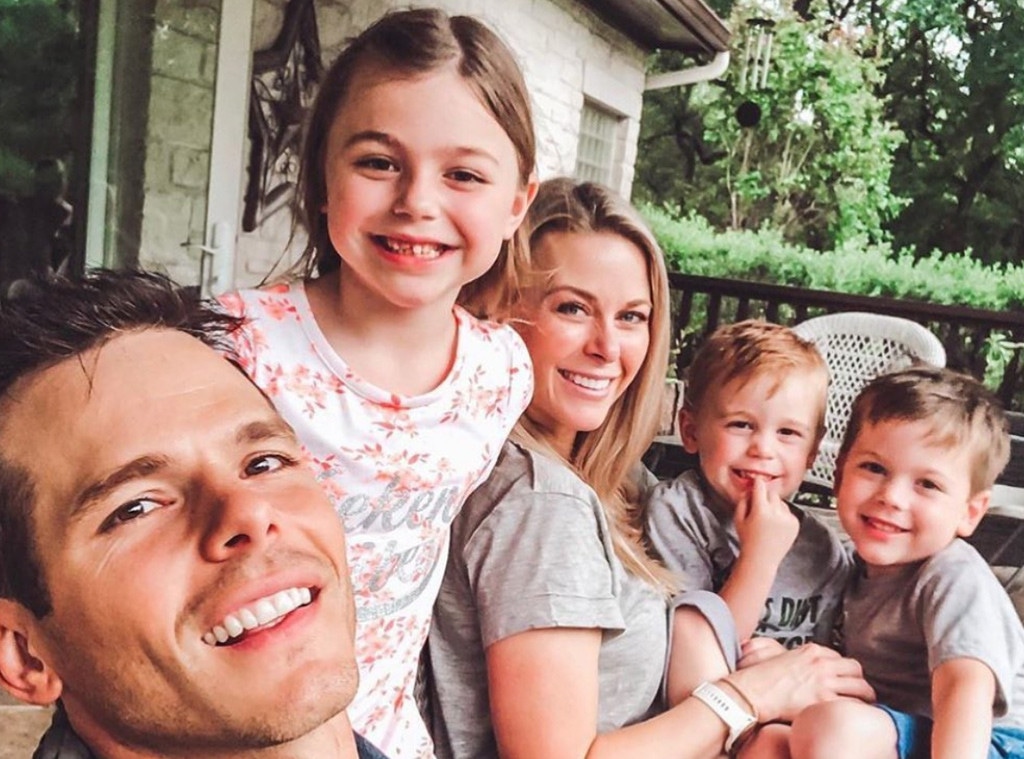 Instagram
It's been less than three weeks since Granger Smith's 3-year-old son, River Kelly Smith, died in a tragic drowning accident at their home in Georgetown, Texas. Now, the family is learning how to carry on and get back to "daily life" without the singer's youngest son.
Granger's wife, Amber Smith, opened up about this transition in an emotional Instagram post on Sunday.
The post showed her daughter London and her son Lincoln standing next to a giant tyrannosaurus rex fossil at the Field Museum in Chicago. Amber explained the family members had decided to make the trip in River's honor.
"This dinosaur was discovered in FAITH, South Dakota by a woman named Sue. And he died by a River," she captioned the post. "Open your eyes and you will see signs all around you. We think just maybe, Riv is having the best time of his life in Heaven with this."
She also continued to mourn her youngest son's death and opened up about life after his passing.
"Getting back on the road and back into daily life without River has not been easy in the slightest," she wrote. "Every single thing reminds me of him, and all I can think about is how he would love exploring and seeing all that we are seeing. I see his name everywhere, I see little red-headed toddlers everywhere. I miss his silly personality and his bright light. I see his face in our other kiddos. I have this pit in my stomach constantly, because I'm trying to make life as normal as possible for our other 2 incredible kiddos, London and Lincoln, while hurting so bad inside. I look around at everyone else and wonder if anyone is going through something like we are." 
Near the end of her post, Amber reflected on how her perspective on life has changed since River's death and thanked her followers for their support.
"Dumb little things don't matter anymore," she explained. "My family does. My faith does. We've got this, because God's got us. Thank you all for your continued support, prayers and love. It really does help us so much."
This wasn't the first time Amber had opened up her son's death to her followers. Last week, she candidly explained how she was handling the grief. 
"Grief is such a strange thing," she wrote in part of her post. "One minute you feel like you have the strength of a lion and you can handle what God has given you, the next you're sitting by your son's crib, holding his blanket and crying so hard that no tears or sound comes out, or punching your steering wheel crying and screaming at God, or smiling and laughing at the memories you have of such a special person. Sadness, anger, shock, questioning, fear, hope, the joy of remembering, emptiness, worry, heartbreak, trust in our faith - we feel all of this and more. But we also feel all of the prayers and love from every one of you who have reached out to us during this time. Our family, friends, fans and even strangers have brought us so much comfort and we cannot thank you enough."
The "Backroad Song" singer announced last week that he's returning to the stage for his When the Good Guys Win tour. However, he made it clear that he would not be doing meet-and-greets. He also told his fans River would always be in his family members' hearts and explained why they shouldn't feel sorry for them during this difficult time. 
"Don't feel sorry for us because we feel very blessed we had an incredible little boy for three years," he said in a video. "We feel really good about that. We feel really good about our other kids and their states of mind right now. We are going to live our best lives."