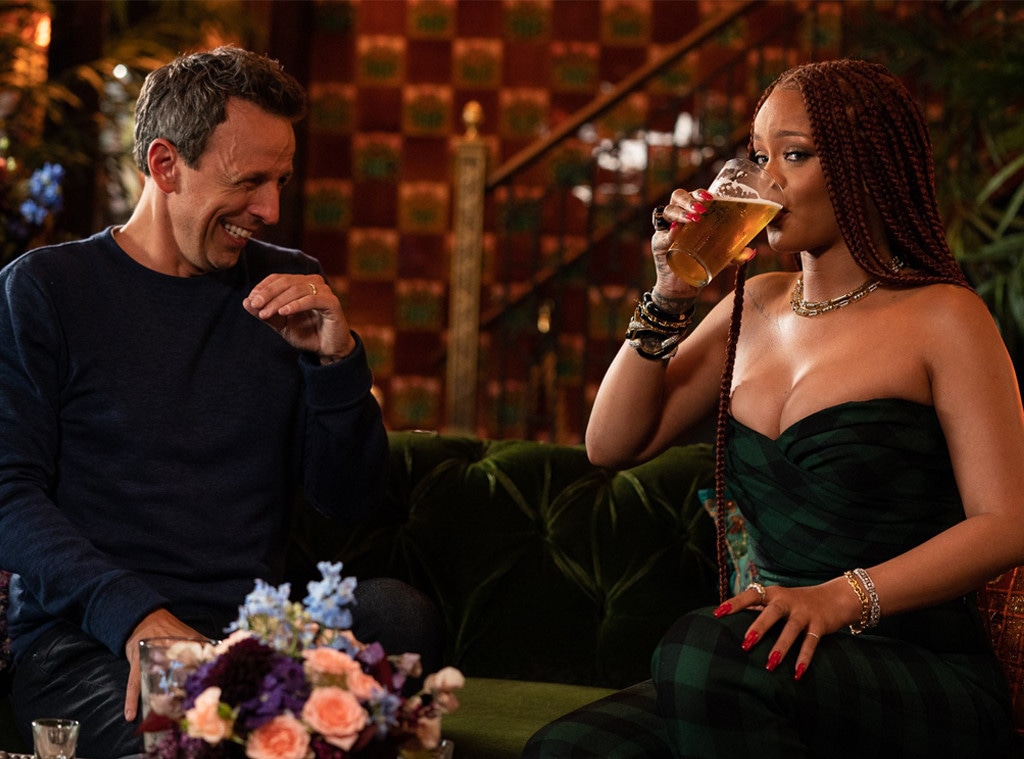 Seth Meyers admits Rihanna is the "only girl in the world" who he'd cancel his late-night show for.
Well, her and his two sons.
On Thursday, the Fenty Beauty founder appeared on the Late Night With Seth Meyers show and joined the host for an afternoon of day drinking. Naturally, the iconic duo broke the Internet with their now-viral segment, which was full of debauchery, fun and OMG moments.
However, the 45-year-old comedian told Variety that the epic video almost didn't happen.
Due to the nature of the segment, Meyers revealed "Day Drinking" is typically done on a day when they don't film his regular late-night show.
"[Rihanna] gave us a date, and historically when we've done "Day Drinking" it's been on a day without a show, because it goes without saying that it would be impossible to do a show that night," he told the publication.
Seth continued, "So we actually had to go to the network and say, 'Hey, we want to show a mid-week rerun,' which we never do, 'in order to do Day Drinking with Rihanna.'"
Thankfully, he said, "it was a very speedy approval from NBC."
His "Day Drinking" segment with the fashion icon was "only the second time" he and his team canceled the late-night show.
"I do want to point out that this was only the second time we've had to cancel a show, and the other was the birth of my first son," Meyers revealed. "For the birth of my second son, I just went to work the next day. So the order goes, my first son, Rihanna, my second son."
Tbh, we would've done the same thing for the one and only Bad Gal.
What's more? Seth explained he also cut out his monologue "for the first time in a while." He added, "Maybe the first time since the 2016 election?! So it was historic." 
It was historic indeed!
And if you admired the "Work" singer before watching her day drink with the host, then you'll love to know she is even more amazing in person. "The thing about her that didn't just strike me, but struck every single person who was there, she was immediately so friendly and relatable, and it became clear that she was down for the idea and what it entailed."
He continued, "Looking back, I almost wish it was two hours longer. The best moments are the ones that are just Rihanna being Rihanna that we never could've planned for nor written. I mean, my god, some of her one-liners are better than anything you'll hear on any comedy show!"
With that in mind, we'll be watching the pair's video on repeat all day long.