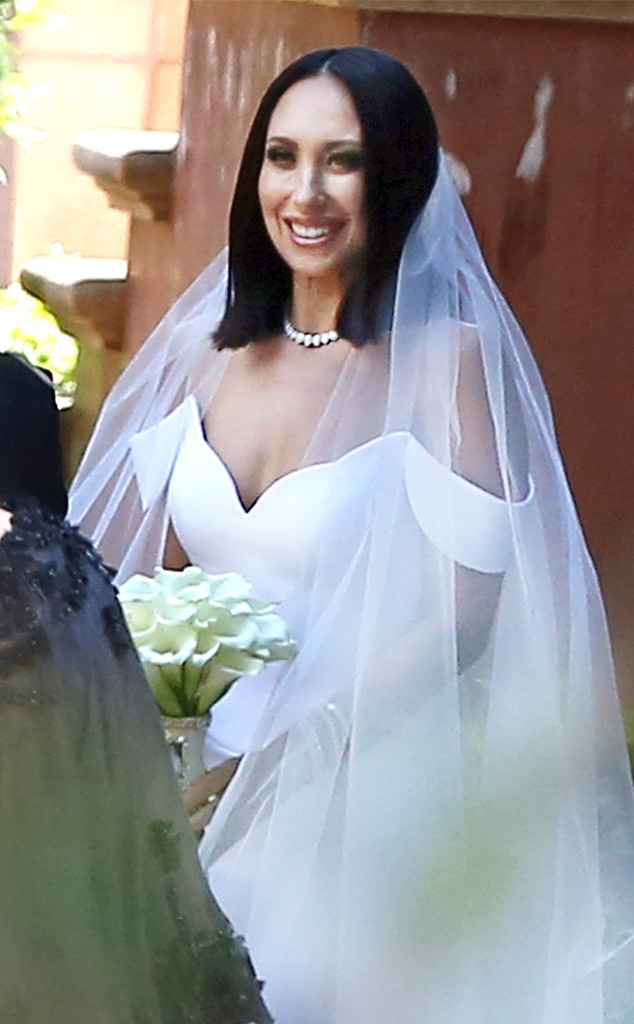 MEGA
Cheryl Burke was a bridezilla and she's not afraid to admit it. 
The Dancing With the Stars pro recently wed longtime beau Matthew Lawrence last month in a picturesque San Diego ceremony followed by a star-studded reception. A newly minted Mrs., the star has since reflected on wedding planning in a piece for Glamour, encouraging women not to fear the "b" word. 
"I say embrace your inner bridezilla. I sure did," she told the publication. "But there's a way of doing it without having people hate you. A bridezilla can either be bitchy [to the point where] friends ghost them after the wedding or there's a bridezilla like me that expected perfection from myself, not from anyone else."
A self-admitted stickler for detail, Burke revealed she brought a PowerPoint presentation to her first meeting with wedding planner Mindy Weiss and had friends come over to her house to bedazzled items for the big event. 
"I think they thought I was joking about it. We did it on everything from the hangover kits to tic tac boxes. I mean, who the hell does that? But we had a great time and they enjoyed it even though they thought I was f--king nuts," she recalled to Glamour.  
"Matthew even helped, too. He put stickers on the tic tac boxes. I realized that if he could put up with me during all of this, then we're going to be together forever."
When it came to her dress for the special day, the ballroom dancer found third time was indeed a charm. "I went through two wedding dress designers who quit," she told Glamour, recalling "crazy contracts" and delayed sketches. As fans well know from the star's wedding photos, things ultimately worked out in the dress department. "In the end, I'm so happy because my eventual wedding designer, Romona Keveza, was the best," she said. 
From turning their entire living room into a bonafide wedding planning space to bringing thank you notes on her honeymoon to "get a head start," Burke did wedding planning her own thorough way. "I don't think a bridezilla is necessarily a bad thing. As long as your intention is in the right place and you aren't hurting your loved ones or becoming egotistical or selfish, it's fine," she told Glamour. "I wasn't going to expect Mindy Weiss and her team to rhinestone my hangover kit. That was my own thing, and as long as you're ready to do it yourself, there's nothing wrong with it."
In the end, "I dreamed of a vision I had once I got engaged," she said, "and it was amazing watching that vision come to life."