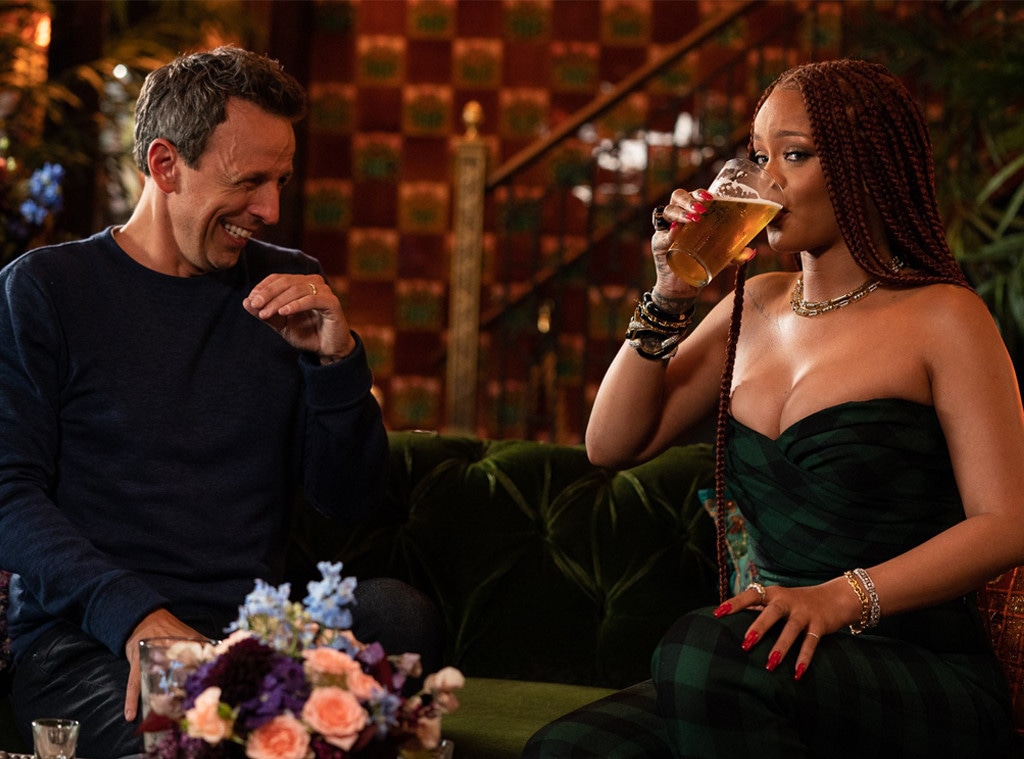 Rihanna and Seth Meyers may have found love at the bottom of a tequila bottle.
During an appearance the Late Night With Seth Meyers, the Grammy winner joined the host for an epic afternoon of day drinking. And, needless to say, things got messy real quickly.
The menu was comprised solely of drinks inspired by her songs. There was Under My Rum-brella (rum, chocolate rum balls, rum raisin ice cream and umbrellas); Diamonds in the Rya (rye whiskey and blue diamond milk); We Found Veuve in a Hostess Place (champagne and Twinkies); and Bitch Better Have my Bunny (chocolate bunny and tequila).
And that was just the start.
"Now it's time for a drinking game," Seth explained to an understandably confused RiRi. "I feel like we've just been drinking. This is a game. There are right or wrong answers."
Pulling up pictures of Rihanna's most iconic outfits, he quizzed her on where she wore each specific look. If she got it right, he drank. If she was wrong, she drank.(Remember when she basically dressed as the Pope to the 2018 Met Gala? Yep, so does she.) As Seth downed two shots, Rihanna proclaimed, "We're in for a wild day."
After throwing back some more tequila, they decided to change up the activity.
"I think we all know bartenders are really good at giving advice," said Seth. "I'm going to give you a drink and I want you to give you the opportunity to ask me anything you want to ask me and I will give you advice on it." So, she asked what she should do if she quit music—just a hypothetical, don't worry!. His recommendation: Pilot school because, why not? 
When it's Seth's turn to pick her brain, he asked, "I want to, like, blow my wife away with a romantic night out. What do I do?"
"You said it," explains Rihanna. "Blow your wife."
Her blunt response left him speechless. Well, almost. "Rihanna!" he said. "This is a network television show!" Whoops.
Done exchanging words of wisdom, if you want to call it that, Seth wanted to test out his best pick up lines on her. "My wife often says to me I'm so lucky I married her because I have no game," revealed the Saturday Night Live alum. "But I would like to prove to her right now how good my game is." If she disapproved of his moves, she had to ring a bell placed on the bar.
As it turns out, Rihanna was far from impressed. Sliding up to her at the bar, he asked if she was also underwhelmed by the Game of Thrones finale. "I don't watch Game of Thrones," she quipped.
"What's a nice boy like me doing in the big city without his parents?" he tried next.
"Are you serious?" she replied. "I don't even have the energy to life my arm to ring the bell."
"Excuse me," he said. "Are you the girl from Battleship?" To which she promptly got up and walked away: "Jesus, are you desperate? I'm out. I'm done."
Alas, before officially calling it a day, Rihanna gave Seth a makeover using her Fenty beauty collection—"You have wrinkles," she told him—then he put on noise canceling headphones and performed her 2016 hit, "Work." And let's just say, we'll leave the singing to Rihanna from here on out.
To quote the superstar, "Can we have another shot?"