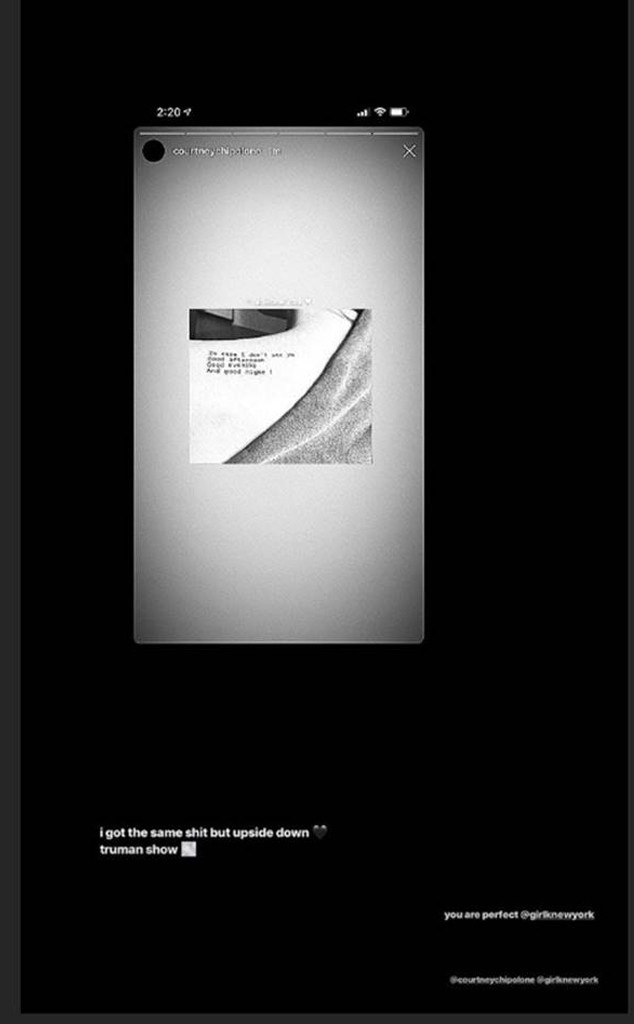 Instagram
Ariana Grande continues to keep fans on their toes with every tattoo she gets.
On Thursday, the 25-year-old "Thank U, Next" pop star revealed her latest addition: a famous quote inspired by her favorite Jim Carrey movie, The Truman Show. Taking to Instagram Stories, the brunette beauty re-posted her BFF and cousin Courtney Chipolone's new tattoo, which happens to be the same thing she got.
"i got the same s--t but upside down," she captioned her social media post. "truman show."
Ariana and Courtney's new ink is an iconic line from the critically-acclaimed dramedy. It reads, "In case I don't see ya good afternoon good evening and good night!" While Chipolone showed off her new design, which she got done on her left shoulder, it's unclear if the pop star got hers in the same place.
Additionally, the "7 Rings" singer tagged the tattoo artist, Mira Mariah, and wrote, "you are perfect."
This isn't the first time Ariana has given the legendary comedian a shout-out.
Back in April, the 25-year-old star shared one of Carrey's profound quotes about depression and how she felt connected to it.
"Depression is your body saying, 'I don't want to be this character anymore. I don't want to hold up this avatar that you've created in the world. It's too much for me,'" the quote card read on her Instagram Story, where she uploaded several posts about the 57-year-old actor.
The message continued, "You should think of the word 'depressed' as 'deep rest.'  Your body needs to be depressed. It needs deep rest from the character that you've been trying to play."
Underneath the quote, she wrote, "The whole LOML [love of my life] forever."
Her Instagram Story gained so much attention that Carrey caught wind of it. "I read your lovely mention of me and things I've said about depression," he shared on Twitter. "A brilliant teacher and friend, Jeff Foster was OG on the "Deep Rest" concept. I admire your openness. I wish you freedom and peace. I feel blessed to have such a gifted admirer."
What's more? She revealed she's been Jim's stan for quite some time. "My first AIM username was jimcarreyfan42 when I was in like 4th grade," she shared.