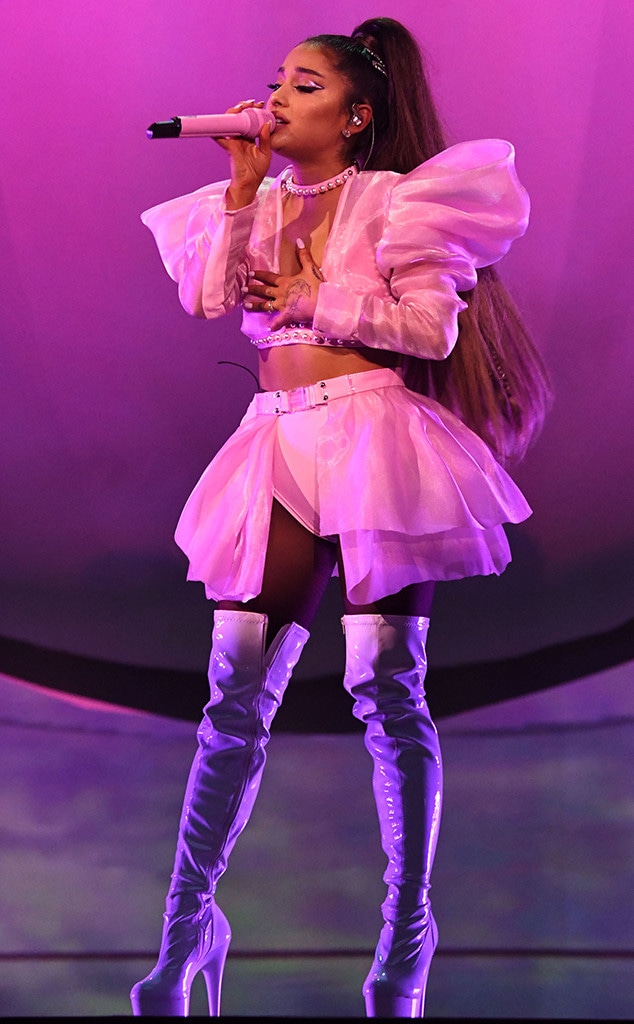 Kevin Mazur/Getty Images for Ariana Grande
Ariana Grande is setting the record straight.
On Thursday, the 25-year-old singer tweeted the list of new dates added to her Sweetener World Tour. While many fans were excited about the announcement, others were disappointed to see that all the extra shows were scheduled to take place in the United States.
"I just can't understand why she's literally doing 4-5 shows in a STATE instead of going to other countries," one fan tweeted. "It really makes no sense to me."
Even though the Grammy winner had previously noted she was adding U.S. dates specifically, she decided to take a moment to address the follower's frustration.
"The truth is: European leg is going to be a big step," she tweeted. "I'm really excited about it and grateful to do it! but since you're asking, this is simply the best I'm capable of at this time and keeping me closer to home for a majority of the dates is what's best for my health rn. love u!"
Another fan then reassured the artist her fans love her and were "so proud" she even added the extra dates.
"Thank u ! I'm very excited about them tbh," the singer replied. "Doing the best I can do for right now and so grateful for my health and for this chapter and for my fans for supporting and understanding the pace i'm moving at. soooo grateful for u. thank u."
But would the "7 Rings" star consider adding international stops in the future? After a third follower reiterated her fans were "grateful" for the extra dates but had been wondering about the location choices, Grande made it clear "this is it for now;" however, she also said she's "excitedly playing it by ear and seeing how it goes."
Grande is already doing over 30 shows across the U.K. and Europe, including in London, Paris, Berlin, Dublin, and Amsterdam. She'll also be returning to Manchester. The show will surely be an emotional one. Just two years before, there was a horrific attack at her concert in Manchester Arena that left 22 people dead.
Last year, the star opened up to British Vogue about how she coped with symptoms of post-traumatic stress disorder after the attack.
"It's hard to talk about because so many people have suffered such severe, tremendous loss. But, yeah, it's a real thing," she said. "I know those families and my fans, and everyone there experienced a tremendous amount of it as well. Time is the biggest thing. I feel like I shouldn't even be talking about my own experience–like I shouldn't even say anything. I don't think I'll ever know how to talk about it and not cry."
She also spoke candidly about her anxiety.
"I've always had anxiety," she told the magazine last June. "I've never really spoken about it because I thought everyone had it, but when I got home from tour it was the most severe I think it's ever been."
Considering Grande has already experienced a few health issues on her current tour, it's no surprise she wants to make her wellbeing a priority. In May, she postponed two shows due an "unfortunate allergic reaction to tomatoes." Then, on Wednesday, she revealed she'd been performing with bronchitis for the past few shows.