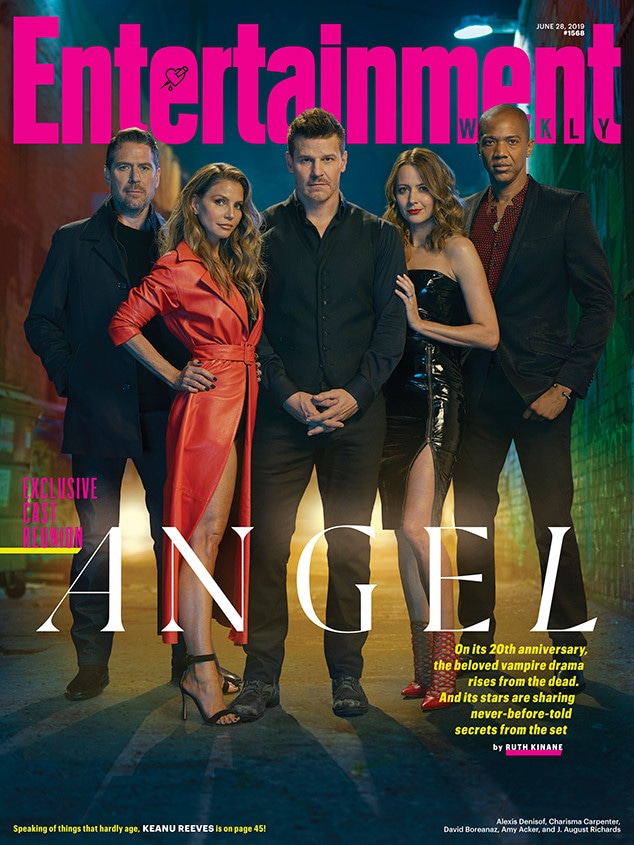 Entertainment Weekly
Ready to feel old? Angel ended 15 years ago. The Buffy the Vampire Slayer spinoff that ran for five seasons premiered 20 years ago in October 1999 and to celebrate the enduring appeal of the brooding vampire, Entertainment Weekly got the demon-battling gang back together.
David Boreanaz, Charisma Carpenter, J. August Richards, James Marsters, Amy Acker and Alexis Denisof gathered with creators Joss Whedon and David Greenwalt to reminisce about the beginnings and endings of all things spiky-haired, crinkly-faced Angel.
"I think we started talking about the Grateful Dead," Boreanaz said about the first meeting about the spinoff. He thought he was getting fired. "Then he's like, 'Yeah, we're thinking about spinning your character off.' And I'm like, 'alright.'"
The series finale aired in 2004, but things never got tied up in a nice little bow. After the death of Denisof's character Wesley, a seriously injured Gunn (Richards), Spike (Marsters), Illyria (Acker) and Angel (Boreanaz) gathered to take on Wolfram & Hart's warriors. The group goes into battle, ready to defeat the assembled villainous army, Angel says "Let's go to work" and the show ends. Who lived? Who died? Was Angel successful? The character's adventures continued in a Whedon-sanctioned comic book series, but on TV, his fate remained in question.
"I understand why people would want closure, but for me, that would be like adding a cliff note to the end. What I always wanted to say is trying to become worthy of the life that you have, is a life's work. The fight is for always," Whedon told EW.
"I'm so proud of what we all accomplished," Boreanaz said. "There's such strength in all of these characters; they struggle and they do find redemption somehow."
As is the case with almost every once-popular and lucrative property, there's chatter about bringing Buffy back to TV in some form. Boreanaz, who is now starring in CBS's SEAL Team, was open to a new generation exploring the themes and stories of Buffy the Vampire Slayer.
"I think it's a great opportunity for a reboot like this to show where we are with society now, what you can do with technology. How you can explore those relationships with the same kinds of metaphors. I'm all for it. I think it's fantastic. Good for them. I hope that it becomes huge and successful, and does what it does," he said.
The Angel cast will also reunite at New York Comic Con in October. The reunion issue of Entertainment Weekly is on newsstands on Friday, June 21.