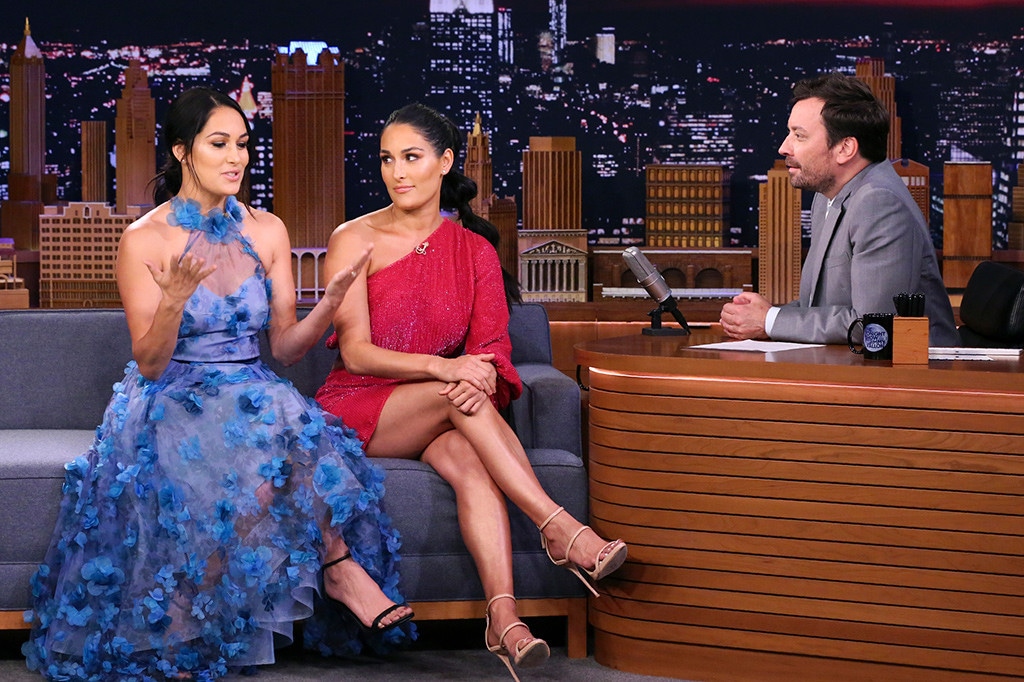 Andrew Lipovsky/NBC
The Game of Thrones finale was a surprise for many fans—but not for Artem Chigvintsev and Daniel Bryan.
Nikki Bella admitted she spoiled the ending for both her main man and Brie Bella's husband on Wednesday's episode of The Tonight Show.
It all happened back in May when the four of them were in Napa Valley, Calif. for BottleRock. Brie's hubby was playing with their daughter, Birdie, when Nikki asked him if he could believe who ended up on the throne.
"I'm like, 'Oh, Jon Snow, he, like, put a dagger in the Queen of Dragons' heart,'" Nikki recalled. "He looked at me and, like, wanted to cry."
That's when Jimmy Fallon called out the WWE star for ruining the ending for his viewers who still hadn't seen the show.
"You just spoiled it for millions of people," the host said with a laugh.
"Oh my gosh, you guys! I'm sorry!" Nikki said once she realized what she'd done.
As for how she ruined it for Artem, Nikki said it all happened while the two were posing for a picture. She looked at him and said, "You'll never Jon Snow me." That's when the Dancing With the Stars pro asked her if she just told him the ending.
Nikki even admitted she spoiled the finale for both men on the same day.
"I blame the wine," she said.
For those who still haven't seen the ending, (warning: spoilers ahead), nobody actually ends up on the Iron Throne. This is because Daenerys Targaryen's dragon burns it to the ground after she's stabbed to death by Jon Snow. With her dead and Jon Snow exiled, the kingdoms are left without a leader. So, Sansa Stark decides to rule The North independently as queen, and the heads of Westeros appoint Bran Stark king of the remaining six kingdoms.
(E! and NBC are both part of NBCUniversal).