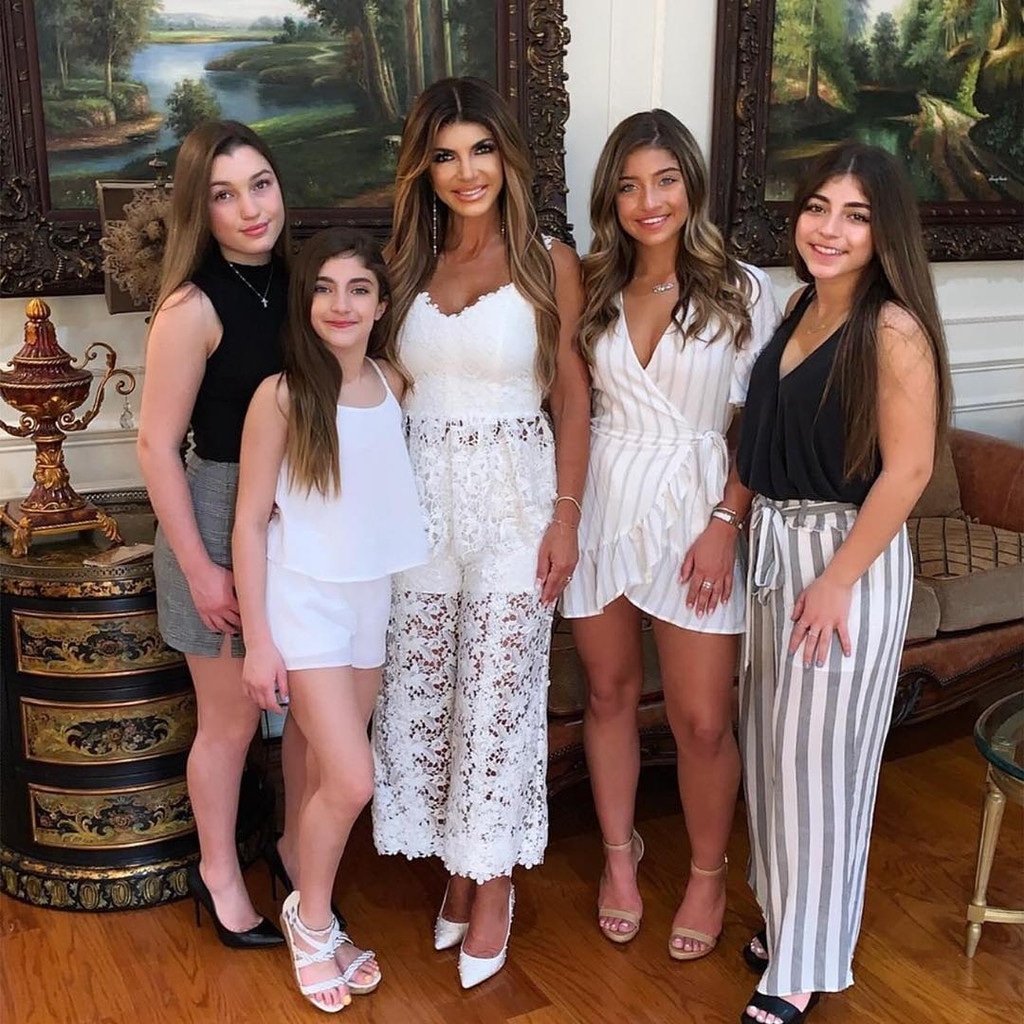 Instagram
Reality is setting in for Teresa Giudice and her four daughters as they await a decision in Joe Giudice's deportation case. 
"If he gets deported, he'll never be able to go to their graduation, celebrate their birthdays, anything," the Real Housewives of New Jersey star shared with Bravo Insider. "He's going to be missing out on so much. The girls adore their father and no child should have to go through what my daughters are going through. They should have their daddy here."
Watching her daughters—Gia Giudice, 18; Gabriella Giudice, 15; Milania Giudice, 14; and Audriana Giudice, 10—struggle with his absence has broken Teresa's heart. "When you're a mom and your children are hurting, it just kills you so much," she said. "If I could take any of this pain away from them I wish I could."
Her RHONJ castmates are also feeling their anguish. "Joe may get deported from this country forever," Dolores Catania said. "That is so devastating. The girls expected their dad to come home after his sentence was over, so this is ripping out the rug from under their feet again."
"It's just the most painful thing I've ever heard," added an emotional Margaret Josephs. "I feel sorry for her. Teresa puts on a smile every day for her family and her daughters and that's a special person." Chimed in Melissa Gorga, "I do feel for the girls. They are very upset that this is happening to their father and rightfully so."
Joe, a permanent U.S. resident, had entered prison in late March 2016 and was initially supposed to spend 41 months behind bars. A judge ruled in October that he would be removed from the country and deported to his native Italy upon his release. Though Joe filed a last-minute appeal to fight the deportation order, the Board of Immigration Appeals ruled against him.
Since that decision, Teresa has been "mentally preparing" for her husband to potentially leave, an insider previously told E! News: "She was taking it day by day and was hoping the decision by the Board of Immigration Appeals would not have turned out this way."
In March, Joe was released from federal prison after serving time on fraud charges. He was transferred into federal custody with U.S. Immigration and Customs Enforcement and now awaits a final decision on whether he will be deported.
His family visited him for the first time just last month to celebrate his 47th birthday. They originally had not gone to see him because Teresa's "filming schedule has been pretty hectic and the ICE facility where he is being detained is several hours away," a source told E! News. "The girls love their dad so much and miss him tremendously."
A second insider noted that Joe's current living situation is hard for the family to take in.
"It's a horrifyingly frightening place where Joe is living in filthy conditions," the source said. "Teresa has tried to keep a very low profile when it comes to Joe on the request of his immigration attorneys."