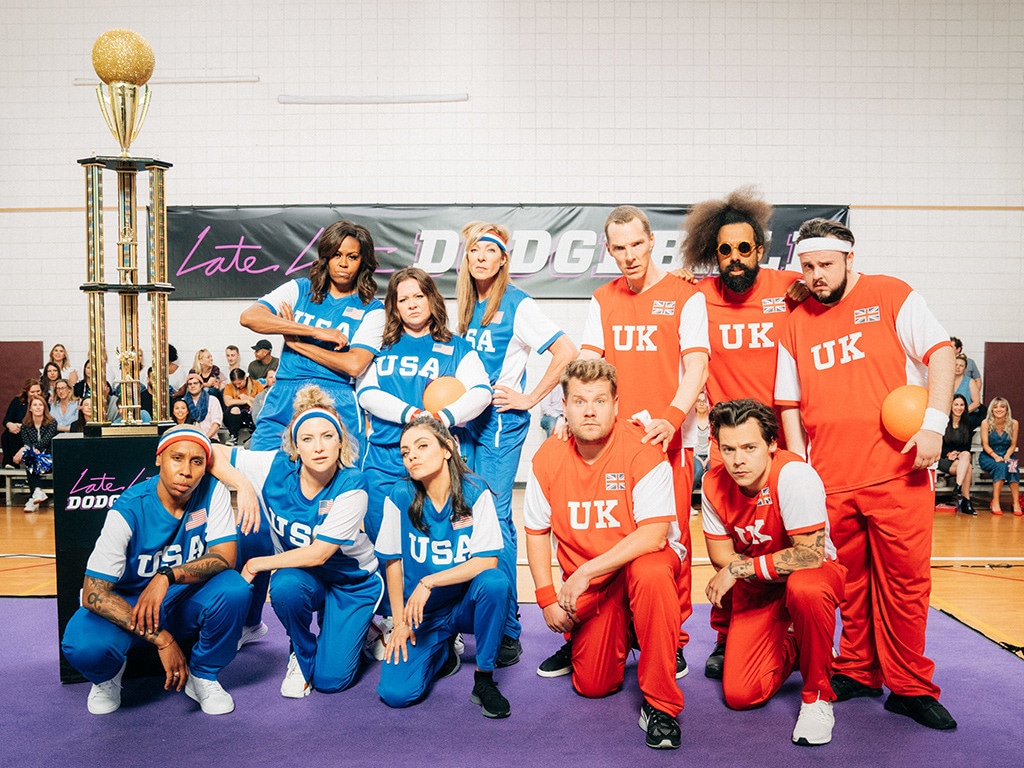 Terence Patrick
Are you ready for some dodgeball?
Michelle Obama and James Corden showed off their patriotic pride and faced off in an epic dodgeball tournament on Monday's episode of The Late Late Show.
It all started when the former first lady and the late-night host got into a debate over whether the United States or the United Kingdom was better. After comparing musicians and sports, the two decided to settle this on the dodgeball court. So, they each recruited a few of their celebrity pals and had a friendly Team U.S.A. versus Team U.K. competition.
For Team U.S.A., Obama enlisted the help of Mila Kunis, Allison Janney, Melissa McCarthy, Lena Waithe and Kate Hudson.
"Listen, when Michelle Obama calls and asks you to do anything, you just say yes," Kunis said.
As for Team U.K., Corden brought on Harry Styles, Benedict Cumberbatch, John Bradley and Reggie Watts (the latter of whom isn't actually British).
"When James Corden calls you, you initially ignore the call," Styles said. "Then, he keeps calling you. Then, he keeps texting saying 'Hey, did you get my call?' Then, he shows up at your house, your work, your hairdresser, your pilates class and your shower."
After the singing of the national anthems, the tournament began. Team U.S.A. took the first round. However, after a quick tea break, Team U.K. rallied and won the second. It all came down to the third and final round, which took place after a quick signing of Obama's new book, Becoming.
In the end, it was Team U.S.A. who took home the trophy.
Watch the video to see the star-studded competition.