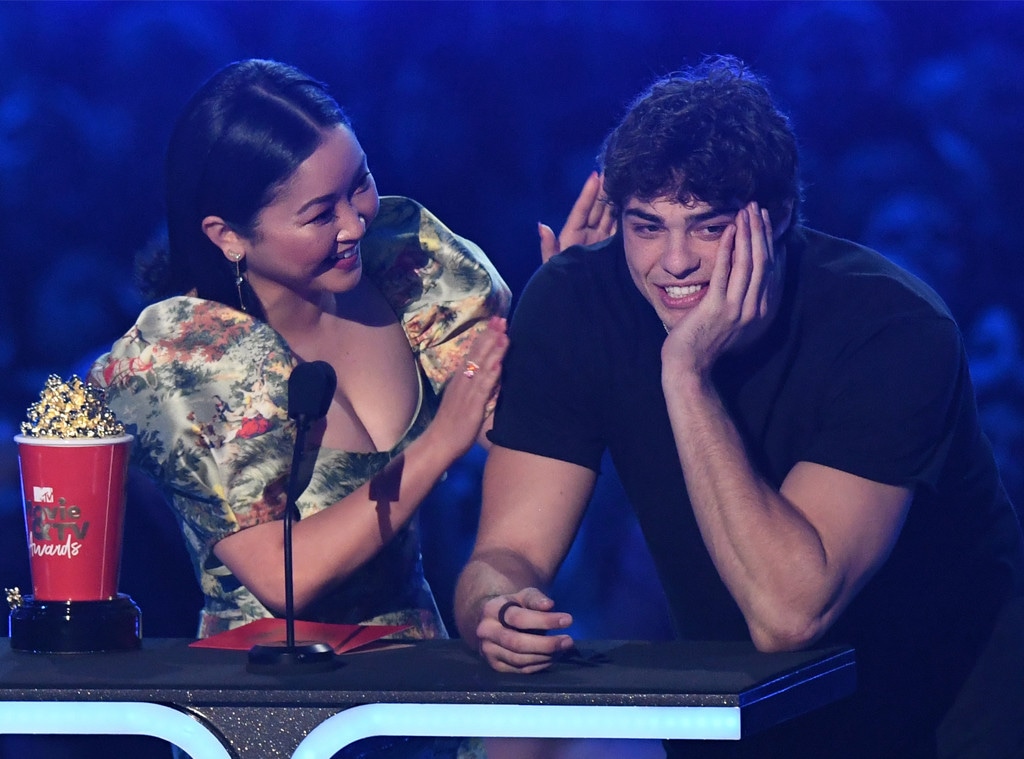 VALERIE MACON/AFP/Getty Images
Pucker up!
Lana Condor and Noah Centineo are taking home that famous popcorn trophy after winning Best Kiss at the 2019 MTV Movie & TV Awards. What's more? This is the first time the actors attend the star-studded ceremony, and they're already going home winners. But fans wouldn't expect anything less from the pair, considering they made people swoon with their off-the-charts chemistry in Netflix's To All the Boys I've Loved Before. Plus, the 23-year-old actor has become the Internet's fave boyfriend.
So yeah, they were destined to win Best Kiss at the MTV Movie & TV Awards.
Gracing the stage, the 22-year-old X-Men: Apocalypse star and The Perfect Date actor made fans' heart race with their charming and cheeky speech. "Thank you Awesomeness [TV] for making the picture in the first place," Noah said. Adding, "Thanks to Lana's lips. Right?"
Chiming in, the brunette beauty also thanked their fans.
"About a year-and-a-half ago we made this little movie and we had no idea what was gonna happen," she began her speech. "All of this is really because of you guys, and to the fans for supporting the movie and loving it as much as we do. So thank you so much."
The brunette beauty also took a moment to share an empowering message about love.
"I just wanted to say thank you to Noah for being an amazing partner," she shared. "And also kiss who you want to kiss, love who you want to love and don't let anyone tell you otherwise." Amen, sister!
Along with their win, both Lana and Noah stole the show with their fashion sense. While The Perfect Date star kept things simple with an all-black ensemble, his accessory stood out. He brought his Nikon camera with him to the star-studded show and snapped a few photos during the red carpet.
As for the Summer Night actress, she stunned in a cocktail dress that looked straight out of a Renaissance painting. Her outfit featured an artistic pattern, dramatic sleeves and two chic front pockets with pearl buttons. She wore an Alice McCall gown, Jimmy Choo shoes and Swarvosky jewelry pieces.