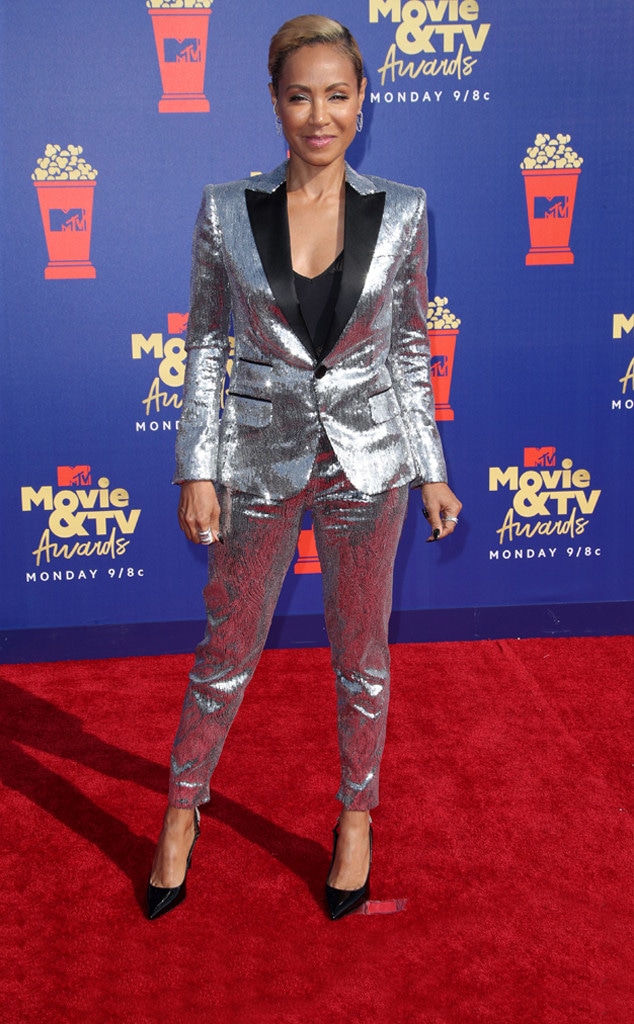 Matt Baron/Shutterstock
Jada Pinkett Smith is getting the recognition she deserves!
At the 2019 MTV Movie & TV Awards, the actress was honored with one of the biggest achievements in Hollywood: the Trailblazer Award. Dressed in a shimmering silver suit that exuded power, the 47-year-old climbed the stage with her son, Jaden Smith, by her side to accept the award that recognizes her numerous accolades that she achieved in her impressive career. 
Her friend and Girls' Trip co-star Tiffany Haddish presented her with the award and praised her for her work with the Will and Jada Pinkett Smith Foundation. Even Queen Latifah and Alicia Keys shared their praise for the star in a brief video!
She started her speech, "Often we applaud the trails people blaze in the external world that we can see, but very rarely do we applaud the trails that are blazed in the hidden rooms of the mind that are full of uncertainty, false beliefs and pain. And it's these internal obstacles that must be challenged in order to muster the courage to forge new paths that we can see in the world."
"And then I thought a little more deeply. I was thinking, every last person in this room must do that at some capacity. So that means that every single person in this room is trailblazing, whether it's within or without," Jada continued, as Jaden and Tiffany pumped up the crowd. "So as you honor me tonight, I want to honor all of you. And I want to say, here's to us for all of our trailblazing. Keep it up and thank you!"
Red Table Talk/Stan Evans
The actress got her start in the film industry when she starred in True Colors, before moving her way up the ranks to starring roles in films like Collateral and The Matrix. Since then she has continued to champion for equality and foster discussions about various issues, especially with her talk show Red Table Talk. 
Her hard work hasn't gone unnoticed. Amy Doyle, general manager of MTV, VH1, CMT and Logo said in a statement, "Jada has been a powerhouse since the beginning of her career and has achieved multi-hyphenate status throughout. She is the epitome of someone who is not afraid to challenge the status quo and we are thrilled to present her with this year's Trailblazer Award."
Congratulations, Jada!