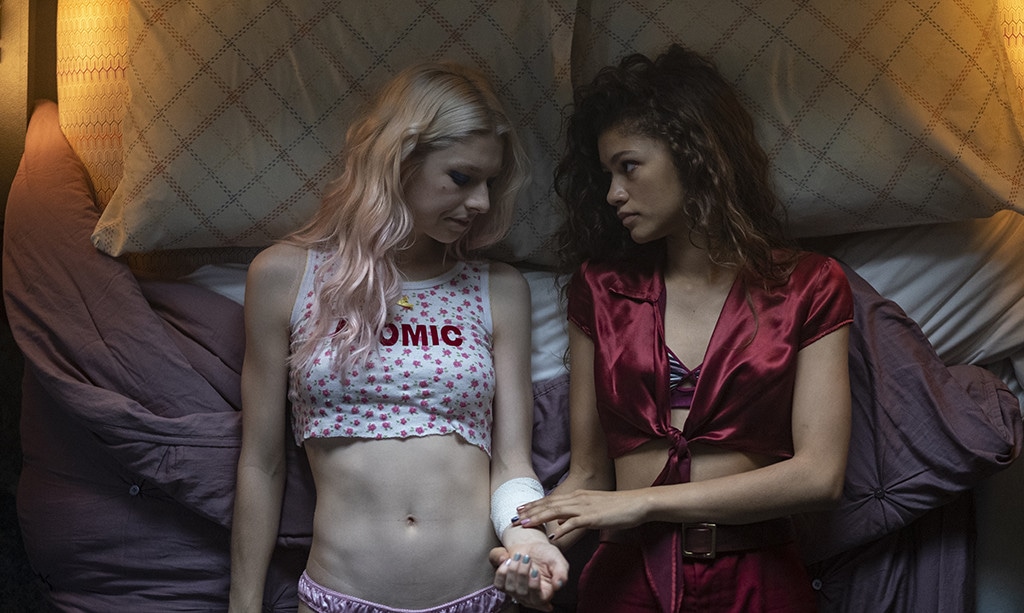 HBO
Not all TV shows are for every person, which is absolutely the case with HBO's Euphoria. 
The drama, a dark slice-of-life story about teens, debuted on Sunday after days of stories about just how graphic the show is going to get, from the slightly comical, like how they had to remove 80 penises from a scene in the second episode, to the much darker, like how much of the show's depiction of addiction is based on the life of executive producer Sam Levinson. 
Zendaya stars as the show's main character, a teen drug addict who just got out of rehab but has no plans to stay clean, and it's definitely a far cry from the work most of her fans know her from, like Disney Channel's K.C. Undercover and Marvel's Spider-Man: Homecoming. The star even put her own warning on her Instagram, reminding her fans that Euphoria is for "mature audiences."  
"It's a raw and honest portrayal of addiction, anxiety, and the difficulties of navigating life today," she wrote. "There are scenes that are graphic, hard to watch and can be triggering. Please only watch if you feel you can handle it. Do what's best for you. I will still love you and feel your support." 
Just Zendaya's character is dealing with anxiety, bipolar disorder, OCD, addiction, and rehab after an overdose, but all of these teens have a lot going on that could be hard to watch for some viewers, and perhaps offensive to some parents of some young viewers, but as Levinson told EW in a new interview, that's not a new problem. 
"I feel like this is a debate that goes on constantly throughout time, where people go, 'Parents are gonna be scared,' and you go 'Yeah.' And young people will be like, 'Yeah, that's my life,'" he said. "I'm sure certain people will be freaked out by it and other people will relate to it." 
Levinson says he hopes the show and its controversial subject matter starts some new conversations. 
"I think what's different about this time is that at least pre-Internet there were more similarities between one generation and the next," he continued. "And now, I think that gap has grown in a very significant way. I think part of what's so difficult to try and navigate the world at this age right now is there is no map. There's no compass, there's no one to kind of guide you one way or another. Because it's a brand-new world every five years. I think that's what makes it particularly difficult is that kind of very real and big disconnect between parents and children. So if anything, I hope that it at least opens up a dialogue between the two because it's hard being a teenager. It's difficult, especially too if you're struggling with addiction and battling those things. Hopefully it'll open up those means of communication." 
One scene in the first episode that has gotten a lot of attention involves Eric Dane going full frontal, with a prosthetic penis, and committing statutory rape with a 17 year-old trans girl (Hunter Schafer). He signed on for the show because he thought it was "wonderfully written," and a chance to do something different. He also thinks it portrays something "pretty realistic." 
"To a degree this is a cautionary tale," he told EW. "It's certainly not a love letter to drugs or drug addiction, but as a cautionary tale, these are some pretty realistic circumstances and how these kids are navigating them is probably how a lot of kids today are going to navigate them." 
"The show provides no-nonsense optics on what it means to be a teenager today—drug addiction, personal conflict. When you're tackling issues like that you do it a disservice to not be truthful about it," he continued. "You can't sugarcoat stuff like this. I believe that people now are more open to things like drug addiction and sexuality and mental health issues. Thank God there's been sort of an open dialogue about it for the last few years."
If you watched the episode and thought it wasn't nearly as graphic as the show was made to sound, prepare yourself for the rest of the season. 
"Let's just say the first episode is the most mild, to be honest," Zendaya told EW in a different interview. "It definitely doesn't shy away from anything, that's for sure."
Euphoria airs Sundays on HBO.