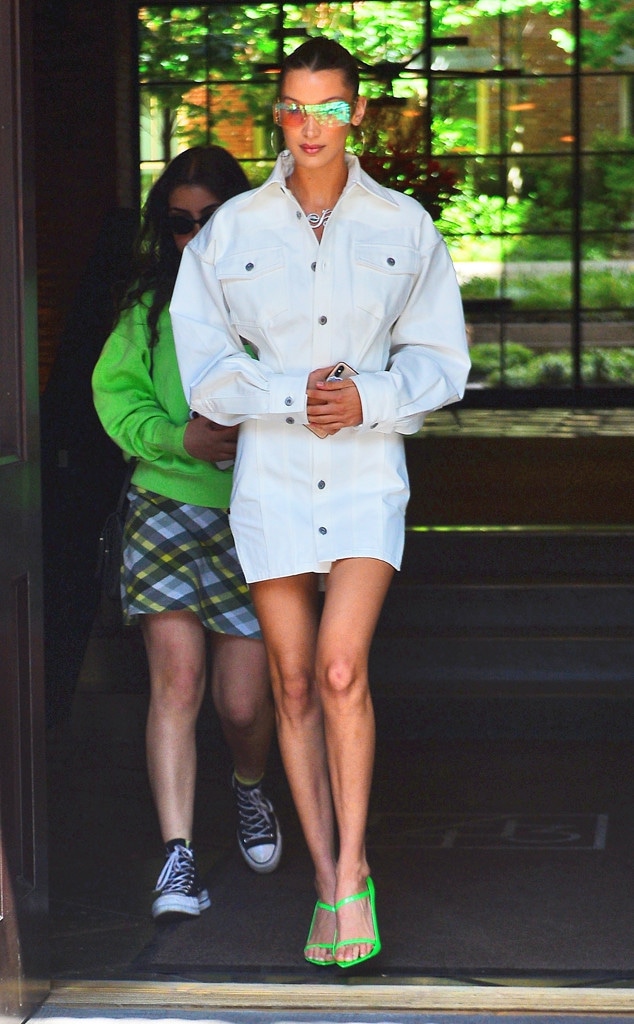 Jawad Elatab / BACKGRID
Bella Hadid is apologizing for a major miscommunication that led to the viral hashtag #BellaHadidIsRacist.
On Monday, the model took to Twitter to set the record straight on her beliefs regarding the conflict in the Middle East. It appears that some people believe the 22-year-old disrespected the United Arab Emirates and Saudi Arabia in a picture of her shoe. The heel of her boot was resting on a window, making it look like she was kicking planes that had the UAE and Saudi flag on them. 
This led to calls for brands to stop working with Hadid, as well as the now-viral hashtag #BellaHadidIsRacist. 
However, the model is now clarifying that she meant no "disrespect" to the nations. "I would never want my posts or platform to be used for hate against anyone, especially those of my own beautiful & powerful heritage," she explains. "I love and care so much about the Muslim and Arab side of my family as well as my brothers and sisters throughout the world."
She continues, "Not only do I have so much respect from the bottom of my heart, I have always tried to stand up for what I feel is right, especially regarding the great Middle East. I have never and will never be the one to talk down on these countries… Only to spread love, and the true beauty of them, as the way I was taught by my Teta and my father. To feel as if I have disappointed you is what hurts me the most."
Moreover, she assures that the photo had "NOTHING to do with politics."
She concludes, "I want to send a sincere apology to those who ever thought I would put blame on them, especially to Saudi Arabia and the UAE… This was never the case, and I hope you can understand the misunderstanding. I will be more responsible when bringing awareness to all causes, including my beloved Middle Eastern community."
The model is of Dutch and Palestinian descent and frequently speaks about her desire to show the "true beauty and truth of the Muslim/ Palestinian community."