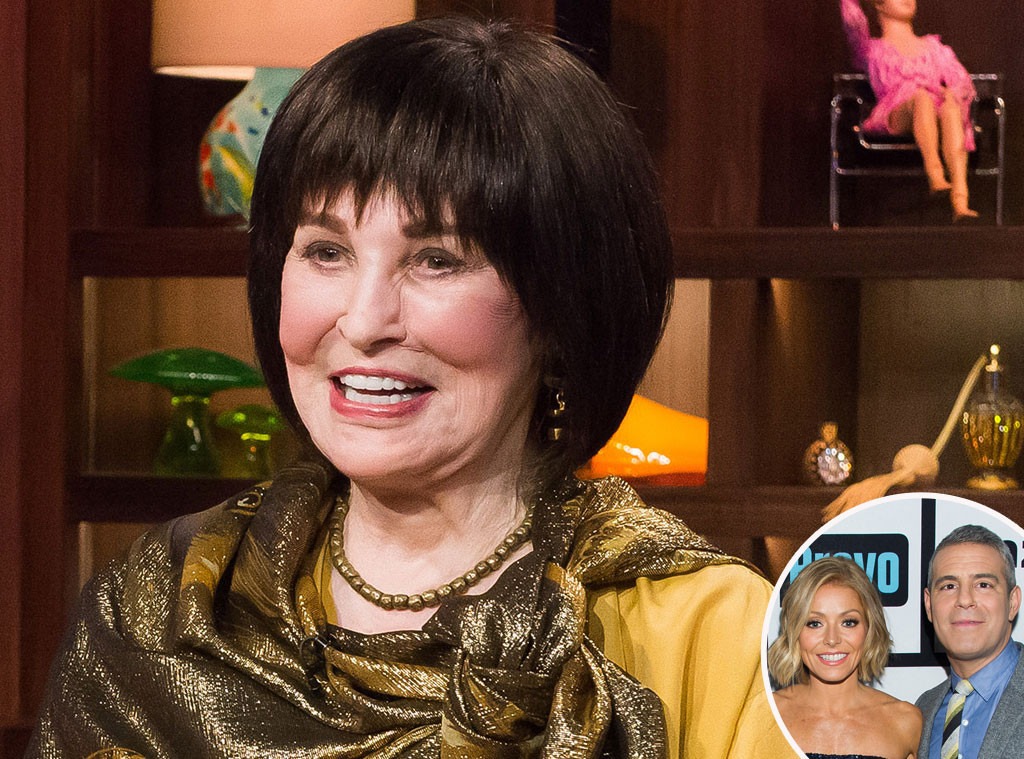 Charles Sykes/Bravo/NBCU Photo Bank
Gloria Vanderbilt is gone but not forgotten. 
Following news of her passing from stomach cancer at age 95 this morning, her son's good friends Andy Cohen and Kelly Ripa have paid tribute to the late icon. 
"Gloria Vanderbilt was an amazing woman who lived a life filled with incredible peaks and impossible obstacles," the Watch What Happens Live captioned a black and white shot of her on Instagram. "Through it all she remained eternally optimistic with a wicked sense of humor. In fact, Anderson's iconic and infectious giggle comes from his mom. Sending Anderson all my love, and may she Rest In Peace."
Wrote Ripa, "Gloria Vanderbilt. A true lady and pioneer who lived life to its fullest. I will miss you and everything about you. May you Rest In Peace Gloria.......you deserve it."
Other celebrities have also shared their memories and condolences. "Gloria Vanderbilt influenced me from a very early age," wrote Lisa Rinna. "She was a bigger than life ICON who I was so taken with. Then I was fortunate enough to meet her son @andersoncooper who is one of my favorite people ever. I am so saddened to hear of her passing. A life well lived!! She is a Legend. Sending love and prayers to you Anderson. Rest In Peace."
Tweeted Maria Shriver, "A life well-lived. Not without pain, not without hurdles, but lived. And how moving to have your son do this. Rest In Peace. And @andersoncooper, God bless. We are holding you in our prayers."
Cooper honored his mom this morning on CNN's Newsroom With Poppy.
"Earlier this month we had to take her to the hospital," he shared. "That's where she learned she had very advanced cancer in her stomach and that it had spread. When the doctor told her she had cancer, she was silent for a while and then she said, 'Well, it's like that old song, show me the way to get out of this world because that's where everything is.' Later, she made a joke and we started giggling. I never knew we had the exact same giggle. I recorded it and it makes me giggle every time I watch it."
"I know she hoped for a little more time, a few days or weeks at least," he said. "There were paintings she wanted to make, more books she wanted to read, more dreams to dream, but she was ready. She was ready to go...She was surrounded by beauty and by family and by friends. The last few weeks every time I kissed her goodbye, I'd say, 'I love you, mom.' She would look at me and say, 'I love you, too. You know that.'"