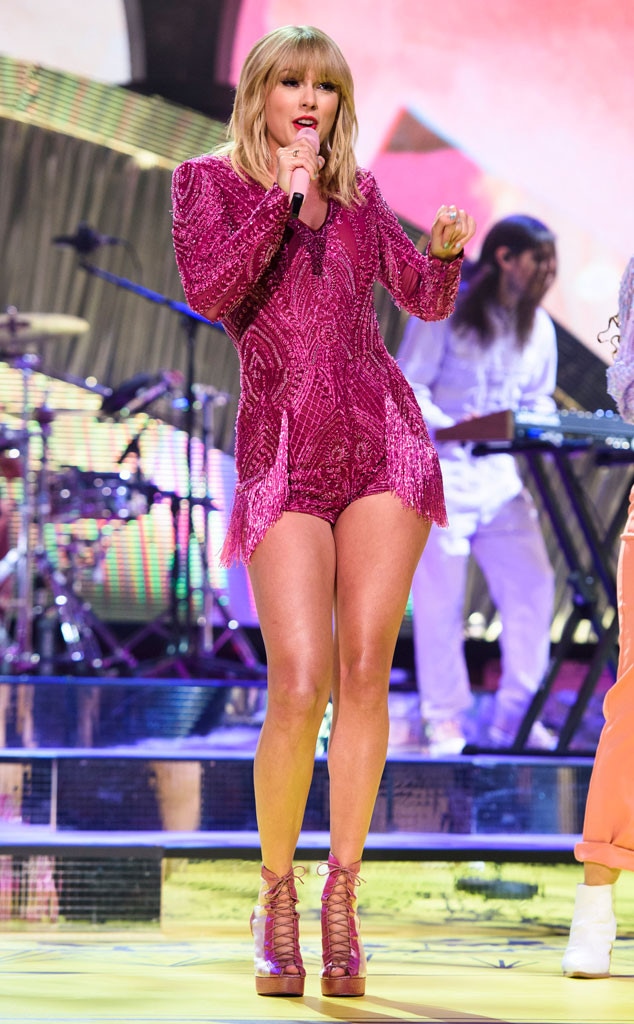 Matt Crossick/PA Wire
Taylor Swift's new song, "You Need to Calm Down," is finally here! 
After teasing the single during an Instagram Live yesterday, the 29-year-old singer released the tune on Friday. Along with sharing the lyric video for the instant hit on YouTube, Swift posted some cover art for the song on Instagram. The photo showed a picture of the 10-time Grammy winner rocking a giant back tattoo. The ink featured a bunch of butterflies flying up above a snake—a key symbol from her reputation era.
Swift spoke about her inspiration for the song during a recent interview with Apple Music's Beats 1.
"I've observed a lot of different people in our society who just put so much energy and effort into negativity, and it just made me feel like, 'You need to just calm down. Like, you're stressing yourself out. This seems like it's more about you than what you're going off about. Like, just calm down,'" she said.
For a deeper dive into the new song's lyrics, read on below.
Shutting down the haters: Swift has dealt with her fair share of criticism over the years. While the singer has cryptically addressed her critics before—such as by making fun of the media's perception of her love life in "Blank Space"—she's now speaking to them directly.
As she sings in her new tune, "Say it in the street, that's a knock-out/ But you say it in a tweet, that's a cop-out/And I'm just like 'Hey, Are You OK?'/ And I ain't trying to mess with your self-expression but I've learned the lesson that stressin' and obsessing 'bout somebody else is no fun."
She also tells these social media trolls that "snakes and stones never broke my bones." This could be interpreted as a reminder that if she can get through the drama before her reputation era (you remember that Snapchat video), she can make it through anything.
Standing up for the LGBTQ community: Swift is showing her support for the LGBTQ community. Back in April, she donated $113,000 to the Tennessee Equality Project. She also penned a letter to Sen. Lamar Alexander asking him to support the Equality Act and spoke about the bill during her performance at Wango Tango.
Now, the singer is showing her support through her lyrics.
"You are somebody that we don't know/But you're comin' at my friends like a missile/Why are you mad when you could be GLAAD?" she sings, referencing the LGBTQ organization.
She then croons, "Sunshine on the street at the parade/But you would rather be in the dark ages/Making that sign/Must've taken all night/You just need to take several seats and then try to restore the peace and control your urges to scream about all the people you hate/'Cause shade never made anybody less gay." 
Eagle-eyed fans also noted that the letters "e" and "a" were highlighted every time they appeared next to each other in a word, which are likely another nod to the Equality Act.
After the song's release, GLAAD noted it's seen an increase in donations made in the amount of $13—a likely reference to Swift's favorite number.
Throwing shade at Donald Trump? Some fans have interpreted the aforementioned lyric to be a dig at the president. Although, it should be noted Swift hasn't confirmed this theory herself. As fans will recall, Swift wrote she personally rejected the commander-in-chief's "stance that his administration, 'supports equal treatment of all,' but that the Equality Act, 'in its current form is filled with poison pills that threaten to undermine parental and conscience rights.'"
A few social media users also noted Swift released the song on Trump's birthday. 
Back in May, Swift revealed her new music did contain "political undertones;" however, she didn't specify how or in which songs they appeared.
Promoting women supporting women:  In this new song, Swift seems to be promoting the message of women supporting women and not being pitted against one another or tearing each other down.
At one point, she sings "And we see you over there on the internet/Comparing all the girls who are killing it/But we figured you out/We all know now/We all got crowns. You need to calm down."
She also sings, "Like can you not step on our gowns" at another. 
It's no secret Swift has love for the women in her squad; however, she's also ended her beef with other female artists in the industry, including Katy Perry.
Fans still have to wait until Monday to see the full music video. But Swift recently revealed her new album is called Lover, and it looks like she just wants peace and love for all.