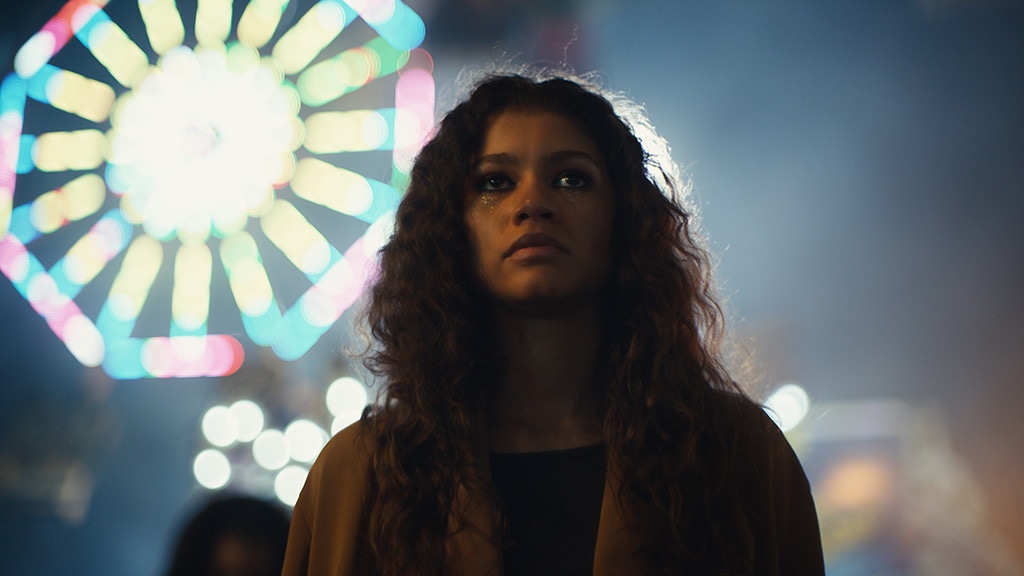 HBO
This ain't the Disney Channel anymore. 
Zendaya stars in Euphoria, HBO's newest drama that premieres on Sunday, and if you want penises, you got penises. You got 'em even if you didn't know you wanted 'em! 
The show is about high schoolers trying to discover their own identities while dealing with "drugs, trauma, love, and social media," was based on the Israeli series by the same name, and inspired in part by the life of creator Sam Levinson, and it does not hold back in terms of, well, anything. In fact, The Hollywood Reporter reports that in one scene in an episode, there are at least 30 penises. And there were supposed to be a lot more. 
The scene is set in a locker room filled with naked teenage boys as an homage to the locker room scene in Carrie, and the original cut was one of the few things HBO objected to, Levinson told THR. Originally, there were going to be "like, 80 more" penises. 
Another scene that HBO had some major notes on was the opening scene of the series, featuring the birth of Zendaya's character. Currently, it shows a baby in utero. Previously, it did not. 
Per THR, "Levinson actually wanted to start with a dolly shot that began on the lights in the hospital room, boomed down behind a doctor and went straight between her mother's legs and into her vagina." 
"They were like, 'Nah, you can't open it that way,'" Levinson said. "I just thought, 'It's a battle I don't need to fight right now.'"
The scene was already shot (with a stand in for actress Nika King, who plays Zendaya's mother), so it does exist, just not in the finished version of the show. 
Euphoria also stars Hunter Schafer, Jacob Elordi, Algee Smith, Sydney Sweeney, Eric Dane, Storm Reid, Barbie Ferreira, Alexa Demie, and Maude Apatow, whose parents are famously Judd Apatow and Leslie Mann. She told THR she hopes they watch the show. 
"It's a good insight into how hard it is to grow up in this time," she said.
In an interview with the New York Times, Zendaya echoed the idea that the show depicts real life for at least some people. 
"I don't find it that shocking, to be honest," she said. "People will. I kind of accepted the fact that it would be polarizing. I found a little calm in that. Whether people like it or not, it's real. I'm telling somebody's story. Just because it's not happening to you doesn't mean it's not happening all the time, every day. It's hard for me to speak on addiction because it's not something I have dealt with directly. But I still had friends who were dealing with things, and I had to help them through it." 
Some viewers might find some things to object to, but when was the last time you heard of a show cutting out 80 penises, with 30 penises still remaining? If that's not a reason to at least be curious enough to turn on the first episode, we don't know what is. 
Euphoria premieres Sunday on HBO, after Big Little Lies.