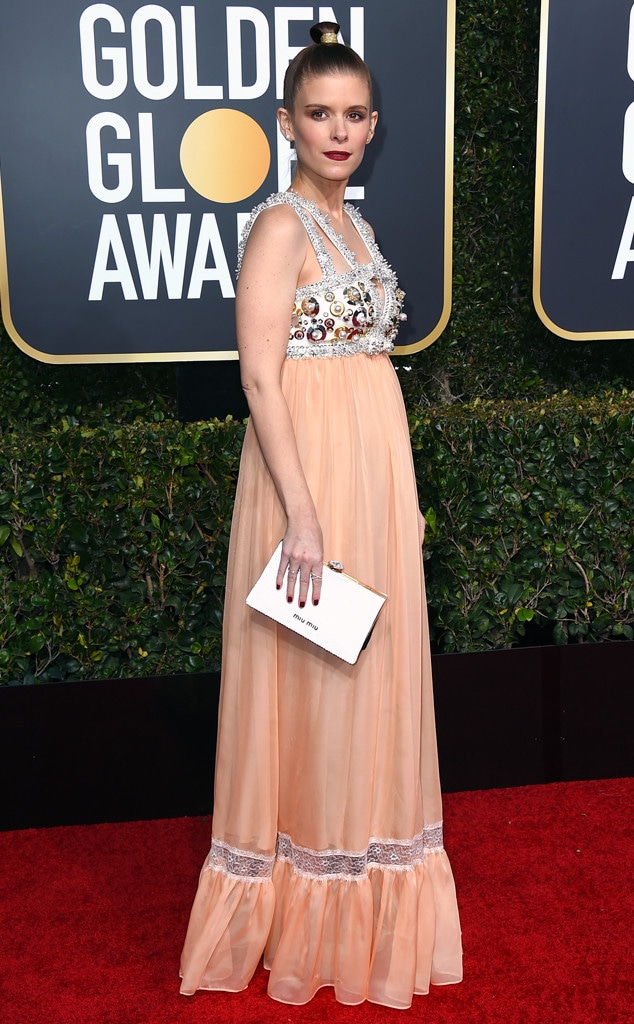 Jordan Strauss/Invision/AP
Kate Mara is sharing a very personal story about the heartbreaking loss she experienced.
The Pose actress is opening up about the miscarriage she suffered prior to welcoming a daughter with husband Jamie Bell. In an interview for Dr. Berlin's Informed Pregnancy podcast, Mara recalls learning of her first pregnancy.
On the podcast episode, Mara explains that, after a restless night of sleeping—and dreaming that she was expecting—she decided to take a test, which showed that she was indeed pregnant. The date she took the test also happened to be the anniversary of when she and Bell "fell in love."
After driving her stepson Jack (Bell's son with ex Evan Rachel Wood) to school, she hopped in the car with Bell to celebrate their anniversary. As the couple was driving, Bell addressed their lack of sleep, which was a result of son Jack waking up multiple times in the night.
Mara recalls him saying, "Oh, it's like we have a newborn or something. It's absolute hell."
"I turned to him and I was like, 'Is now a bad time to show you this?'" Mara shares. "I showed him the stick. He was at a stop light, and he just burst out laughing and was like, 'Oh my God. How is that possible?'"
Mara goes on to share that she "miscarried pretty early on" in that pregnancy.
"That was...even so, even though we miscarried with that baby, because it was the first time I've ever been pregnant, and I've ever had that excitement and shock of being an almost mom, that just was such a special sort of reveal," Mara says. "The way we found out that. It just will forever embedded in my mind, because then afterwards, when you find out the next time, the fear is all there."
The Fantastic Four actress then shares that she "was about eight weeks" when she went in to get the first ultrasound.
"She couldn't see the embryo, but she could see the pregnancy sac," Mara explains. "My doctor at the time said, 'Maybe you are off with your timing.' I was like, 'I am so good with timing.' She said, 'Even if you think you are a week more pregnant than you are, maybe we just don't hear the heart or see it yet.'"
Mara adds that her doctor wanted to do some blood tests and wait a week to see, but, "I knew that there was no way that was possible, but you've got that tiny hint of hope."
"We took some blood tests, and we had to wait, of course, because this is what always happens to people. It was a holiday weekend, so I had to wait an extra four days to get the results back, which was just torture," Mara says. "Then when the results came back, the numbers...I don't really know all the terminology but the numbers were going up, which meant, you are probably pregnant, but they weren't doubling as they were supposed to."
"She said, 'There is clearly something off or wrong. Why don't you come back in and we'll see what we can see,'" Mara recalls. "I think the next day we went back in and she said I clearly had a blighted ovum, which I didn't know what that was at the time. I've learned what that is. So she said, 'Basically you've miscarried, but it just hasn't left your body yet. We've got a few options, you can wait it out.' I felt, what does that mean? Does that mean I'm going to wait a couple of days and I'm going to miscarry naturally? She said, 'No, it could be like months.' Which to me sounded like absolute torture, and your body still thinks it's pregnant."
She later shares, "Everything just took so much time, so by the time it was all over, I mean, I had been pregnant for three months or something even though I wasn't really pregnant. It just dragged out forever."
"For us, because it happened the very first try, I was so hesitant the next time I got pregnant, which was again really quick, which was great, we got pregnant again very quickly. We were so nervous," she recalls. "It was weird, this bittersweet sort of...I was so excited, but also sad that we weren't as excited as we were the first time, because that was clear that it was a very different dynamic. It makes perfect sense."
Mara announced the birth of her and Bell's daughter in May, sharing a picture of their baby girl's feet.
"We had a baby a couple weeks ago," Mara captioned the sweet post. "Here are her feet."
You can listen to the complete podcast episode with Mara HERE.