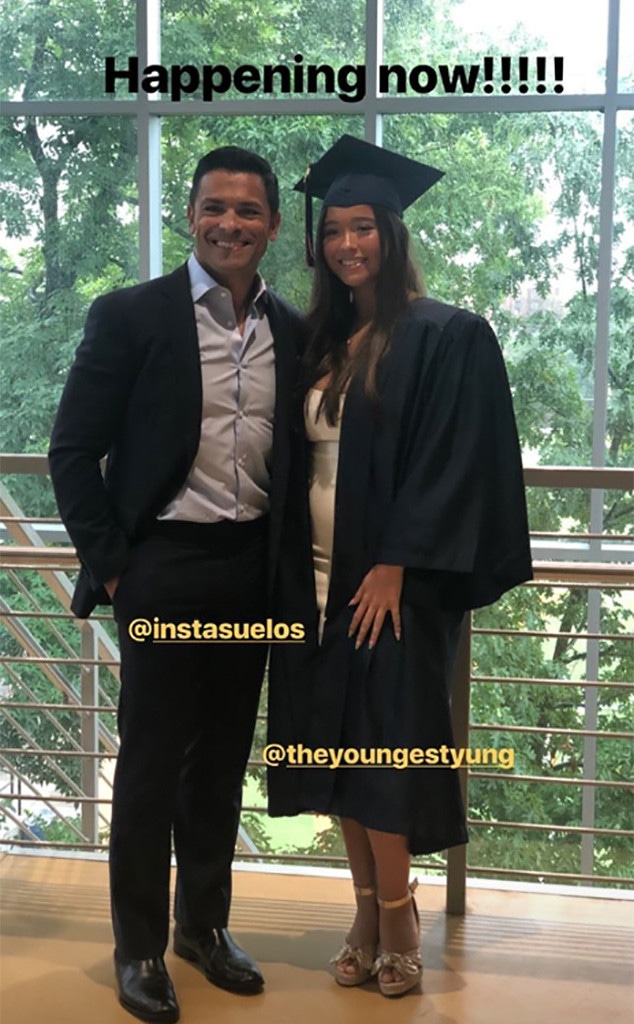 Instagram / Kelly Ripa
And just like that, Kelly Ripa and Mark Consuelos are the proud parents of a second high school graduate.
The LIVE With Kelly and Ryan co-host posted on her Instagram Story on Thursday photos of the pair's daughter Lola Consuelos at her graduation. One pic shows her with her father, while the 17-year-old appears with friends in other images. Lola wore a black cap and gown over a white dress and gold heels. Her dad matched in a black suit.
"Happening now!!!!!" Kelly wrote.
The night before, she posted a pic of her daughter and her friends at a pre-graduation pizza party.
Last week, Lola's parents sent her off to her senior prom.
The teen is headed to college; on her Instagram page, it indicates that she is enrolled at NYU Tisch School of the Arts' Clive Davis Institute of Recorded Music and is set to graduate in 2023.
Kelly and Mark, both 48, are also parents to sons Michael Consuelos, 22, and Joaquin Consuelos, 16.
In 2016, Kelly also shared photos from her eldest child's high school graduation on Instagram and she and Mark also talked about the milestone on LIVE.