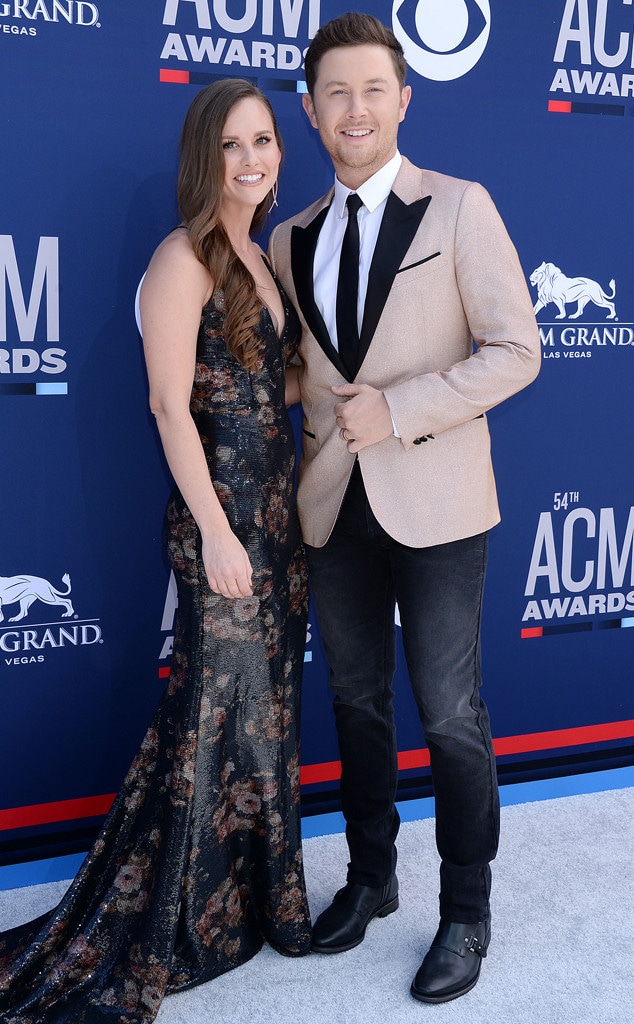 Broadimage/REX/Shutterstock
If there ever was a time for a perfect kiss, it may just be today!
It's a very special weekend for American Idol winner Scotty McCreery who is celebrating his one-year wedding anniversary with Gabi Dugal McCreery.
And while the country music singer has lots to celebrate professionally including his No. 1 single "This Is It," his personal life isn't too bad either.
"We're going to have a little spa day, chill day, relax by the pool and probably pop the same champagne we had on our wedding day," Scotty shared with E! News exclusively ahead of the big day. "It'll be a great, relaxing day."
The past 12 months have been filled with fantastic memories for the couple who first met in kindergarten. When reminiscing about his wedding weekend, Scotty can't help but recall the games, food and close company.
Gabi also recently got to star in Scotty's music video for "This Is It," which included footage from their unforgettable wedding day.
"A lot of the songs are really personal on the record," Scotty explained. "I just kind of write from the heart."
While the singer finds himself traveling across the country for performances and gigs, Gabi's career as a nurse allows her the opportunity to hop on the road and be with her man. And when it's just the two of them at home, the simple things are the most enjoyable.
"A typical date night would normally include pasta on the stove and a bottle of red while we're cooking and while we're eating," Scotty explained. "And then we're way behind. We're on season three of Game of Thrones so we're trying to catch up now."
While Scotty continues to find success in the music industry, some of his biggest goals remain on the professional front such as "being a good husband" and "a better husband every year."
And while the couple is busy raising a dog named Moose, some fans can't help but wonder if a baby could be on the horizon?
"That's what everyone's telling us. I mean, we definitely want to have a family one day," he told E! News. "There's no rush at the moment but you know one day for sure."
As for the couple's bond that began in grade school, Scotty is so grateful that he's able to experience so many special moments with his special someone.
"She's my best friend so it's fun doing life with her," he shared. Congratulations you two on a very special year!