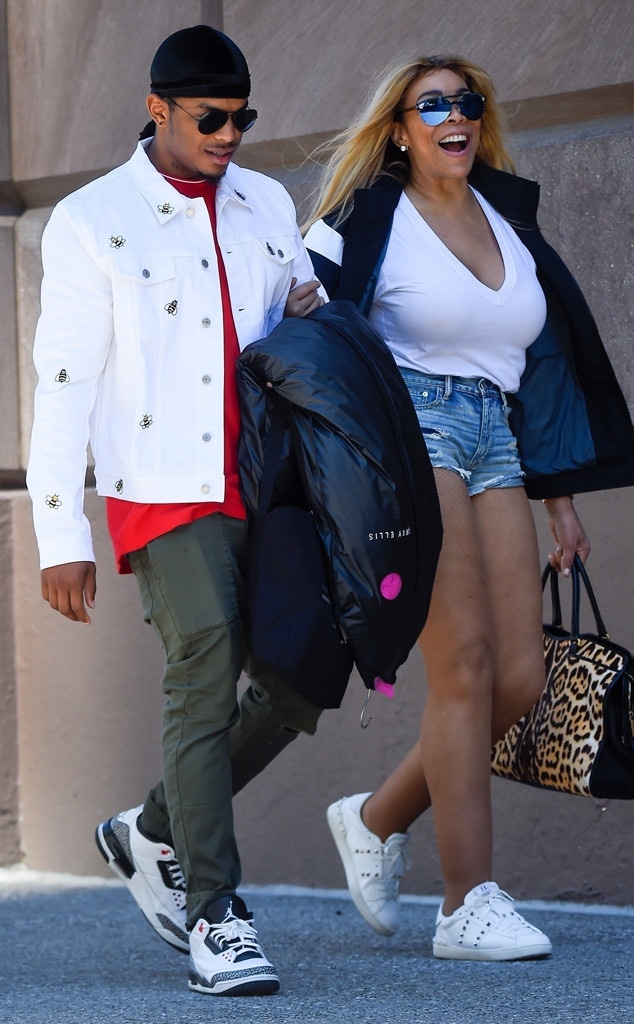 BACKGRID
Wendy Williams is single and may just be ready to mingle.
Just a few short days ago, the talk-show host got fans buzzing when she enjoyed a visit to Los Angeles with a mystery man.
In fact, she posted a shot by the pool with a "#verysexyman" wrapping his arm around her. Fast-forward to Tuesday night when The Wendy Williams Show host stepped out in New York with a 27-year-old named Marc Tomblin.
"They were holding hands and she held his arm the entire time," an eyewitness shared with E! News. "She looked really happy. She looks better than she has in a long time—relaxed, smiling a lot and just completely free and in her element."
For those curious to learn more about Marc, we have some details.
According to Linkedin, he is a financial investor and blogger who grew up in North Carolina. And while E! News can confirm Marc was previously convicted of conspiracy to commit robbery with a dangerous weapon, he was ultimately released in 2014.
"I am a 54-year-old grown a--woman," Wendy told TMZ when asked about her man's past. "I know what I'm doing."
As for how they've met, a source tells E! News that Blac Chyna introduced them and they've only known each other a few days. In other words, it's nothing serious as of now.
"Look, my husband had a full baby with a woman he was involved with for 15 years...where I was cooped up only to be a show pony. Now, I'm living my life," Wendy also shared with the outlet. "He is lovely, but let me make it clear…I don't have a boyfriend."
While Wendy is keeping fans guessing as to what's next, the talk-show host promises a return to Los Angeles this August for Real 92.3's Real Street Festival. And yes, she will likely continue mixing and mingling with some guys.
"I don't have a boyfriend, but I must admit I am rediscovering my love of men," she recently told her live studio audience. "I do date and I date pretty often. The parade of men will continue."
Bossip was first to identify Wendy's new man.