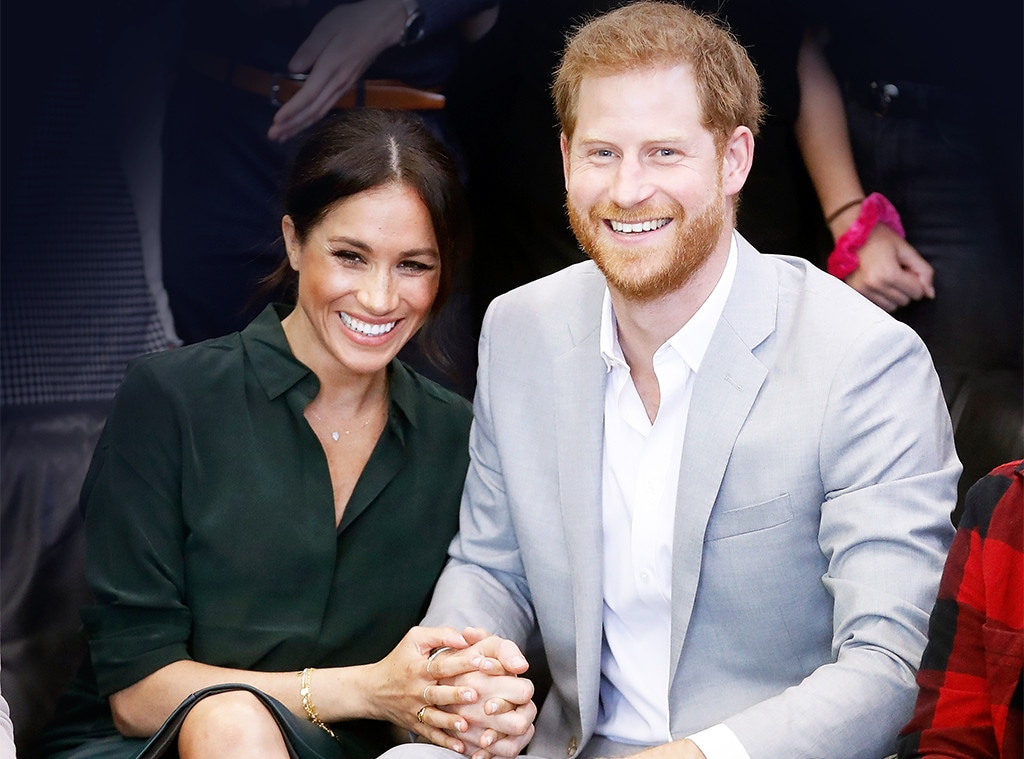 Getty Images
Pack your bags, Prince Harry and Meghan Markle!
The Duke and Duchess of Sussex are heading to Africa with their 4-month-old son Archie Harrison for their first official tour as a family.
"In just a few weeks our family will be taking its first official tour to Africa, a region of the world that over the past two decades has been a second home to me," Harry wrote on the couple's Instagram account, using the title "The Duke." "Our team has helped create a meaningful program that we're so excited to share with you. On a personal note, I can't wait to introduce my wife and son to South Africa! We'll see all of you very soon."
Here's what we know about the Sussexes' family trip so far:
The Itinerary: Meghan, Harry and Archie will arrive in Cape Town on Monday, September 23. They will also visit Johannesburg. During the trip, Harry will travel alone to Botswana, Angola, and Malawi. The family will conclude their trip on Wednesday, October 2.
The Issues: "In just two weeks, Their Royal Highnesses will embark on this official tour focusing on community, grassroots leadership, women's and girls' rights, mental health, HIV/AIDS and the environment," read a statement posted on the Sussexes' Instagram page on Friday.
"This programme has been many months in the making, and The Duke and Duchess are eager to focus their energies on the great work being done in Southern Africa," the message read "From meeting with Archbishop Desmond Tutu to joining 'Waves for Change' on Monwabisi Beach, the South Africa programme will be educational and inspiring."
Harry's Solo Trips and Carrying on Princess Diana's Legacy: "The Duke is especially proud to continue the legacy left by his mother with her work in Angola as he joins Halo Trust again in an effort to rid the world of landmines," the post read.
Harry's mother famously walked through one of Angola's active minefields in 1997 and has been credited with raising awareness for an international treaty banning their use. While the reasoning behind the visit to Angola wasn't specified in the announcement, Harry has continued to champion Diana's work over the years, such as by visiting Angola in 2013 for a mine-clearing operation. He even spoke about the "vital mission of de-mining Angola and putting it back on the map as a tourist destination" in mid-June.
"HRH will also travel to Malawi where he will check in on the British Army's partnership with African Parks and will be working on the ground supporting local communities," the Instagram post continued. "The Duke is particularly proud to be able to deliver an exciting new initiative, a Queen's Commonwealth Canopy three-country partnership which he designed and consulted with Governments in Namibia, Botswana and Angola to protect forest and wildlife corridors around the Okavango Delta."
Promoting Women: "The Duchess will be working with local organizations to promote women and girls' health and education, entrepreneurship and leadership," the post continued. "With such a textured culture and history, Their Royal Highnesses are grateful for the opportunity to connect with those on the ground in Southern Africa and to be inspired by the work being done and learn how they can be better supported. As President and Vice President of The Queens Commonwealth Trust and The Duke's role as Commonwealth Youth Ambassador, The Duke and Duchess cannot wait to meet with young leaders mobilizing change and adding to the beauty of these Commonwealth countries."
"We look forward to seeing you soon!" Harry and Meghan added in a personal note.
"Good News for the South African Economy": Britain's High Commissioner to South Africa Nigel Casey had let the big news about the trip slip at an event in Pretoria on Wednesday.
"They are going to be coming back to visit us this autumn," he said, referring to the royal couple per Jacaranda News. The senior diplomat then said this was "great news for us" and "also good news for the South African economy," joking he expected a "hat and frock buying frenzy" to take place.
Per Jacaranda FM, Casey then said this will be a "much shorter visit" and that the two will "be here for a matter of days and not months."
Is This the Sussexes' First Joint Royal Tour? Nope! As royal admirers will recall, the two toured Australia, Fiji, Tonga and New Zealand last fall. In fact, it was during the trip that the couple revealed they were expecting their first child.
Will Their Trip Overlap With Prince William and Kate Middleton's Rumored Tour of Asia? While the Palace has yet to confirm a trip for the Duke and Duchess of Cambridge, it has been reported that the two will head to Asia this fall. But according to The Mail on Sunday, the trip will be "weeks apart" from Meghan and Harry's trip.
Are they excited about the trip? You bet!
"The Duke and Duchess are really looking forward to meeting so many of you on the ground and continuing to raise awareness of the high impact work local communities are doing across the commonwealth and beyond," the couple's announcement read.
Watch:
Meghan Markle Cradles Her Baby Bump in Australia
Reports about the alleged adventure started spreading in April. At the time, the Palace didn't confirm these rumors, but it didn't exactly deny them, either. A press officer for the royal couple told E! News "any official visits or tours undertaken by any members of the royal family are announced the usual way." And here it is!
According to The Sunday Times, which first reported the news, Harry's advisers were working on a "bespoke" role for the couple that involved work on behalf of the Commonwealth, charitable initiatives and efforts to promote Britain. Considering Harry is both Commonwealth Youth Ambassador, as well as president of The Queen's Commonwealth Trust, it seemed like a fit. Meghan is also vice president of the aforementioned Trust.
Even with all these clues, the Palace played coy.
"Any future plans for the Duke and Duchess are speculative at this stage," the Palace said via a statement back in April. "No decisions have been taken about future roles. The Duke will continue to fulfill his role as Commonwealth Youth Ambassador."
Archie will be younger than his cousins for his first royal tour. As royal admirers will recall, William and Kate's eldest son Prince George was 8 months old when he made his first royal tour and visited Australia and New Zealand with his parents. Princess Charlotte was 16 months old when she made her big trip to Canada, and Prince Louis has yet to go on his first royal tour.
(This story was originally published June 12 at 10:19 a.m. PST).