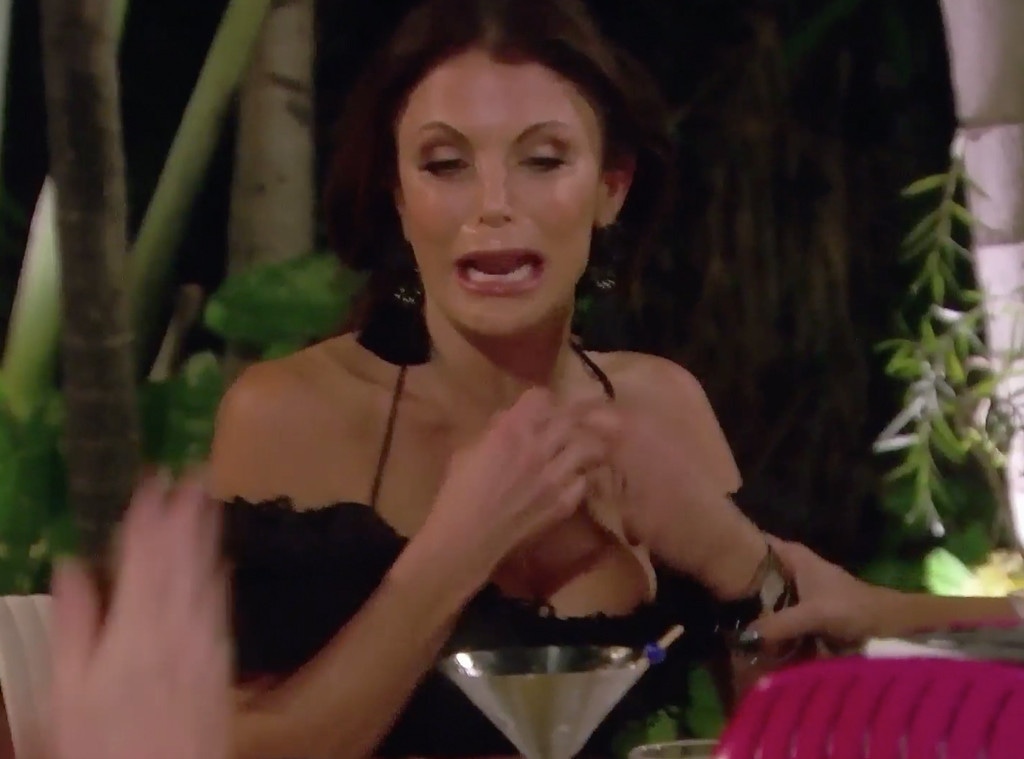 Bravo
Viewers know something magical happens when Bravo sends its Real Housewives stars out of their respective cities. All bets are off, anything goes. That's what happened again for The Real Housewives of New York City stars Bethenny Frankel and Luann de Lesseps.
If you thought the Berkshires confrontation between the two in season eight was something, the war of words between Luann and Bethenny in Miami ins another level—and E! News has your exclusive sneak peek.
In the clip below, Bethenny utters her now-infamous "Life is not a cabaret. Life is actually not a cabaret!" And things only go downhill (or get better, depending on how you look at it) from there.
"It didn't have to come to this. But because you're not listening to us and because you're only focused on yourself, this is where it's gone," Tinsley Mortimer says in a confessional.
Bethenny shoves a glass in Luann's face and instructs her to look in the mirror and hisses and screams at Luann about not checking in on her after Dennis Shields passed away.
"Every day it's about you! Every f—king second it's about you. 'Oh, because I didn't get a massage.' Because you're an asshole that didn't even have lunch with us today because you go to look at your own poster!" Bethenny says as she circles around the table.
Luann doesn't seem to get it, at least according to Ramona Singer. "You're missing her pain! You're not getting it," Ramona cries. "This is so sad!"
Then Bethenny launches into all she did for Luann ahead of her rehab stay last summer.
"I took weeks of my life for you!" Bethenny says. "I had lawyers come to your house on a Sunday. I spoke to your kids. I sat outside in your driveway to make sure that you didn't drive your car. You almost crashed the boat and killed your friends! You were running in a field in negligee and had to be taken in cop cars and I made sure that they didn't record it so you didn't ultimately get arrested."
"I was not in a good place," Luann says.
"You left the f—king rehab that I got you for free two weeks early," Bethenny says.
But Luann is quick to point out it wasn't two weeks, it was just a week, and she had to go to work.
"It was cabaret! You're a sicko! For cabaret you left rehab? I got it for free, you're sick," Bethenny screams.
Luann is stone-faced, Ramona is crying, Dorinda Medley is concerned Bethenny is going to have a heart attack…it's quite the situation.
"I really think Bethenny is having a full-on panic attack and it doesn't have to do just with Lu. She's got a lot on her plate. I don't know how much she's dealt with the whole thing with Dennis, but she can't take the frugality of this bulls—t anymore," Dorinda says in a confessional.
Click play on the video above to see the full scene.
The Real Housewives of New York City airs Wednesdays, 9 p.m. on Bravo.
(E! and Bravo are both part of the NBCUniversal family.)