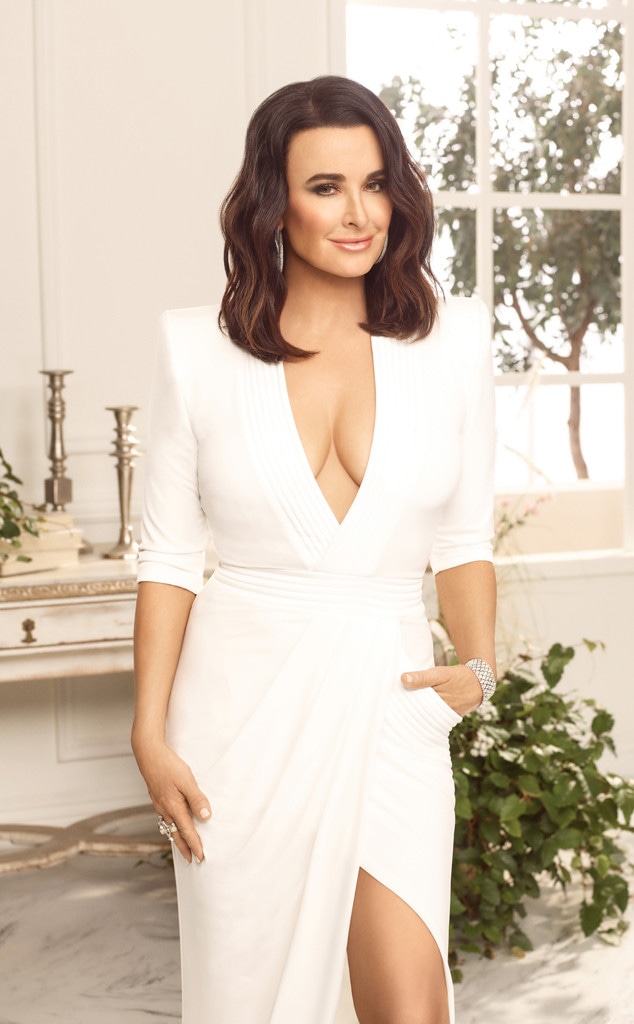 Bravo
For the first time, Kyle Richards is opening up about her battle with an eating disorder.
In a preview of Tuesday, June 11 episode of Bravo's The Real Housewives of Beverly Hills, Kyle reveals she struggled with anorexia while working as an teenage actress. She was sparked to open up by Lisa Rinna, who has continued discussing her own daughter's eating disorder on camera.
"I feel really weird even saying anything because I've never ever talked about this, not even to my daughters…when I was younger, I had my own problems," Kyle said.
She said she kept quiet for years because she never wanted to plant a seed in her daughters' heads.
"It started when I was 17. I was on a TV show and they kept putting me in these big things, my boobs were big when I was young, my sisters were tiny and cute, everyone was blonde, blue-eyed and skinny. I said I don't like my wardrobe and they said, 'Lose some weight and we'll put you in cuter wardrobe,'" Kyle said.
During her teen years, Kyle worked on a number of Hollywood projects including Down to Earth, Concrete Cowboys, CHiPs and Curfew.
"People would compliment me and the more they complemented me, the less I would eat. I would take V8 juice and put it in a bowl, heat it up and that was my food. I was 99 pounds. It was like that for years. I mean, I can remember times where I was like, 'I'll only have six almonds today. That's all I'm going to have,'" Kyle said. "I was very self-conscious."
Kyle told Lisa, Dorit Kemsley, Erika Girardi and Teddi Mellencamp that she was triggered by skinny models and being a different weight than her sisters.
In a confessional, Kyle said she was sparked to open up by Lisa and Lisa's daughter Amelia. "I can't just pretend I don't know what that feels like. So, guess what: I had an eating disorder when I was younger," she said.
The Real Housewives of Beverly Hills airs Tuesdays, 9 p.m. on Bravo.
(E! and Bravo are both part of the nBCUniversal family.)