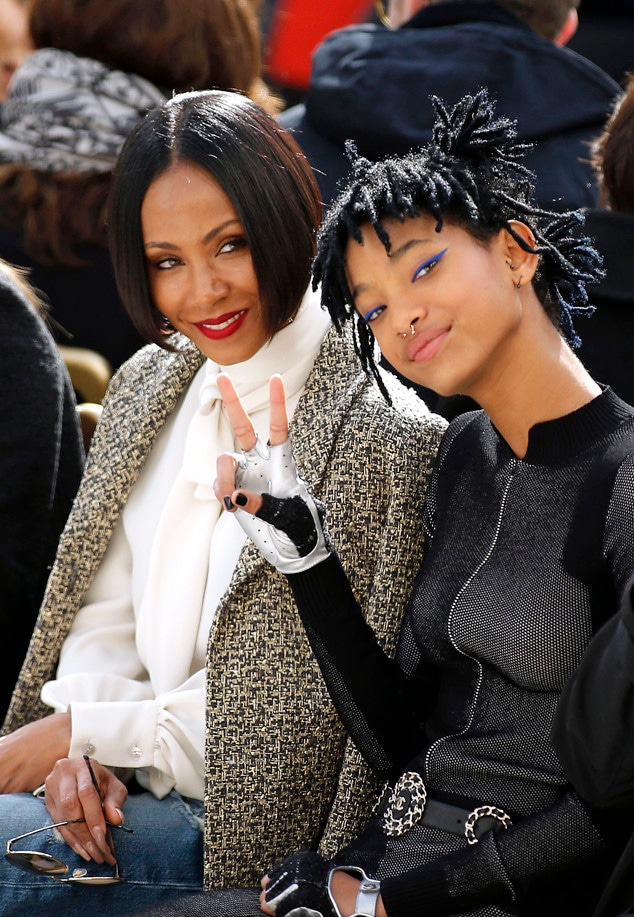 AKM-GSI
From pornography to divorce, Jada Pinkett Smith has covered a lot of topics on Red Table Talk. Soon, she'll be tackling a new subject—polyamory. 
During her guest appearance on Jimmy Kimmel Live!, the 47-year-old actress revealed she'll be discussing the topic in an upcoming episode of her Facebook show.
According to Pinkett Smith, the episode will explore a relationship between a man and two women. While she didn't give too many details as to what viewers can expect, she did say her daughter and co-host Willow Smith was the one who found her future guests.
"It's a throuple that Willow was actually following on Instagram," she explained. "That's how it all came to be. She became very curious about this whole polyamory thing."
When Jimmy Kimmel asked Pinkett Smith if her daughter's curiosity might lead her to have polyamorous relationships one day, the Girls Trip star replied, "Possibly. I don't know. Listen, she's 18 who the heck knows what's going to go down."
The family members have talked openly about relationships before. In fact, the "Whip My Hair" star shared her feelings about monogamy in an earlier episode.
"That feeling of 'You're my one and my only, there's no else,' for me, that would not work," Pinkett Smith's daughter said at the time. 
While the ladies rarely take any topic off the table, Pinkett Smith admitted talking about pornography with her daughter and her mother and third co-host Adrienne Banfield Norris was a "TMI moment."
"I must say, I learned a little bit too much about my mother and surely about my daughter," she said.
Watch the video to see the interview.