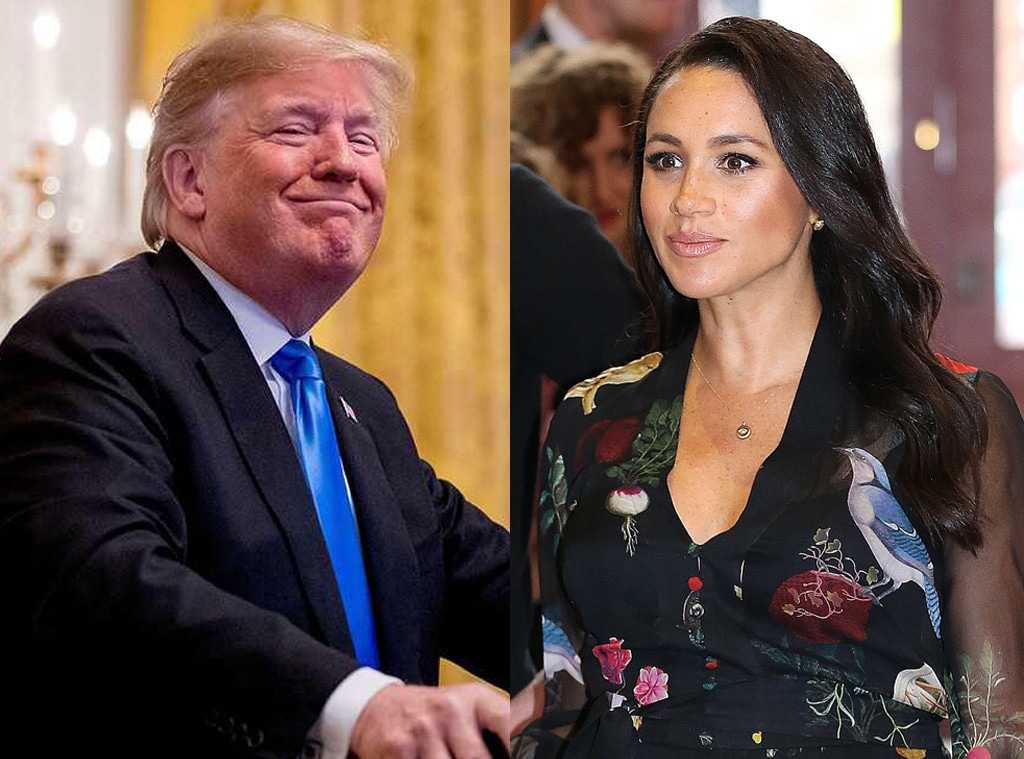 Shutterstock
President Donald Trump is clarifying some comments he made about Meghan Markle at an earlier time.
President Trump arrived in London on Monday morning for a three-day visit where he met with Queen Elizabeth II, Prince Charles, Camilla, Prince Harry, Prince William, Kate Middleton and other members of the royal family as well as some British politicians. 
Some agenda items thus far included lunch and tea with the queen, a fancy State Banquet, a visit to Westminster Abbey as well as a press conference with Prime Minister Theresa May, whose term ends on June 7. 
President Trump also sat down with news anchor Piers Morgan for an interview that will air on June 5 on ITV's Good Morning Britain. Morgan inquired about the "nasty" comments Trump made about the Duchess of Sussex, which promoted President Trump to clear up his earlier remarks.
"They said some of the things that she said and it's actually on tape," he told Morgan. "And I said: 'Well, I didn't know she was nasty.' I wasn't referring to she's nasty. I said she was nasty about me. And essentially I didn't know she was nasty about me."
He then commended her for "doing a good job". 
"I hope she enjoys her life," he added. "I think she's very nice."
When asked by Morgan again about the "nasty" descriptor, he said, "She was nasty to me. And that's okay for her to be nasty. It's not good for me to be nasty to her and I wasn't."
It all goes back to 2016 before the election when Meghan appeared on an episode of The Nightly Show With Larry Wilmore. She called Trump, who was not yet president at that point, "divisive" and "misogynistic." She also said at another point in the interview that she would remain in Canada if he won. Suits is filmed in Toronto. 
On June 1, British publication The Sun published an interview with President Trump and asked him about her comments. He reportedly said, "I didn't know that. What can I say? I didn't know that she was nasty."
One day later, he walked back his comments and tweeted, "I never called Meghan Markle 'nasty.' Made up by the Fake News Media, and they got caught cold! Will @CNN, @nytimes and others apologize? Doubt it!"
During his Good Morning Britain interview, Trump also praised Meghan's husband Prince Harry and called him a "terrific guy." Prince Harry and President Trump's daughter Ivanka Trump talked during an exhibit at Buckingham Palace on Monday, which he appreciated.
"He spent a lot of time talking to Ivanka and talking to my family. He couldn't have been nicer. I think he's great," Trump said.
Additionally, the president finds the entire royal family to be "really nice."
Prince Harry did not attend the Banquet Dinner on Monday evening and Meghan is not scheduled to appear at any events with the president.
Take a look at the gallery below to see all the photos from President Trump's trip to the U.K.
On Tuesday evening, the First Family hosted a dinner for Prince Charles and Camilla, Duchess of Cornwall at Winfield House, where he's staying. They reportedly dined on tomatoes and burrata, beef filet with watercress puree and summer berries with vanilla ice cream. They showed off U.S.-U.K. relations by also sipping on wine that hails from Iron Horse Vineyards in Sebastopol, Calif. 
Watch Good Morning Britain on ITV weekdays from 6 a.m. to 8.30 a.m.