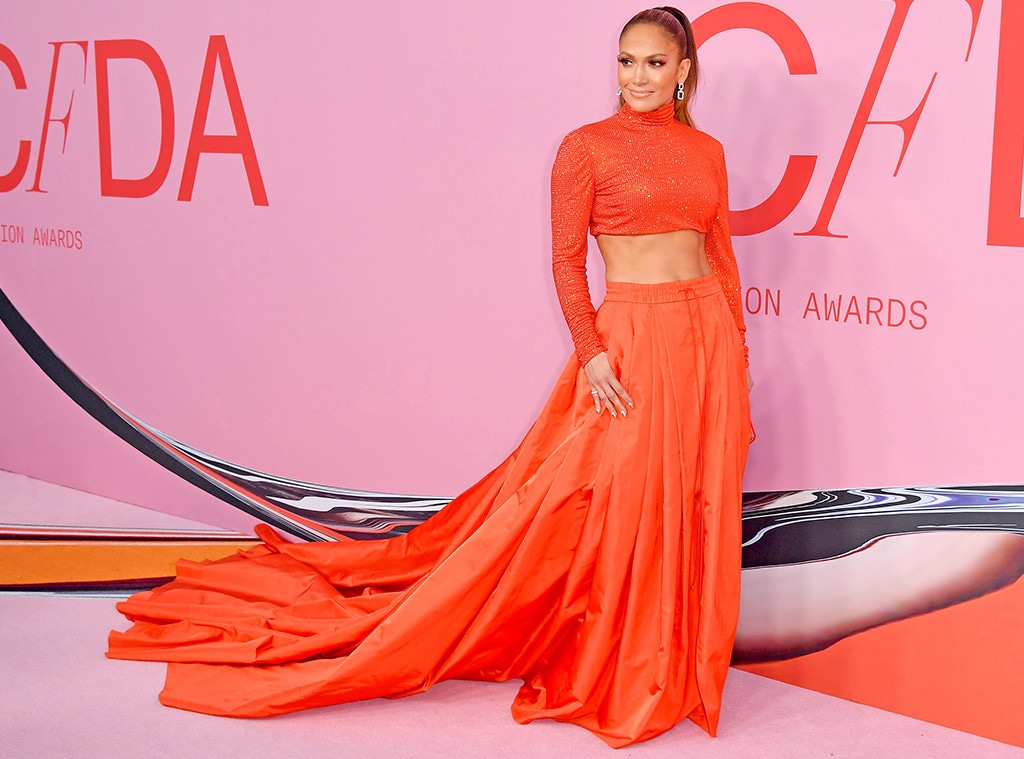 ANGELA WEISS/AFP/Getty Images
Jennifer Lopez is bringing the heat to the 2019 CFDA red carpet.
The pop singer is showing off her abs of steel in a two-piece orange ensemble designed by Ralph Lauren and she looks absolutely dazzling. Her long-sleeve bedazzled top is cut off just below the breast, while her long train begins to flow from just above the hips. Understandably, there was barely any room for her boyfriend Aaron Rodriguez, who stood off to the side in a handsome black suit and tie, especially with her long train. 
To compliment the shimmering top, the singer has her hair pulled back in a tall, flowing ponytail. As for jewelry, her stylist kept it simple with a pair of earrings and accessorized with a matching clutch, as well as her beautiful engagement ring. 
With this show-stopping look, J-Lo is proving why she deserves the Fashion Icon award at tonight's show. Her walk on the carpet was truly iconic.
Ahead of the long-awaited ceremony, Steven Kolb, president and CEO of the CFDA, said in a statement, "Jennifer Lopez's style is bold, uninhibited, and always memorable... Designers, including many of our CFDA members, love to dress her for both stage and private moments." 
Believe it or not, June 1 marked the 20-year anniversary since the release of her debut album, which is where people first got to know the artist as a style maven. She said on Instagram, "Hard to believe it's been 20 years since I released On the 6!!! The girl in this video never had a doubt that this was the place she was supposed to be...so confident and sure and maybe a lil oblivious and even ignorant lol... to all that was ahead."
Her achievement at tonight's CFDAs are a testament to the singer's accomplishments over the years. Congratulations, J-Lo!