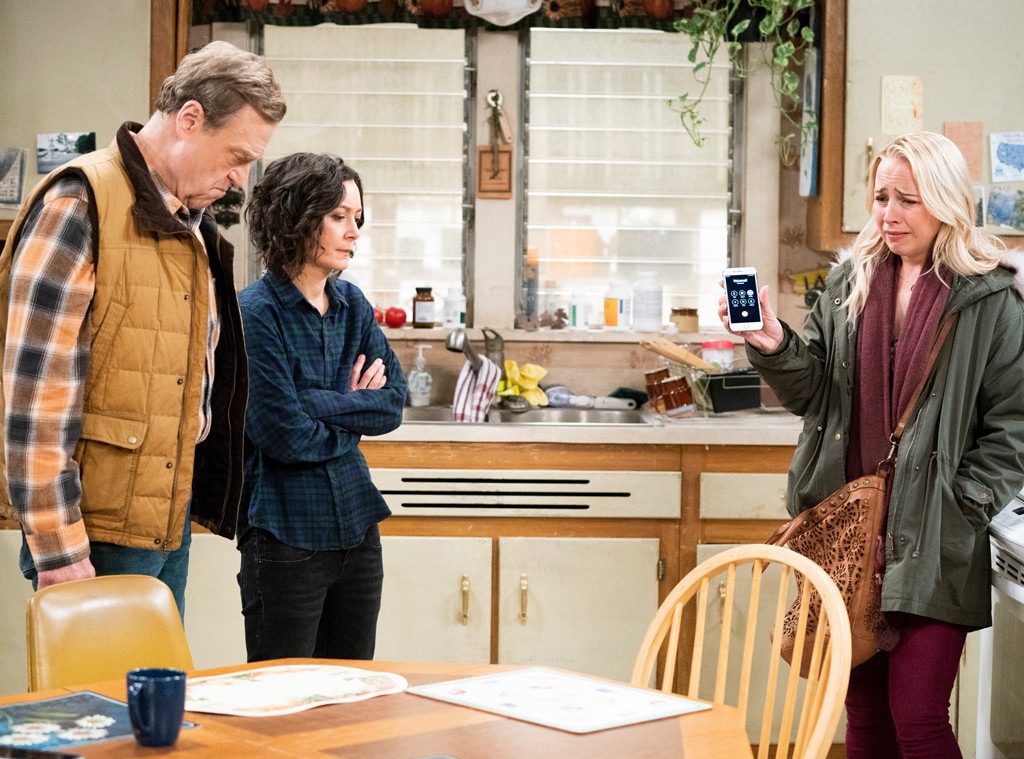 ABC
It's been just over two years since ABC first announced it was bringing back Roseanne, and about a year since ABC fired Roseanne and turned the revived series into The Conners.
It's also been about two months since Sara Gilbert announced she was leaving The Talk, which she helped create, and she's starting her own production company, so the actress and producer has had a busy and tumultuous couple of years. 
Gilbert was a guest on Variety's My Favorite Episode podcast and explained her decision to leave The Talk after nine years, and basically, it just came down to the fact that something on her schedule had to go. 
"That was a very difficult decision a lot of years in the making," she said of leaving. "I think knowing that I was going back into the Conners, launching Sarah and Tom the production company...having three kids, there was no way for me to do the production company, the Conners, the talk show, [the show Atypical], it was too much. Something had to give. And I'd been lucky enough to do the talk show for nine years, so that felt like the right move, like OK, I've done that, and I've fully explored it, and now it's time to do other creative ventures." 
Gilbert will still be on the show until August, but she admitted that she's a little bit relieved to be giving up the job that requires talking publicly about herself every day. 
"There is some relief in thinking like, well, if I go through anything in my personal life, now I don't have to talk about it," she says. 
That aspect of the talk show has "been a stretch" for Gilbert, who says she's a pretty private person. 
"I think I put myself on the show to try to push the boundaries like that and grow spiritually and psychologically, but I'm OK with letting that piece of it go," she says. 
Many fans looked to Gilbert on The Talk last year, when Roseanne Barr was fired from ABC (and thus the Roseanne revival was canceled) for racist tweets. Gilbert called the time "a very difficult week," and said she stood behind the decision ABC made at the time. 
Three weeks later, The Conners was announced. 
"I think, yeah, we were all scared," Gilbert says of the decision to bring the show back sans Roseanne. "It was definitely a risk to come back, and we didn't know how it was going to go. We didn't know how the reviews were gonna go, and I remember starting to read reviews I think right before it aired. We were on set, and we started seeing all these great reviews and we just thought, wow, phew, we pulled it off somehow, 'cause it just felt like it wasn't an easy thing to do." 
Gilbert says everyone struggled with the idea. 
"It just wasn't an easy decision to make on any level," she recalls. "So I think a lot of the cast had a little tug of war in their mind, and I did for sure." 
She says that if anyone involved had not wanted to do it, they wouldn't have continued, and that at least for her, "there were more stories to tell, and I didn't feel we were done telling them," and there were fans who deserved to be represented by a series about a middle, working class family. 
The first season of the Roseanne-less show ended up being a kind of catharsis. 
"We got to get out all of our feelings and our grief and our closeness, all of it through the season," Gilbert says. 
Season two, which debuts this fall on Tuesdays, finds Becky dealing with the father of her unborn child having been deported, and Darlene in the aftermath of telling her boyfriend Ben she wouldn't move to Chicago with him...right after David (Johnny Galecki) showed up and asked her to stay. 
"Darlene's interesting because she's really a balance for me between hope and sort of dashed dreams," she says. "The Conners are this middle class family that have trouble breaking the cycle, and so in order to properly tell that story, which represents so many Americans, it's not like Darlene can suddenly go run a huge business and make tons of money. It's like, there are so many smart, brilliant people that should be getting a head that aren't able to in our country, so I think she represents that story, but she has a fighting spirit and she's talented and she's really smart, so there's always the possibility for her to move ahead some...She will hopefully have some success over time." 
The Conners will return for season two this fall on ABC.