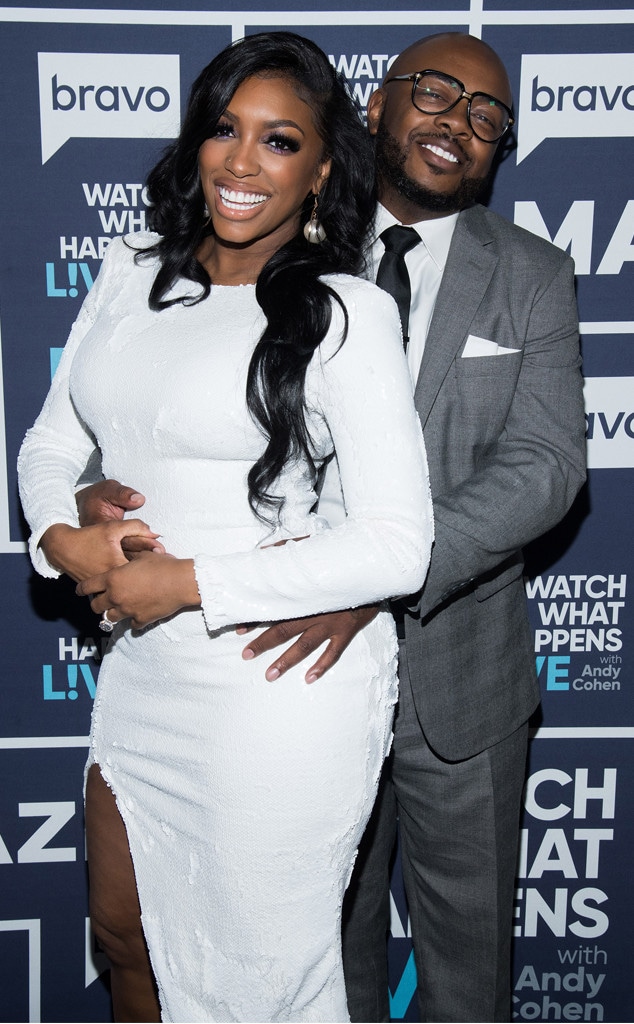 Charles Sykes/Bravo/NBCU Photo Bank via Getty Images
Peach, please!
Things seem to be heating up in Atlanta, and we're not talking about the June weather. On Monday, Real Housewives of Atlanta fans began to wonder what was going on between Porsha Williams and fiancé Dennis McKinley. As of late, rumors have swirled online that the businessman allegedly had an affair with WAGS Atlanta star Sincerely Ward.
Reports of Dennis' alleged infidelity first surfaced on YouTuber Latasha Kebe's channel. However, the man behind The Original Hot Dog Factory tells E! News the blogger's comments couldn't be more "false."
"These false and slanderous allegations against me are made solely to damage my reputation, jeopardize my ongoing businesses, and negatively impact my family," he shares with us. "My attempts to ignore this slander have only empowered Latasha Kebe (aka Tasha K.) to create more false accusations. I am currently taking legal action—and am currently being represented by Michael T. Sterling of Dreyer Sterling, LLC.
McKinley's attorney confirmed the legal action being taken, and issued the following statement to E! News: "I handle legal matters in the court of law, not the court of public opinion and I will take whatever appropriate measures I can to defend Dennis' good name."
Additionally, the reality TV personality is breaking her silence, and tells E! News she didn't have an affair with Porsha's fiancé.
"I really have no clue where this came from," Ward says, adding, "It's bizarre, I've never met Dennis."
She continued, "In Atlanta, it's easy to have 6-degrees of separation [but] to my knowledge, I don't even know if we've even been in the same room together."
While Porsha has yet to comment on the affair rumors, she did share a cryptic Instagram post on Monday morning. "I am loved, called, and chosen. I am rich in every way and generous on every occasion...," the first part of the image text read. "No weapon formed against me will prosper and no enemy scheme against me will succeed."
"Amen," she captioned it.
Last week the Bravolebrities sparked split rumors when fans noticed the RHOA star unfollowed her fiancé on Instagram. Moreover, her sister Lauren and mother Diane also stopped following the restaurateur.
However, things quickly simmered down when reality TV personality began following The Original Hot Dog Factory businessman again. 
Back in March, the couple welcomed their first child together, a baby girl named Pilar Jhena. In September, Porsha announced the exciting news that she was pregnant and two weeks later, she shared the news about her engagement.
On Mother's Day, Dennis uploaded a heartfelt post about his fiancée and talked about the special bond they share. "3/22 we started a journey together that is rooted in the relationship of mother & child. That bond will never be broken... Today I am thankful for you as we celebrate your day!"
(E! and Bravo are part of the NBCUniversal family.)