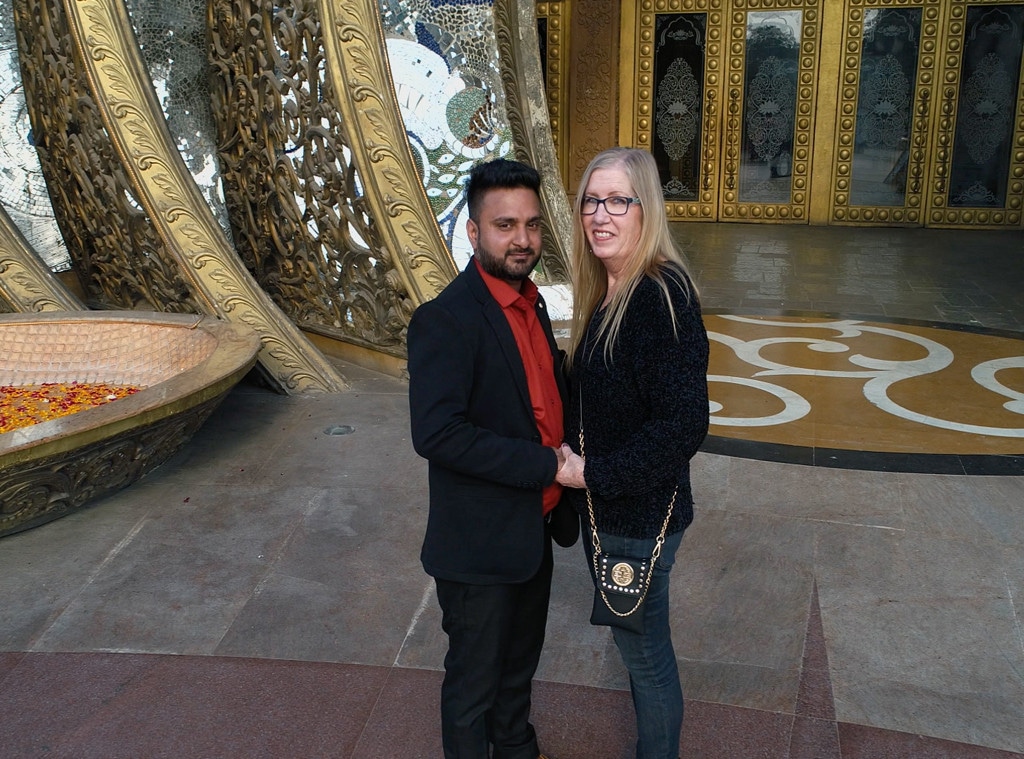 TLC
After years of chronicling what happens when foreigners move to the United States for love, TLC is flipping the script and showing what happens when Americans move abroad for love with 90 Day Fiancé: The Other Way. Spoiler alert, going The Other Way can be just as messy.
In the premiere episode, viewers only met four of the six couples: Jenny and Sumit, Tiffany and Ronald, Corey and Evelin and 90 Day veterans Paul and Karine. Laura and Aladin and Deavan and Jihoon are still to come.
Most of the action was about webs of lies and unhappiness. Let's break it down.
Jenny and Sumit
Jenny met Sumit when he catfished her using the alias Michael Jones. Sumit works overnights at a call center in India and he inherited the pseudonym from the previous occupant of his cubicle. To entertain himself, he talked to people online. When he came across Jenny, he fell for her eyes and smile, it didn't matter that she was 30 years his senior. "I always love white girls," he said.
But when Jenny made her first trip to India, Sumit's parents were not accepting of the relationship. His mom, whom he lives with, told him she had to go or he'd be kicked out. Yet Sumit and Jenny continued their relationship and he told his friends about her plans to come to India, despite Jenny's financial instability. The conversation with his friends seemed to be an illuminating one for Sumit who confessed that he's "worried about her" well being in India.
Tiffany and Ronald
Tiffany met Ronald while on a trip to South Africa. They hit it off and kept in contact and her family was well aware of her plans to marry him. However, they weren't aware of his gambling addiction and criminal record. A month after an interview with producers, Ronald checked into a Christian-based rehab for his gambling addiction. Tiffany, who had a baby just before turning 18 and had no idea she was pregnant for the nine-month gestation period, knew about his past. Her family did not and they were predictably worried about her upcoming marriage.
Corey and Evelin
Corey and Evelin met while he was on vacation. After long distance dating, she spent six months with him in the United States and…did not want to move to America. During their courtship, Corey gave Evelin $30,000 for property investments in Ecuador, $6,000 for a car and $2,000 to invest in a cocktail bar. All this, he said, to better prepare his life with her in South America. Despite the religious differences—Corey is a devout Mormon and wants Evelin to convert—he seems ready to go all in. However, will his familial relationships survive a secret move to Ecuador? And Evelin is concerned he won't truly assimilate.
Paul and Karine
Yep, they're back. The couple from 90 Day Fiancé: Before the 90 Days have cameras on them once more as they prepare for a new baby. When they were last in front of TLC audiences, Karine had announced her pregnancy, called off her plans for divorce and Paul still wanted her to take a paternity test.
Now, without the funds or support of his mother to sponsor Karine in the United States, Paul decided he must move to Brazil—for good. He even got a bulletproof baby carrier. But Paul's plan hit a snag. When he arrived at the airport with his plastic containers full of supplies, he learned he cannot bring more than two bags because of an embargo. During a public meltdown with his mother, he decided to just wait 30 days to bring all the supplies and eat the cost of the ticket.
"You know, I really f—king hate my life here at this point. I have no family support and I have no friends," Paul said to his mother.
90 Day Fiance: The Other Way airs Mondays, 9 p.m. on TLC.