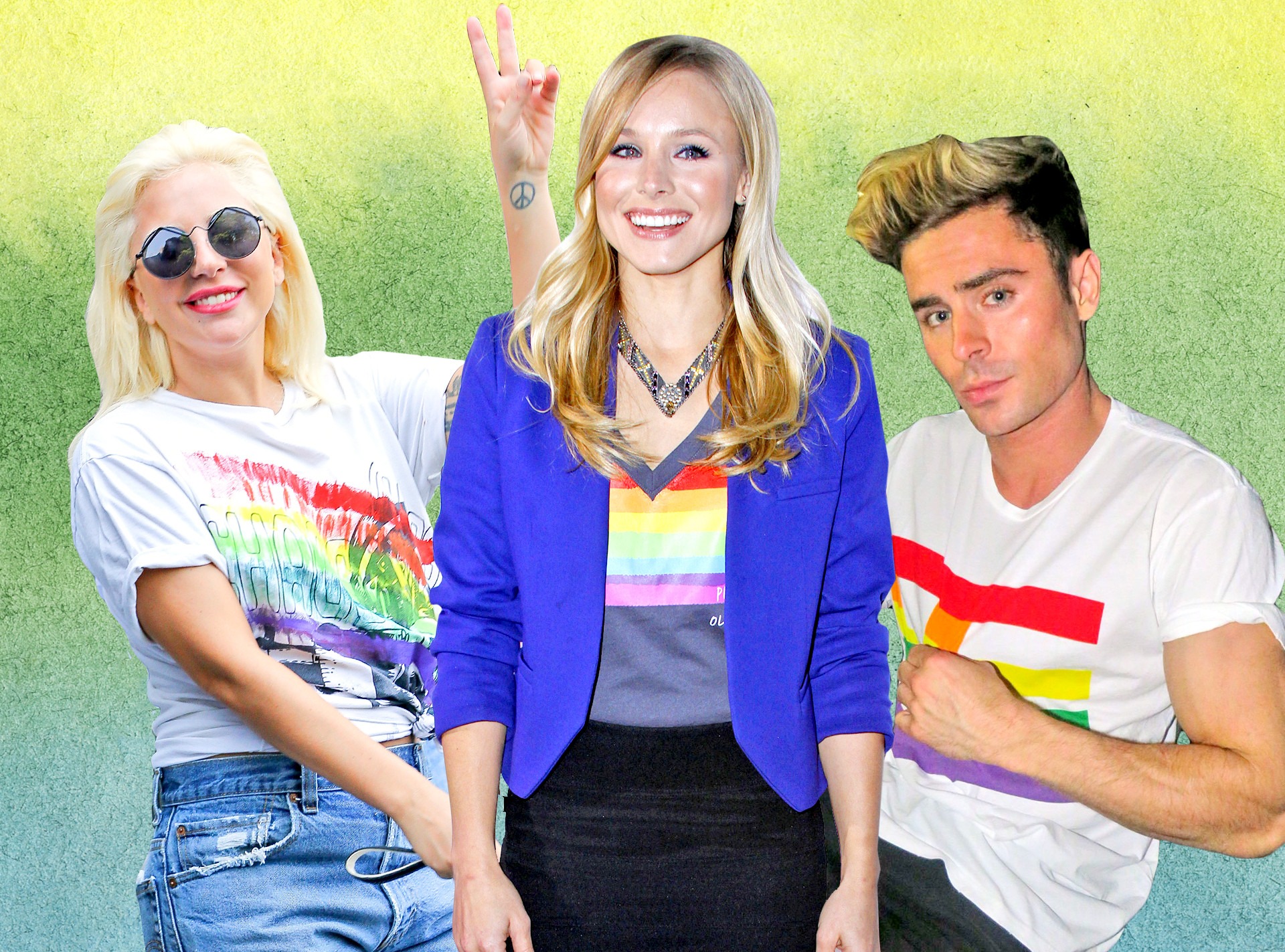 Splash News/Getty Images
Girls Gays and Theys Unisex T-Shirt by Femfetti
Show your support for the girls, gays and theys with this super cute tee. Plus, this shirt was digitally printed with eco-friendly ink!
Rainbow Love Tee
In partnership with the Trevor Project, 20% of net profits (up to $150,000) from the sale of Kate Spade's Rainbow Collection, which includes this colorful tee, will be donated to support the mental wellbeing of LGBTQ+ youth.
Juniors' Pride Let Your Heart Love Tank Top
"Let Your Heart Love Who It Loves" has always been our motto! This tank is sure to come in handy for upcoming Pride parades and celebrations in the heat.
Universal Music Group x Social Goods Music is Universal™ Pride Long-Sleeve T-Shirt
Universal Music Group teamed up with their All Together Now Foundation and Social Goods to create a limited-edition Pride collection in which 25% of the proceeds will benefit GLAAD. This 100% ring spun cotton tee will help you feel cozy and proud all year long.
Gay Pride Pantone LGBT Love Wins T-Shirt
We love this shirt that features a Pantone rainbow design. It will look so cute with a pair of shorts or denim!
Custom Tees at Vistaprint
Through the month of June, 20% of Vistaprint's Pride merchandise proceeds will be given as an additional donation on top of their $100K donation to StartOut Initiatives, the largest non-profit organization for LGBTQIA+ entrepreneurs.
Love First Unisex Graphic T-Shirt
Add some rainbow to your wardrobe with these colorful tee! Even better, J.Crew is donating 50% of the price of our mens', womens' and kids' "Love first" T-shirts to PFLAG, the first and largest organization for lesbian, gay, bisexual, transgender, and queer (LGBTQ+) people, their parents and families, and allies.
The Phluid Project Gender Neutral Rainbow Heart Proud T-Shirt
Get one of these tees for yourself and GBFs! In collaboration with the Phluid Project, 100% of proceeds from Saks Off 5th's first gender-inclusive collection will be donated to The Phluid Phoundation, a non-profit working with a variety of on-the-ground partners that help the most marginalized and vulnerable populations within the LGBTQ community.
Matching Pride Graphic Tee for Men
Dress to impress at your next Pride celebration with this tee that reads, "You are you, I am me, we are we, love is love." Additionally, in celebration of Pride month, Old Navy is partnering with diverse artists to create other colorful tees, and will be donating $1M to Boys and Girls Clubs of America in support of youth arts programs in communities.
Love Has No Gender Pride Shirt by ConsciousCoStudio
Like all of the other tees, this shirt can be worn year-round thanks to its cute design and universal message.
—Originally published June 5, 2019 at 3:30 a.m. PT