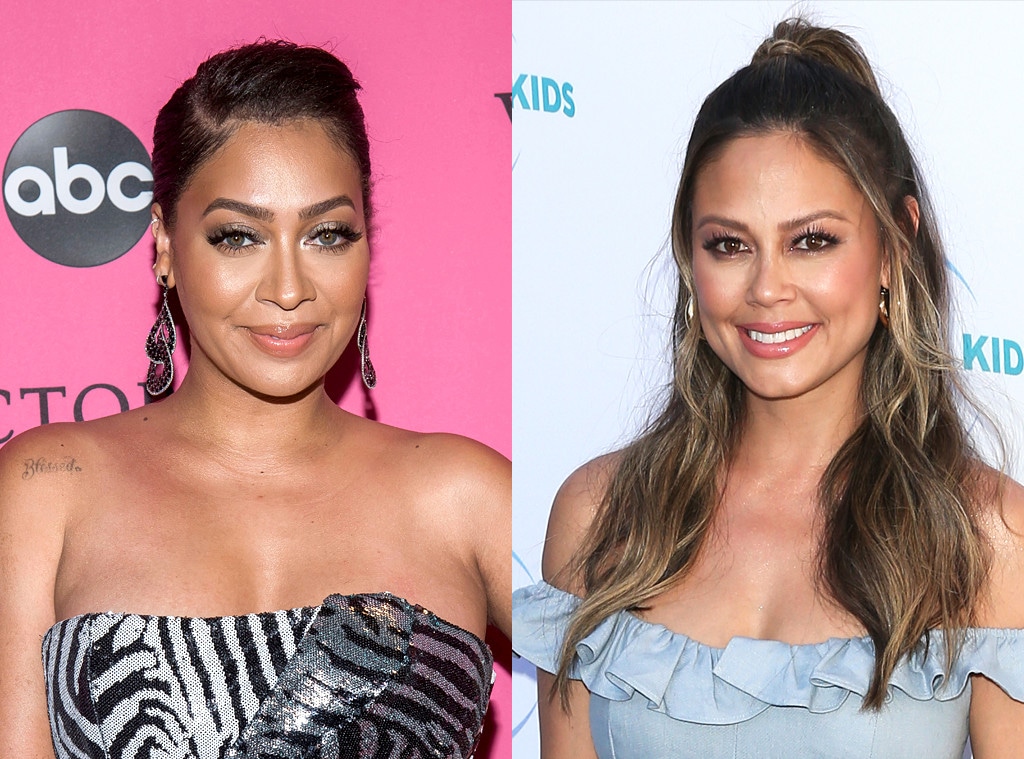 Shutterstock/Getty Images
Ever since the announcement of the Beverly Hills, 90210 reunion series BH90210, we've had endless questions.
Some of them are as simple as "Why?" and "How?" and others are more specific. How will they deal with the death of Luke Perry in the heightened reality of this irreverent drama? How much of actual reality will be addressed in the heightened reality? What role will Sharknado play? Can these actors, in various stages of their careers, pull this off?
Two new pieces of the puzzle have now been introduced with the casting of Vanessa Lachey and La La Anthony as the onscreen wives of Jason Priestley and Brian Austin Green, respectively. Jason Priestley is playing himself, but Vanessa Lachey is playing Camille, a high-powered publicist who is balancing her demanding career with the hopes of starting a family. In real life, Jason Priestley is married to make up artist Naomi Lowde-Priestley. 
Brian Austin Green is also playing himself. In real life, he is married to Megan Fox, a well-known actress. La La Anthony will be playing his on-screen wife Shay, a well-known pop/hip-hop star. 
We understand the general concept of this, as the former stars of Beverly Hills, 90210 are playing themselves but not, and so we'll be seeing their lives, but not. But will Megan Fox and Naomi Lowde-Priestley exist in this world? And will Vanessa Lachey and La La Anthony exist? If Megan Fox didn't exist, who starred in Transformers? 
If Brian and Jason get new wives, what about the rest of the cast? Are Tori Spelling and Dean McDermott not married in this world, and if not, does that mean we never got Tori & Dean?! Tori & Dean: Home Sweet Hollywood?! Tori & Dean: sTORIbook Weddings?!?!?! What about Tori's turn as the Unicorn on The Masked Singer? Did that happen? 
Did the BH90210 Ian Ziering even star in five Sharknado movies? What about Shannen Doherty and her years on Charmed? Did the other 90210 reboot happen? Will we even recognize these people with how "heightened" they're apparently going to be? 
Before we continue to spiral out of control, Curb Your Enthusiasm featured many stars playing themselves and many other stars not playing themselves. Matt LeBlanc played himself on Episodes. James Van Der Beek did it spectacularly on Don't Trust the B in Apartment 23. Stars like Wil Wheaton, Mark Hamill, and even Stephen Hawking did it on The Big Bang Theory. Supernatural did that one beautiful episode in season six where Jared Padalecki and Jensen Ackles played themselves as actors in a show called Supernatural, but as for dramas where the entire premise of the show is celebs playing weird versions of themselves, there aren't really examples. And that is thrilling. 
We're obviously excited for this wild idea and we will be tuning in, but rest assured we will also be drawing intricate maps and diagrams of of the bizarro Hollywood at the center of this show. And maybe also rewatching that Supernatural episode in the meantime. 
BH90210 premieres Wednesday, August 7 at 9 p.m. on Fox.