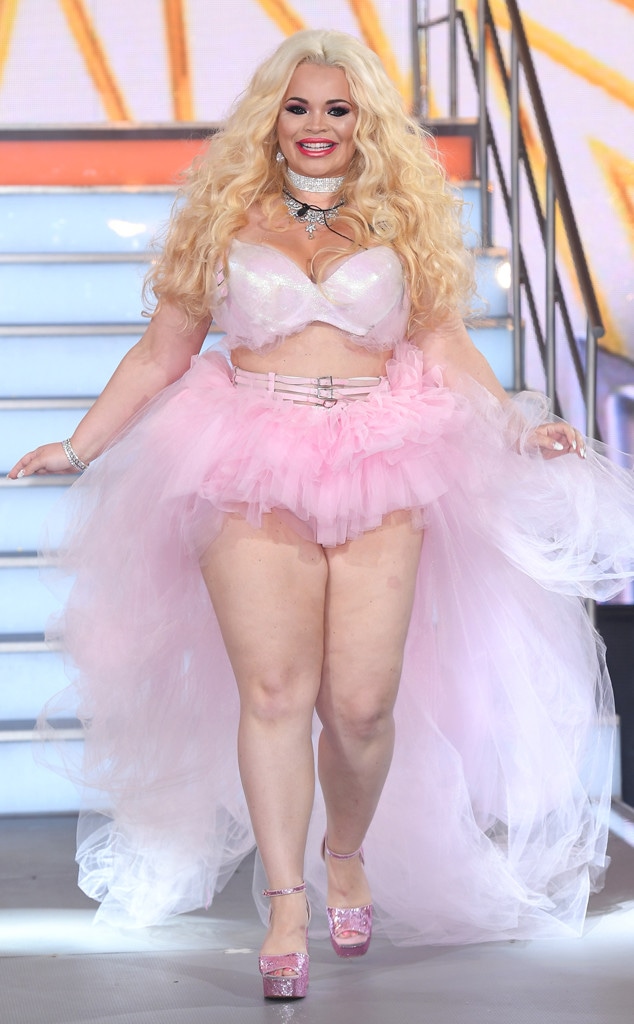 Karwai Tang/WireImage
YouTube star Trisha Paytas has undergone a physical transformation as she continues to try change her relationship with food.
The 31-year-old rose to fame a few years ago with her popular Mukbangs, or binge-eating vlogs, and has been candid about her eating disorder and battle with depression. While she still uploads YouTube videos showing her eating unhealthy foods, she has also recently lost weight. On Friday, she shared on Instagram a before and after photo of herself—one from January, showing her clothed and weighing 217 pounds—her peak weight, and one of her in the present, appearing topless in her underwear, weighing 180 pounds.
"I still have a long way to go BUT I know my biggest insecurity (sad to admit) my entire life, since I was literally 8 years old, has been my weight," she wrote. "I remember kids in the 3rd grade making fun of my weight and I didn't understand it other than it made me feel bad. It's followed me my whole life. As a result of people constantly telling me how fat I am, unattractive, etc, I actually ended up eating more to cover my feelings. Shaming didn't encourage me to be healthy, it just made me think I'm already fat so what's the point? The more weight I gained, the less appealing I felt. How could anyone love me like this? How could I love myself like this?"
"Everyone's go to hate comments are 'Miss Piggy,' 'You're obese,' 'Keep shoving food in your mouth,'" she said. "As these continued to grow, so did my weight."
Over the past few months, Paytas has tried intermittent fasting and stopped drinking. In April, she said on YouTube she had relapsed into binge-eating, saying, "I know I'm a binge eater and it sucks...but I am still motivated and I know mentally I feel better when I physically eat better."
"I'm not suggesting being at a healthy weight fixes all your problems!!!!!!!" she wrote in her Instagram post. "But I'm doing this to gain confidence back in myself and to practice discipline in every aspect of my life right now. I lack will power and addictions of all types have gotten the better of me, including food. I'm trying to regain control of my life, starting with regaining control of me and my feelings and love towards myself. I am eating and documenting what I eat and do for exercise. I was suppose to be getting liposuction surgery today but I chose to do this on my own this time. I want to feel the rewards of self control both physically and mentally."
Paytas had gotten liposuction in 2017.
"Please also know this is just my personal journey," she continued. "It's taken me 31 years to feel ready to start losing any significant amount of weight and everyone has to come to their journey of change (if you even want to, nobody has to), at their right moment. It's all timing, mindset and what you want for you."