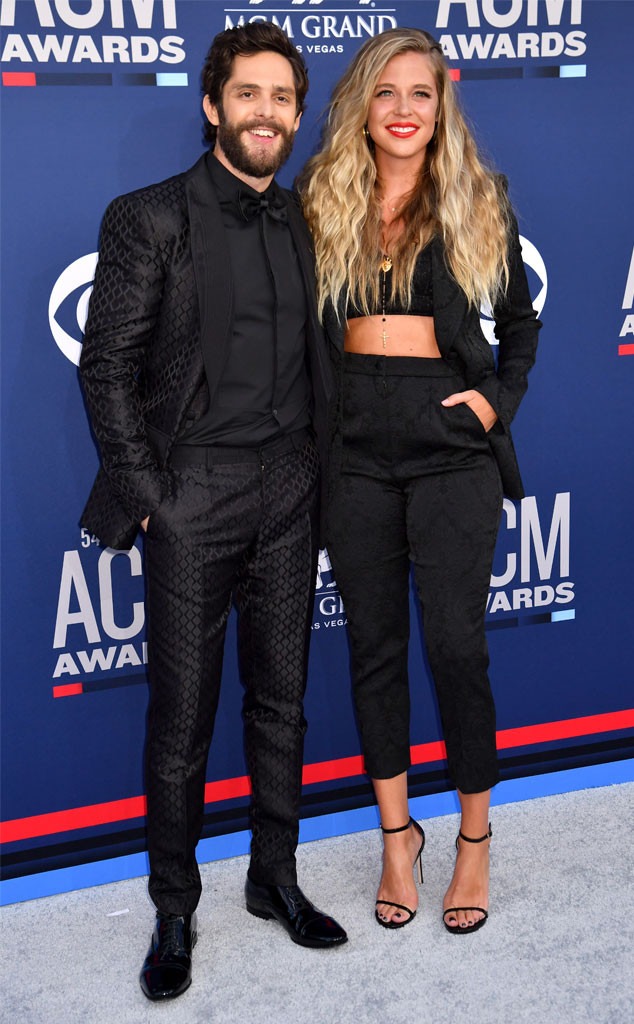 (Photo by Jeff Kravitz/FilmMagic)
As Thomas Rhett well knows, life changes—and his wife has the perfect proof of that. 
Today, he's a Grammy-nominated country star, but 11 years ago, he was teenager in high school working on his craft on the auditorium stage. While more people know his name nowadays, his beloved wife Lauren Akins took Rhett and his fans down memory lane when she shared endearing footage, credited to @calteri, of him as a young performer, flubbed lyrics and all.  
"Over 11 years ago in high school he was STILL just the CUTEST (especially when he forgot the lines-heart in a PUDDLE," she said of her man on Instagram, poking fun at how he forgot some of the words while performing Brad Paisley's "Letter to Me."
"[The] most talented and most resilient guy I knew. I was so beyond proud of him as one of his best friends," Akins wrote online. "He's clearly always been a natural entertainer and the crowd has always loved him hahah  Now I get to be his wife and have a front row seat to it all! I'm still just so proud of you honey!!"
As it turns out, the star's high school had an inkling about his Hollywood future because he was accurately voted "Most likely to be famous." More than a decade later, he's officially released his fourth studio album, Center Point Road, a full-circle moment considering it's named after the street he grew up on.
Lauren, his longtime love who he wed in 2012, sweetly applauded his latest accomplishment. 
"Even MORE proud of you and who you are and so proud of this super personal, super talented, super AWESOME new album, Center Point Road. It's such a nostalgic album for me too because I got to live so much of it with you," she continued on Instagram. "Not to mention all the songs written about our family and life today."
She concluded, "What a cool life we get to do together! So thankful Happy album release babe!!! I love you."