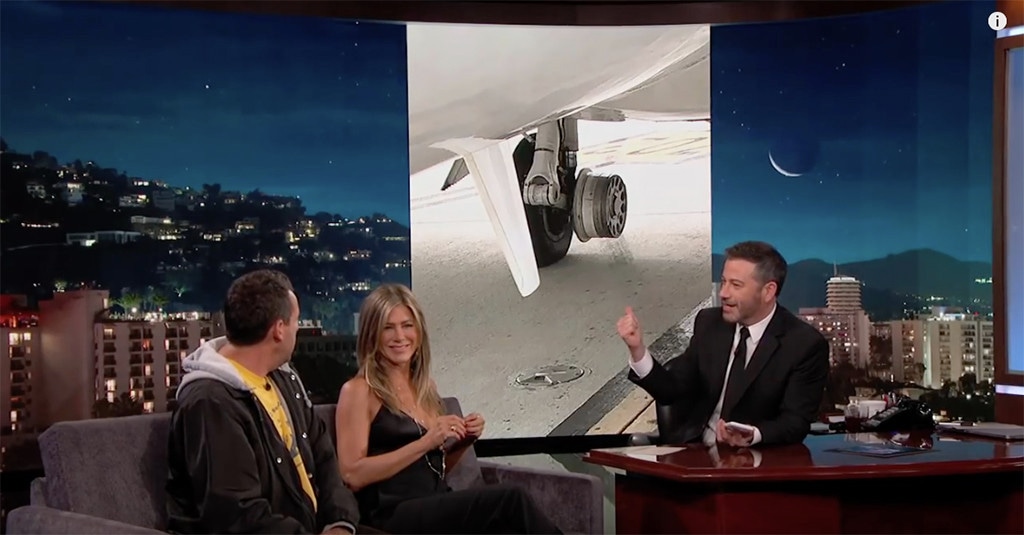 YouTube
Jimmy Kimmel was just trying to lighten the mood. 
A birthday getaway is usually memorable, but Jennifer Aniston's latest girls trip for her 50th year was unforgettable for scarier reason. As the Murder Mystery star recalled on Jimmy Kimmel Live! on Thursday night, her gal pals, including Courteney Cox and Kimmel's wife Molly McNearney, surprised her with a trip to Mexico. 
However, things did not go according to plan when the ladies heard an "explosion" while taking off. While they were concerned about the sound, the famous passengers thought because they were still flying without any apparent problem, it was not an issue. Fast forward two hours into the flight, a flight attendant told Aniston the pilots wanted to speak with her. 
Aniston, who admitted to a "real fear of flying," told one of her friends to speak to them instead and they told her they had actually turned around and headed back to California because some debris was found on the runway, thought to be from their plane. In February, an FAA spokesperson confirmed to E! News they ultimately landed at Ontario International Airport. 
"Everybody starts texting all of a sudden their spouses and their children and I'm like, 'What's going on?'" she said on the show. 
McNearney was of course texting the late-night host to express her love to him and their children should anything happen. Fortunately for fans watching, Aniston shared the "loving response" McNearney received from Kimmel. 
"I just signed up for Tinder but I PROMISE not to activate it until we know what's what," he wrote to her and included his "profile picture"—a shirtless selfie with a backward cap. 
According to Kimmel, "I was trying to lighten the mood."
See the selfie for yourself in the clip above!