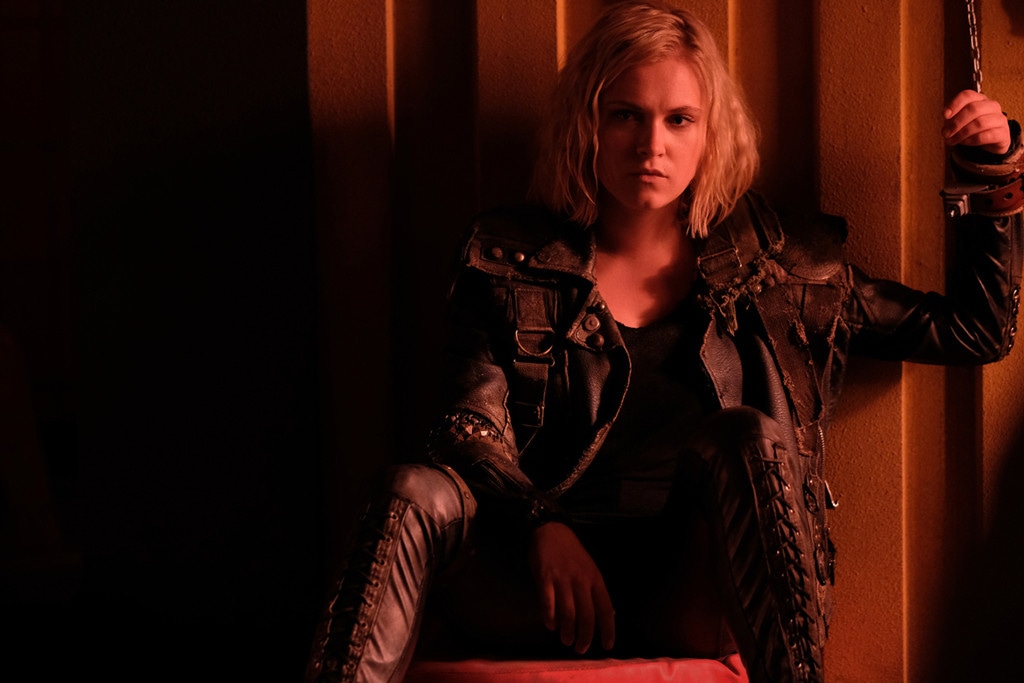 The CW
Clarke Griffin is dead. 
Of course The 100's defacto leader is not really dead (we hope and pray), but for now, her body's being occupied by a young woman named Josephine, one of the original inhabitants of Sanctum, the new home of Earth's survivors.
Her parents have been waiting years for another person with black blood to be born, because only those with black blood can be hosts, so of course when Clarke walked in with her black blood (thanks to that Flame storyline from several seasons ago), that was the end for her. 
It is, however, the beginning of a new acting challenge for Eliza Taylor, who gets to step outside of the character she's been playing since 2014 without even leaving her show. 
"Uh, I was terrified," she tells E! News of her reaction when she first learned what she'd be doing this season. "When Jason called me and told me that I was going to be playing not only a completely different character, but then I'd be playing her playing my old character, it was a bit of a mindbender. But once we were able to sit down and really nut out how we were going to portray this character, I got really excited." 
Josephine's arrival comes just after Clarke had kind of the night of her life. She got to dress up and go to a party and dance and then sleep with some random guy she hadn't ever been cooped up with on a spaceship, only for all hell to then break loose (she got paralyzed and then kidnapped and erased with a chip implanted in her brain). 
"It was so sad," Taylor says of that particular chain of events. "It was so sad that she was like having the time of her life and finally letting loose and relaxing, to then be killed moments after. It was really, really sad. I felt so sorry for Clarke. Like man, she just can't catch a break." 
Before she could even start playing a new character, Taylor had to act in several key scenes with only her eyes, as Clarke was paralyzed, which Taylor describes as "really tricky." 
"We're supposed to do it all the time and you're supposed to be able to show what you're feeling with just a look, you know, as an actor, but when you can't move anything, it was really tricky," she says. "I had to keep asking [J.R. Bourne] if I was doing a good job on that, and he was like, 'No I can tell that you're terrified!' and I'm like, 'I don't know what I'm doing!' But yeah that was different." 
Then, Taylor had to jump up and make sure we immediately knew she was no longer Clarke, and that she was now Josephine, and all she had to go on was one scene in the season premiere when we met Josephine more than 200 years ago. 
"It was a real sort of collaboration between myself, the writers, and [Sarah Thompson], who played Sarah originally," Taylor says. "I really just wanted to do her justice, so we did a lot of work together over the script, so I get down her mannerisms and her way of speaking to successfully pull off that switch, and with any luck I did, I hope." 
Again, her fellow cast and crew were very encouraging even as she was nervous she wasn't getting it right. 
"They've given me a lot of praise for it, so that made me relax a little bit," she says. 
Viewers will get to know Josephine with the next episode, appropriately titled "The Gospel of Josephine," and very quickly you'll discover that Josephine is nothing like the world weary Clarke. 
"It was totally freeing, and it was really lovely to have that change. It was like a breath of fresh air. And it's funny because Clarke, obviously in the episodes leading up to this, was a punching bag for a good three episodes or four, so it was really nice to play someone who's completely carefree, but also really cheeky and manipulative." 
"The Gospel of Josephine" will also feature a classic trope that Orphan Black and The Vampire Diaries often delved into with their clones and doppelgangers, as Josephine has to pretend to be Clarke to keep her friends and family from realizing anything is wrong. 
"It was totally a mindf--k. It was really really really hard," she says. "Like, I was just getting a hold of how to play Josephine and then I had to figure out how to nuance Josephine playing Clarke so that she didn't do it well enough, but it was just enough to kind of get by. So I had to figure out how to play Clarke poorly, if that makes sense. Yeah, it was really tricky." 
Taylor obviously couldn't tell us how long Josephine will be sticking around, but for now, she joins the small club of actors who have played multiple roles on one show, which you can see below! 
The 100 airs Tuesdays at 9 p.m. on The CW.